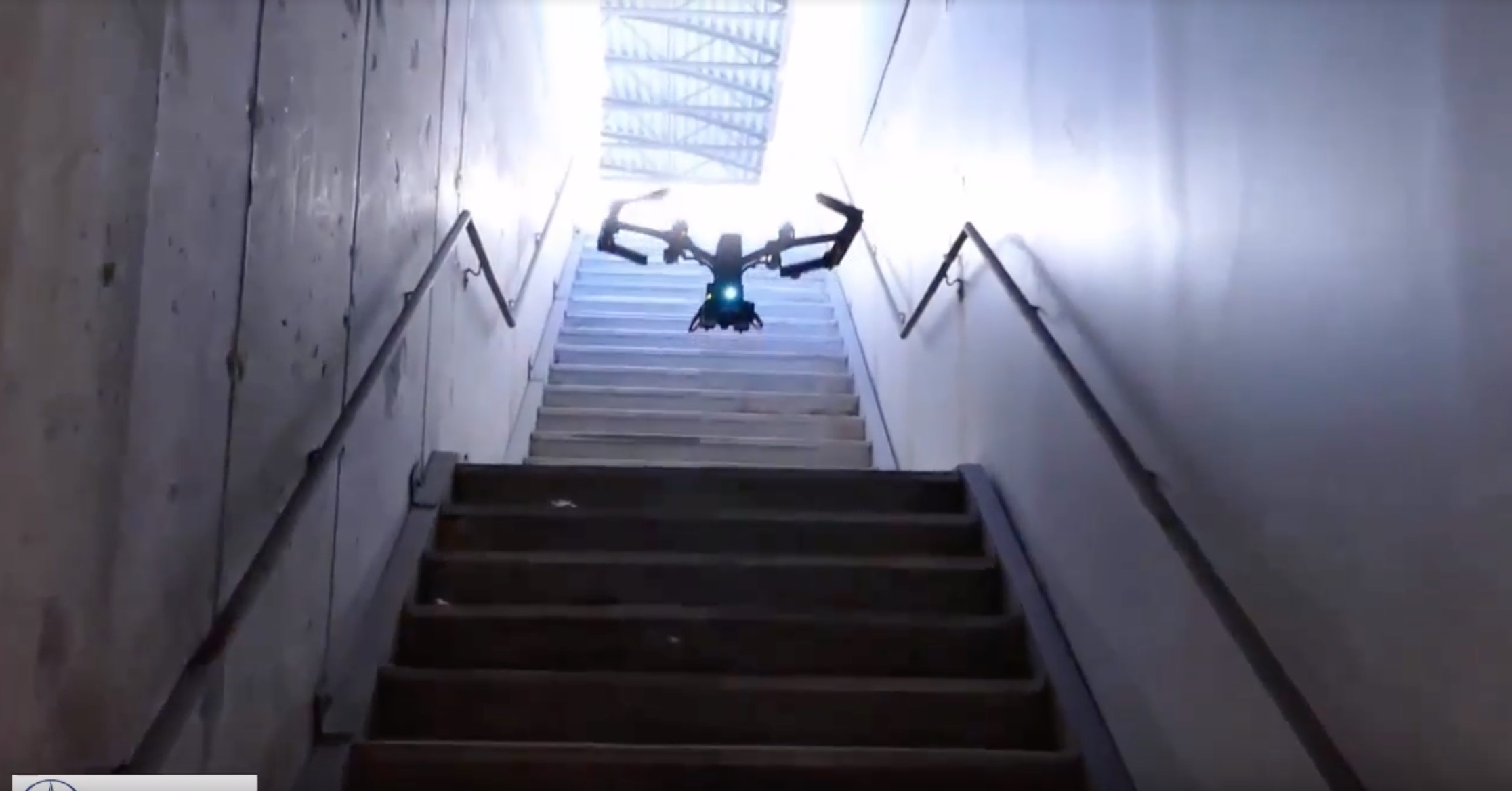 It looks like a small, black bat as it flies into a subway tunnel, deploys ski-like tracks to crawl through an empty car and again unfurls its cantilever wings to dramatically flit up a stairwell. Welcome to the Pegasus Miniô, a football-sized transformable UAV. It's the latest and smallest, version within a hybrid UAS/UGV family, and it's debuting at this week's CES as a tool for sectors from warfighting to inspection.
"It's a new class of vehicle – a transformer ground robot and UAS combined into one," explained Jim Frelk, senior vice president of Robotic Research, which produces the hybrids. "It offers sequential use of flying and driving." The smallest Pegasusô to date, the just-released Mini measures 16 by 8 inches and weighs in at 4.2 pounds, plus payloads of up to 2 pounds. It can work for 30 minutes in fully autonomous flight mode, and for 2 hours in drive mode.
Robotic Roots
Based in Clarksburg, Maryland, Robotic Research was founded in 2002 by, as Frelk put it, "guys who were doing robotics and autonomous before it was cool." Focusing on how robotic technology could drive autonomous operations, the company worked with General Dynamics on making large vehicles autonomous and is now a prime contractor for army convoy vehicles. On the civilian side, Robotic Research has collaborated with first responders, and has been a technology subcontractor for companies such as Local Motors, which produces the Olli autonomous shuttle.
The company's goal was familiar to the UAS world—prevent injuries and save lives—but a growing emphasis on miniaturization came forward. "A ground robot has a hard time climbing stairs," Frelk explained. "How do we have a robot that can do multiple things?"
Initially, Pegasus was designed with the military in mind. "Special operators have need for…a more collaborative autonomy where lower-level functions can be given over to a 'teammate' that is robotic," said Frelk, who served as a national security analyst within the U.S. House of Representatives.
Including the just-released Mini, three models now flesh out the Pegasus line with a similar unofficial mission that Frelk described as, "Hey, can I still get through a doorway, can I fly through a window, and still fly a large enough payload and mapping?"
The largest version is the Pegasus III octocopter, nicknamed "Megasus." At 40 x 40 x 20 inches in air mode (40 x 28 x 26 on the ground), the 45 pound (with batteries) model maintains autonomous fly-drive capability while being able to carry up to 20 pounds of payload and still move through a standard doorway. Flight time is 16 minutes at up to 30 miles per hour, but Pegasus III can drive for up to 8 hours. It's bay is large enough to include gimbaled payloads that require free range of motion. 
The mid-sized Pegasus II quadcopter is called the roster's "Swiss Army Knife" for its ability to handle various intelligence, surveillance and recon missions. At 30 x 29 x 11 inches in the air (30 x 20 x 17 inches on the ground), Pegasus II weighs in at 15.5 pounds including its battery. Its 4 pound payload can include 3D LiDAR, tactical mesh radio, an auxiliary computer, a gimbal camera and illuminators. Flight time is 20 minutes without payload, but at a maximum speed of 52 miles per hour. Ground mode extends operating time to 6 hours, at 3 miles per. "For dense urban environments, it could fly upstairs, land on top and drive around," Frelk said. 
Now comes the football-sized Mini.
Size Matters
Despite its small size, the Mini quadcopter offers both military and civilian applications, especially within highly confined spaces. "Getting into tighter spots gets you into more locations," Frelk said. "Getting [AVs] to the edge of a building is challenging. Now you can land the transformable at a safer, easier location, maneuver to a perch position that gives you access to what you want to look at, and better visibility, overwatch."
The Mini also can negotiate navigation challenges within tunnels or dense urban environments. Perhaps punching above its weight, the Mini joins its siblings in delivering GPS-denied mapping with high-speed capability. This involves what Frelk called "a number of tricks." Ground vehicle track odometry can eliminate drift, and visual odometry can measure flight difference. A coordinated localization system—Warloc—divides an area for data collection and quick use. And the Mini uses the ATAK (Android Tactical Assault Kit) smartphone app to provide military situational awareness via government-issue android smartphones. Like its larger siblings, the Mini can save all data for post processing, whether video, 3D maps or location information.
The Mini's miniaturization extends beyond its performance. "A big thing for the warfighter is what they have to carry," Frelk continued. "A Pegasus Mini, they can throw it into a backpack." Rotors and tracks pull down and out, while the arms that hold the props fold in. Future capabilities will include hand and tube launching.
Even as the Mini was debuting at CES, Frelk noted a roster of potential uses. "There are a lot of inspection applications: monitoring, first responders getting up to a location. In a natural disaster, where portions of buildings collapses, there's a challenge to get to higher floors to find out what's there.
"By flying and driving," Frelk concluded, "you get hours of operational time, which provides whole different categories of capabilities."
Image courtesy Robotic Research