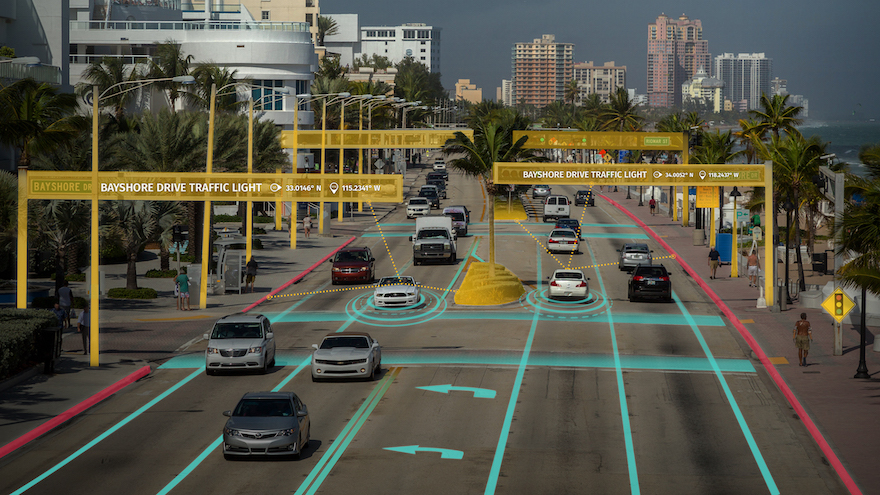 HERE Technologies, an Amsterdam-based location data and technology platform that's been pioneering the location services and digital mapping world for decades, made two key announcements at CES 2020 this week in Las Vegas, Nevada.
"I'd say the "C" for CES has moved from 'consumer' to 'car'," said Alex Mangan, global director of product marketing, HERE Technologies. "This is the largest consumer electronics show in the world and we're the biggest location technology provider in the world, so that's why we're here. It's about transport, mobility, advertising and media—and all of those things are near and dear to our heart in terms of where we can inject location intelligence or add value by utilizing that asset."
At the show, the company unveiled HERE Lanes, a digital representation of the global road network that enables a vehicle to position itself in a lane while providing drivers with lane-level visual guidance. Its 3D road models are meant to increase driver awareness and road safety through Advanced Driver Assistance Systems (ADAS).
"We've taken our high-definition products and made a map that's consumable for ADAS technology," said Mangan. "This is a product that's targeting systems that the vehicle needs for lower level automation functionalities like Levels 2 and 3."
The company also launched HERE Last Mile at CES, which aims to remove uncertainty in the most costly and complex segment of urban delivery. It generates plans to maximize the efficient utilization of a fleet of vehicles and drivers by considering multiple constraints such as delivery windows and cost. By providing turn-by-turn navigation, real-time information on traffic flow and dynamic re-planning options, Last Mile helps the driver find the best route for on-time delivery.
While Mangan made it clear that full level autonomy—whether it's in automotive or transportation and logistics—is still some years away, he believes announcements such as these are providing a solid foundation for that reality.
"The things we're doing today with helping human drivers to be much more intelligent is exactly what we need to do pave the way for when we take the human out of the loop," he said. "This a test ground, and location is critical to this conversation."