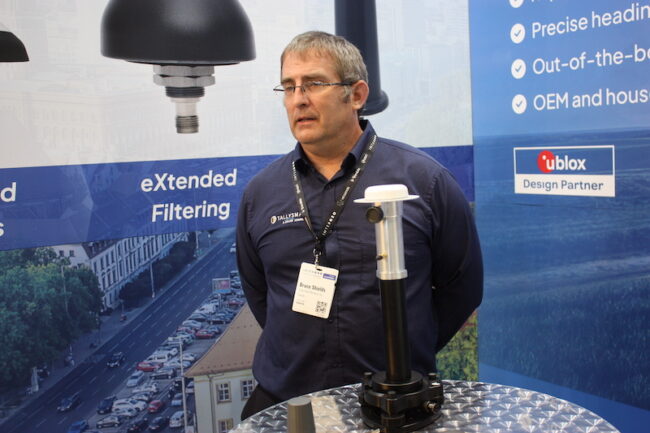 Tallysman offers a range of reliable, accurate, smart Global Navigation Satellite Systems (GNSS) receivers and antennas for applications including communication systems, electrical power grids and financial networks. Speaking to Inside GNSS at InterGEO 2023 in Berlin, Bruce Shields, Tallysman's Director of Tallymatics Group, said, "We're targeting system integrators who might not have a long history of GNSS integration but who have an application for precise positioning.
"We've now got a family of smart GNSS antennas that are out-of-box ready, and this is making it easy for the customer, helping them to focus on their applications, the jobs they perform, and not expending resources on GNSS development. That means spending less time on hardware setup and integration. They are getting to market more quickly, with a range of applications that don't normally have access to this kind of precision."
At the Tallysman booth, Shields showed the company's best-selling antennas, the 3972, with an integrated u-blox F9 GNSS board and D9S L-band receiver, giving L1- and L2-band and multi-constellation capabilities. "We have tightly integrated that into a package, with u-blox L-band PointPerfect augmentations, which is giving our users a high level of precision, right down to a centimeter." PointPerfect is u-blox's PPP-RTK GNSS augmentation data service that delivers high positioning accuracy within a convergence time of just seconds.
"We now have PointPerfect corrections in North America, Australia, Europe, South Korea, " Shields said, "and we have the system that's going to be becoming active in South America in the near future as well."
The coupled True Precision software enables customers to evaluate the product within minutes. It configures the antenna and then connects to the internet. It does authentication and then streaming of augmentation back to the device over the internet. There is also a suite of analytical software tools with logging and mapping features, so users can plot the resulting quality of the GNSS signal on the maps.
"Our tightly coupled RF chain means there is no expensive cabling," said Shields. "We don't have to worry about lightning protection or signal boosters. So we have tightly coupled the RF and the receiver to the antenna, and now we're distributing digital signal to the products. These are the type of signals that system integrators are used to working with. And of course, we've got all the standard, legacy interface options, RS2, USB — so it's easy to work with on your existing systems and architectures, on embedded PCs, and so it's very resilient and resistant to noise." Tallysman can also provide a software development kit (SDK) to help their customers design their own software applications.
It's not hard to find satisfied Tallysman clients. The Australian government is soon to begin using the company's latest equipment for its geodetic surveying operations, based on a series of tests carried out in that country. "They were using traditional equipment, Shields said, "but they are coming online with us very soon, and we have no doubt they will join the ranks of our happy customers."
All considered, Tallysman is selling much more than an antenna. It's a complete positioning solution, with GNSS, corrections and diagnostic tools for simulating and testing different use case scenarios.
Based in Ottawa, Tallysman is a developer, manufacturer, and provider of GNSS, Iridium antennas and accessories, focusing on high function, high performance solutions. Core competencies include digital wireless networks, RF and Global Navigation Satellite Systems (GNSS) component design.