Innovative tech companies like Netherlands-based drone manufacturer Atmos are offering Topnet Live precise positioning correction services for a range of UAV-based applications. Atmos' fully autonomous Marlyn Cobalt, a hybrid vertical take-off and landing (VTOL), fixed- wing drone, is now equipped with Topcon's B111A GNSS board.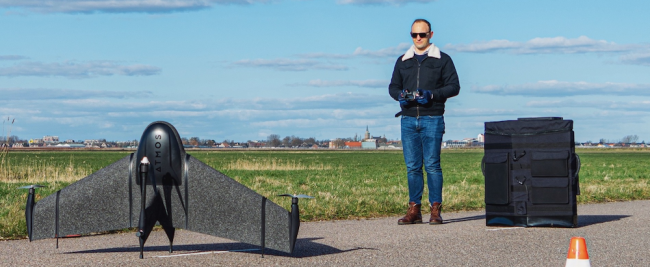 The Marlyn Cobalt UAV by Atmos collects highly accurate geospatial information across construction, mining, agriculture and environmental monitoring applications. Dirk Dokter is one of the founders of Atmos and is responsible for the company's research and development activities. "Our customers use our products because they want to minimize time in the field," he said. "They want to survey large areas to get information and new insights about what's out there as quickly as possible. At Atmos, we need to be able to deliver a robust solution so they can get the data they want every time, even in the most challenging situations."
The Marlyn Cobalt is fully autonomous and can take-off vertically from just about anywhere to survey and map all kinds of terrain quickly and efficiently. Vasilis Tziampiris, who handles Atmos' marketing communications, said: "This is the latest version of our drone platform, and it's capable of meeting any project requirements across many industries. As a key differentiator from our competitors, we have the strongest wind resistance in the industry, something we consider a huge plus in terms of efficiency."
Dokter expanded on this: "Our platform combines much higher wind resistance with a high quality GNSS receiver and high quality payloads that work in lots of circumstances, so we can actually significantly increase the number of overall operational days when our platform can be used."
Topcon for Precision and Reliability
As with any autonomous system, a core component for Marlyn Cobalt is its GNSS positioning and navigation module. In this case, it's Topcon's ultra-compact, multi-constellation B111A GNSS board. The B111A provides scalable positioning from sub-meter differential GPS (DGPS) to sub-centimeter real-time kinematic (RTK) positioning. Flexible design, including low power consumption, comprehensive communication interfaces and peripheral support, makes it easy to integrate the board into any precise positioning platform.
"There are other good GNSS receivers on the market," Doktor said, "but we were really looking for something special, and that's what you have with the B111A. When you're integrating a GNSS receiver in a UAV like the Marlyn, there are compromises you have to make, like not being able to put the antenna in the ideal spot from a signal standpoint because there might be too much aerodynamic drag, or maybe the center of gravity will not be right. So we wanted to be sure we had that little bit of extra link budget [signal power], and having a very-good quality receiver like the B111A really helps with that."
But Atmos' decision to go with Topcon wasn't just about the receiver, Dokter said: "Another thing about Topcon that interested us is that they offer a total solution. They don't just offer the hardware, they offer the post processing software, the GNSS processing and they provide solutions for actually getting in-depth information from the data. So our customers aren't just buying a drone. They are buying a total solution."
Getting it Right
To provide the highest precision and most accurate positioning, any GNSS board will need to compensate for errors. These errors may arise as a result of satellite constellation and/or receiver functioning, or as a result of atmospheric conditions. Users of Topcon's GNSS real-time correction service, Topnet Live, get a flexible, subscription-based solution that delivers high-accuracy positioning and survey-grade results, with 24/7, cross-border, consistent and reliable access.
Topnet Live can be used anywhere, without the need to transport and set up conventional corrections base stations. Topcon offers a range of positioning correction services, employing both RTK and PPP correction models, delivered over cellular, radio and satellite communications. Some users can employ Topnet Live in tandem with other services. For example, in the U.S., several states have free CORS or RTK networks that are easily accessible.
In the Atmos Marlyn Cobalt drone, the Topcon B111A board is used in combination with an attitude and heading reference system (AHRS), enabling, for example, estimation of the position of a camera lens with centimeter-level accuracy. The B111A receives raw GNSS data, which Topcon's post-processing engine can use to derive the most accurate and reliable positioning information.
Top-flight Imaging
"We offer our customers multiple options in terms of the deliverables," Dokter said. The PPK [post processed kinematic] option is always there. Either PPK or RTK can be requested. Again, we want to make sure that our customers always get the data they want, so we offer the possibility of doing post processing of the GNSS data. We also have different cameras." The Marlyn Cobalt can carry multispectral cameras for use in agriculture, for example, for soil and crop assessment, or for prospecting for certain minerals in the mining industry. "We also offer an RGB camera, which is actually our most popular payload," Dokter said.
"In combination with the Topcon GNSS receiver, with PPK, the result is a very detailed photogrammetry point cloud. We can then use that for making very precise measurements, but also to spot things like safety hazards at the worksite. These are really high-resolution photographs that you can just look at and see things, like certain irregularities on a construction or mining site, or just to get a clearer idea of where your equipment is."
"We manufacture Marlyn in such a way that we can easily swap payloads," Tziampiris said. Many of Atmos' customers are drone service providers, who often use more than one type of payload, moving from one type of project to another, sometimes even on the same day. "They may need to survey a specific construction site," Tziampiris said, "so they might have a Marlyn drone equipped with a full frame camera. They can finish that project and within two or three minutes they can switch to another type of camera or sensor and move on to an agricultural project. The most fascinating thing about this industry is that every day you see different applications coming from different industries."
"With a B111A we were able to work closely with Topcon's business development team," Dokter said, "to put together a package of licensing options that are ideal for our customers. They have been so flexible, we've been able to offer our customers, for example, full multi-constellation support at no additional cost. And when you are in a particularly challenging GNSS environment, it really does help to have those two or three additional constellations. It might just be the difference between having sufficient accuracy and not having sufficient accuracy."
The GNSS correction services industry may still be in its infancy, but the demand for this type of technology is certainly increasing very rapidly. Across a variety of application areas, where people and companies like Atmos are looking for better and more efficient positioning solutions every day, Topcon technologies and services, including Topnet Live, are enabling just that kind of leap forward.