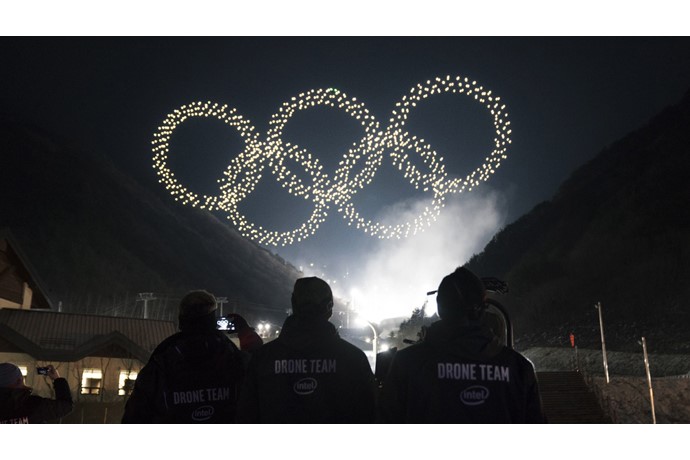 More than 1,200 (1,218 to be exact) Intel Shooting Star drones took to the skies for the Olympic Winter Games PyeongChang 2018 Opening Ceremony, setting a new Guinness World Records title for the "most unmanned aerial vehicles airborne simultaneously." It also marked the first time a drone light show was part of the Olympics.
Intel held the previous record, which was 500 drones, according to a news release. That record was achieved in Germany.
The world record flight was prerecorded for the event.
"The Olympics are a time when the sports and entertainment industries are buzzing with record-setting performances, so it was the perfect stage for Intel Shooting Star drones and our team to set their own kind of record," said Natalie Cheung, general manager of Intel's drone light show team, according to the release.
The team at Intel developed custom animations to display during the opening ceremony as well as nightly victory ceremony performances. These performances include animations of different sports and Olympic-related logos such as the Olympic rings.
Intel is a member of "The Olympic Partner" (TOP) worldwide sponsorship program, and is helping improve the fan experience by creating "immersive opportunities for viewers to be a part of the Olympic Games," according to the release.
"We are honored to have Intel drones playing several roles at the Olympic Games," said Anil Nanduri, vice president and general manager, Intel Drone Group, according to the release. "Not unlike the athletes competing in the events, we continue to push to innovate and develop the drone technologies that inspire people all over the world."