A national road tour by an automated vehicle offers technology suppliers the opportunity to demonstrate their solutions during any one of four quarterly, coast-to-coast, border-to-border driving missions. Providers of advanced driver assistance systems (ADAS) and automated vehicle (AV) technologies can get on board, so to speak, taking their show literally on the road — and get miles and miles worth of performance data as a result.
One of the goals of the Automated Drive Series conducted by VSI Labs is to expose AV & ADAS solutions to a diverse set of driving conditions: adverse weather, diverse terrain, limited connectivity and new, therefore unfamiliar environments.
The Automated Drive Series  seeks to fill the void created by cancelled conferences and venues where companies would normally exhibit their technologies. "Because of COVID-19, I don't expect much exposure through conferences this fall," said Phil Magney, founder and president of VSI Labs. "With this program, developers of AV and ADAS technology have a new venue through which they can promote their solutions."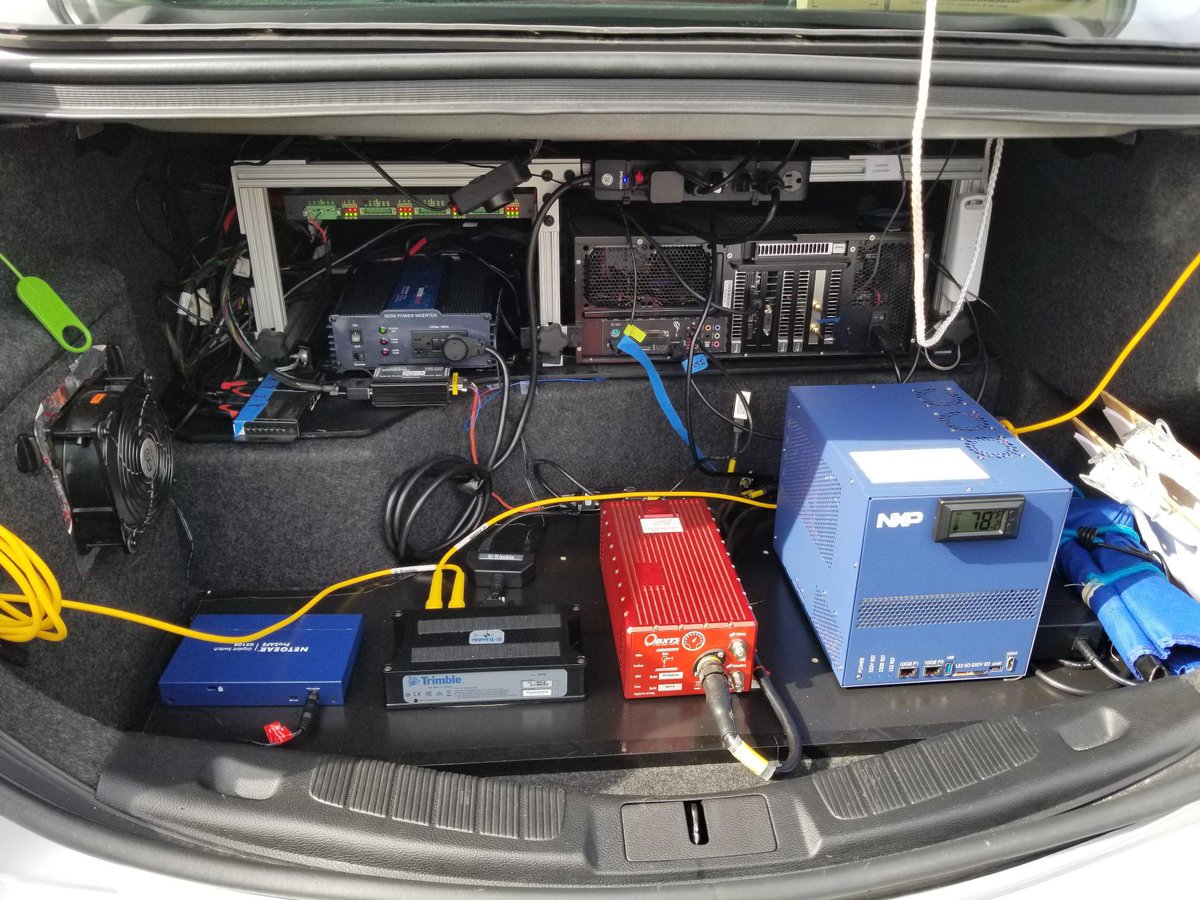 The vehicle's trunk is packed with sensor equipment. Photo courtesy VSI Labs.
The VSI vehicle will be equipped with a stack of sensors including visible cameras, thermal imaging, LiDAR, radar and precision localization. The onboard computer processes and records critical scenes and segments where the sensors are challenged. This recorded data will be useful for post-drive analysis as VSI will annotate challenging segments and road scenes.
On July 12 VSI will launch its first event of the series, the Automated Drive North, traveling from Saint Louis Park, Minnesota to Ann Arbor, Michigan, via northern Minnesota, Wisconsin, and Michigan's Upper Peninsula. Through extensive exposure to northerly environments, VSI expects to encounter a diversity of conditions such as winding roads, low visibility, changing weather, and wildlife. The journey will end at Detroit's American Center for Mobility, where VSI will continue its testing of Automatic Emergency Braking (AEB) with FLIR Systems.
"FLIR's thermal imaging technology is crucial to improving the safety of motor vehicles, especially for nighttime driving or other low-visibility conditions that challenge human drivers and the existing ADAS sensor suites on vehicles today," said Mike Walters, Vice President of Product Management at FLIR. "The opportunity to collect thermal imaging data in unique settings across rural and urban environments through our collaboration with VSI will enable us to advance development of thermal sensing technology for ADAS, specifically AEB, and AV's."
"It's a terrific way to understand the strengths and weaknesses of these technologies," said VSI's Magney. Last year VSI made a Drive West and a subsequent Drive East, racking up more than 10,000 miles traveling from Minnesota to Washington DC to California and back again. Earlier this year, VSI traveled over 3,200 miles to Las Vegas and back for CES in January.
Subsequent drives of the series will follow in September, November, and January. This will include the Automated Drive East to Washington DC, the Automated Drive South which is bound for Texas, and the Automated Drive West to California. These later drives will enable VSI to showcase new sensors and expose the vehicle to different environmental conditions, road types and scenarios. To follow the upcoming journeys, track the vehicle's progress on VSI's website, or keep up with live updates on their social media channels.
Pre-drive sponsor deliverables include component integration into the VSI vehicle and logo applied outside. During the drive, sponsors get access to a custom telemetry tracking site, and post-drive, a custom engineering report detailing the integration and performance. To participate in a drive, contact VSI.