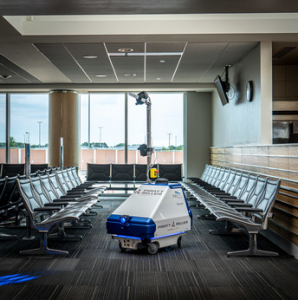 Pratt Miller Mobility's Large Area Autonomous Disinfecting (LAAD) Vehicle spent a week surveying and disinfecting areas at the Gerald R. Ford International Airport in Grand Rapids, Michigan.
The system is "a great tool in our Fly Safe. Fly Ford. campaign to restore confidence in the flying public," Gerald R. Ford International Airport CEO Tory Richardson said, according to a news release. He described the system as a "leading-edge technology to combat the spread of COVID-19."
LAAD is a connected, electric, autonomous robot that uses a multi-head electrostatic sprayer to dispense FDA-approved disinfecting materials. While the disinfectant, which also adheres to surfaces, is sprayed, the platform uses sensors and data analysis to ensure proper coverage.
The technology was recently demonstrated at the airport for press and key stakeholders. The demonstration was held in concert with the Michigan Economic Development Corporation (MEDC) and PlanetM.
"COVID-19 has significantly disrupted the way the world moves," Pratt Miller's Vice President of Mobility and Innovation Simon Dean said, according to the release. "LAAD-V is one solution that will allow us to safely get back to business and our daily lives."