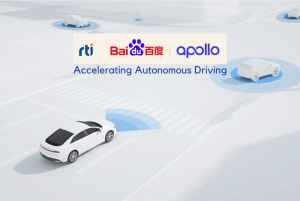 Real-Time Innovations (RTI) recently joined the Baidu Apollo autonomous driving partner ecosystem.
The ecosystem already includes an "elite group" of about 200 OEMs, Tier 1 suppliers, developer platforms and startups working to advance the Apollo driverless operating platform, according to a news release. Apollo is an open-source autonomous driving platform, with more than 1,598 patents and more than 6 million kilometers of road tests.
"As the world's leading industrial Internet of Things connectivity solution provider, RTI provides key solutions to enhance the robustness and stability for autonomous driving technology," said Wang Yunpeng said, senior director of the technology department of Baidu's intelligent driving group, according to the release. "Baidu is excited to have RTI join its Apollo autonomous driving partner ecosystem and hopes the cooperation will create new breakthroughs in technology."
RTI Connext Drive's software framework enables optimal communications reliability, which is critical to developing and operating autonomous vehicles.
"The autonomous vehicle market has experienced rapid growth in the last several years. We developed RTI Connext Drive to give our customers and partners the tools to solve complex autonomy challenges," said Bob Leigh, senior market development director, commercial at RTI, according to the release. "In joining the Apollo ecosystem, we are looking forward to conquering the challenges hindering autonomous vehicle deployment and adoption and moving into the next phase of autonomy."