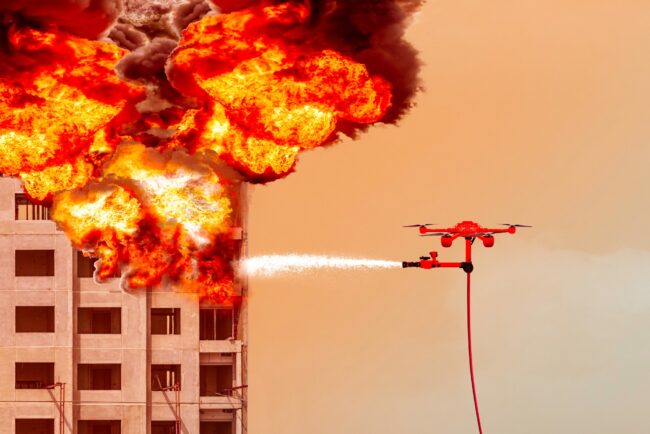 The global autonomous firefighting drone market will reach a valuation of nearly $1.92 million in 2023 and is expected to progress at a CAGR of 16.7% to reach nearly $9 million by the end of 2033, so reports FactMR, a global market research firm headquartered in Dubai.
According to the firm, sales of autonomous firefighting drone accounted for a nearly 12% share of the global autonomous drone market at the end of 2022. The analysis covers 30-plus countries, with the U.S. and Europe each representing a third of the 2023 market and China responsible for an additional 11%.
Drones can fill a major gap in firefighting. Estimates from the National Fire Protection Association state that 54% of high-rise apartment buildings, 45% of high-rise hotels and 41% percent of high-rise business buildings in the United States lack sprinkler systems, with 7% experiencing sprinkler system failures during fires. As populations grow and building densities rise, high-rise structures are particularly vulnerable.
Moreover, rescue ladders and fire hoses typically have lengths of under 50 meters, and are generally only used on one side of the building. Also, urban traffic can delay the arrival of firefighters at the scene.
Autonomous drone firefighting systems will benefit from heavier payloads, technology advancements and increasing infrastructure development. At the same time, the less-than-100 pound sub-segment will dominate, with a 61.9% market share in 2023. Military and government use will lead the autonomous firefighting market, though extensive commercial usage for mapping, observation, surveying and inspection is seen as presenting the construction industry with a significant use opportunity.
Challenges including performance, battery life and FAA regulation are cited. However, technical advancements are said to empower "prominent autonomous firefighting drone manufacturers" such as Walkera, Ehang, Skydio, DJI, Parrot, fotokite, T-Drones "and other leading players."
The full report segments autonomous firefighting data by range, payload, commercial/military drone type and region. An expanded summary and information about accessing the full report can be found here.