A 15-meter, 5-ton wind- and solar-powered ocean research vessel will cross the Atlantic from Plymouth, UK to Plymouth, Massachusetts, USA, in September 2020, without captain or crew.
No, this is not the Flying Dutchman. The Mayflower Autonomous Ship (MAS), a collaboration between the University of Plymouth and marine research and exploration foundation ProMare, has a dual mission: gather data on marine conditions, pollution and conservation, specifically the distribution of microplastics in the ocean; and commemorate the original Mayflower's voyage 400 years ago, bringing the Pilgrims to America.
Make that three purposes: "It also raises the bar in terms of autonomous vessels, a world first that could set the standard for others in the field to follow," said Kevin Jones, professor and Executive Dean of the Faculty of Science and Engineering at Plymouth University.
[Photos courtesy IBM.]
Without a soul on board, the MAS is expected to take two weeks (its progenitor took two months) to make the voyage. Half the length and 1/36th the weight of the Pilgrims' Mayflower, it can travel at 20 knots, 8 times as fast. While the 1620 sailing vessel carried 120 passengers and a crew of 30, the 2020 version will have 0 and 0 (zero and zero). A virtual crew will monitor the autonomous vessel from an electronic post in Plymouth, and millions around the world will be able to "sail" aboard it virtually.
The two ships do resemble each other in being wind-powered.
A trimaran with one long, main aerodynamic hull and two smaller hulls to stabilize the ship and host solar panels, the autonomous Mayflower will run on solar and wind power, with a backup diesel generator for emergencies. Designed by Whiskerstay Ltd naval architects and M Subs Ltd, it is currently under construction in a Gdansk, Poland shipyard.
Navigation
Autonomous navigation aboard the MAS is accomplished with two VERIPOS LD6 Integrated Mobile Units — the crew transporting the Pilgrims used sextants and compasses instead — receiving GNSS corrections through an L-band demodulator. The units can be configured with single- or dual-frequency receivers to employ either VERIPOS Apex or Ultra services. Both use precise point positioning (PPP), modeling GNSS error sources to provide 5-centimeter accuracy worldwide.
VERIPOS will provide support to the MAS and the Plymouth control center through its own Network Control Center in Aberdeen, Scotland, and a backup NCC in Singapore.
The MAS will perform sea trials in July and August off the English coast next year, and sail from Plymouth to Plymouth in September. Follow its progress online at http://www.promare.org/mayflower-autoship/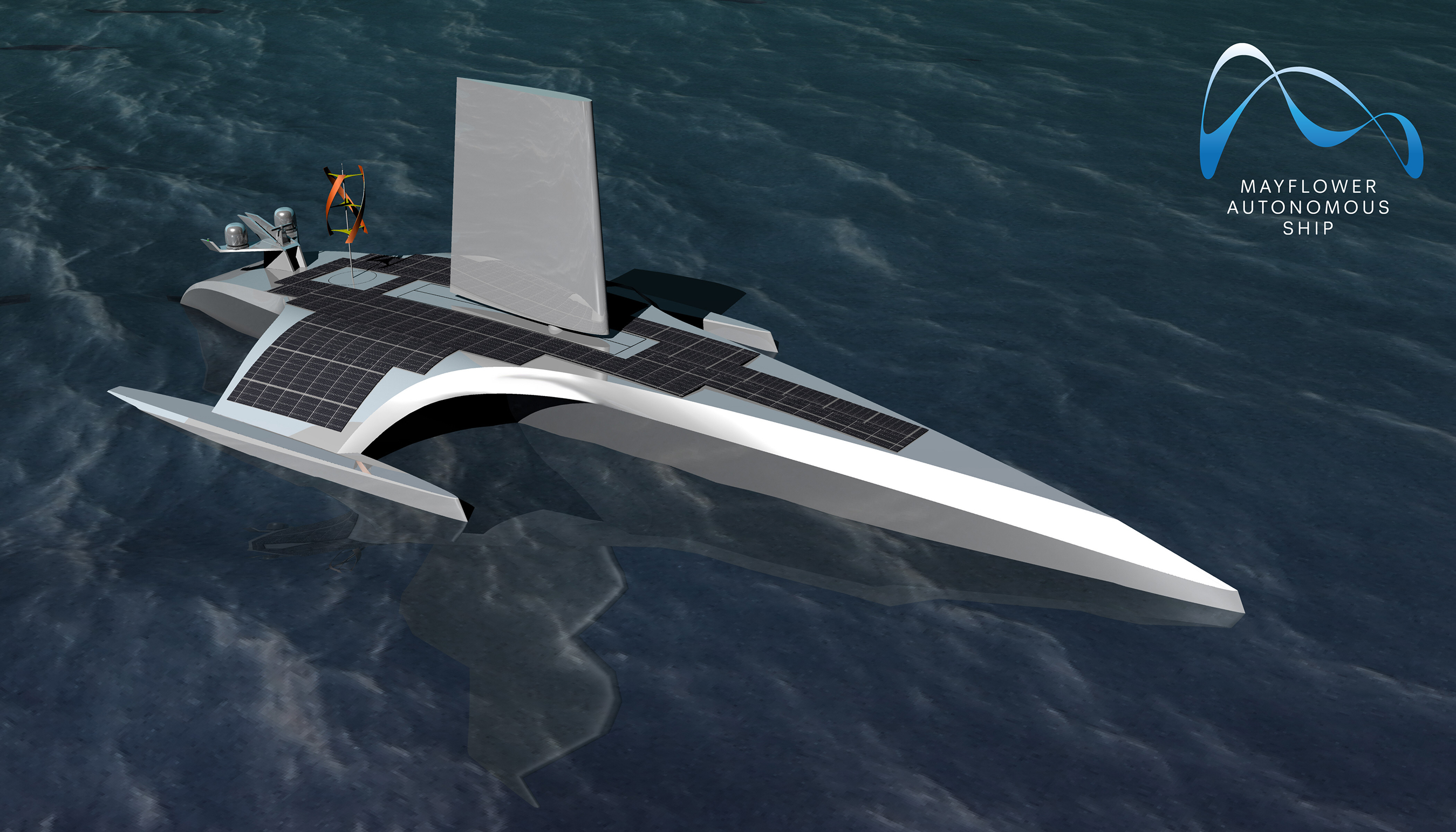 Research Pods
The vessel will carry three research pods containing sensors and scientific instrumentation to gather data to advance understanding in maritime cybersecurity, marine mammal monitoring, sea level mapping, ocean plastics and other areas. The University of Plymouth will analyze water samples from MAS as it sails across the Atlantic to understand more about the origin, distribution and potential impact of microplastics in the ocean.
"Microplastics present a substantial challenge to our oceans," said Richard Thompson, OBE, professor and Director of the Marine Institute, University of Plymouth. "Over 700 species come into contact with marine litter which is found from the poles to the equator, and estimates are that the quantity of plastic in the oceans will triple in the decade to 2025. The Mayflower Autonomous Ship gives us the opportunity to rethink how to collect data and further our understanding of this global issue."
The University of Birmingham will manage virtual, augmented and mixed reality technologies on the oceanic voyage. Birmingham's Human Interface Technologies (HIT) Team leads development of a Mixed Reality Telepresence Science Station which will enable school children and a full global audience to experience the mission live at sea during its voyage.
Artificial Intelligence
IBM is helping ProMare build deep learning models capable of recognizing navigation hazards which come into view in MAS's on-board video cameras. After training, MAS will be able to recognize hazards such as buoys, debris and other ships and will have constant situational awareness thanks to radar, AIS (Automated Identification Systems) and lidar.
When a hazard is detected, MAS will use IBM's Operational Decision Manager software to help decide autonomously whether to change course or speed out of the way. Fusing data from nautical maps, sensors and weather forecasts, MAS will be able to determine the optimal path and speed across the Atlantic.
For further details and background on the project, see "Uncharted Waters" in Velocity magazine.