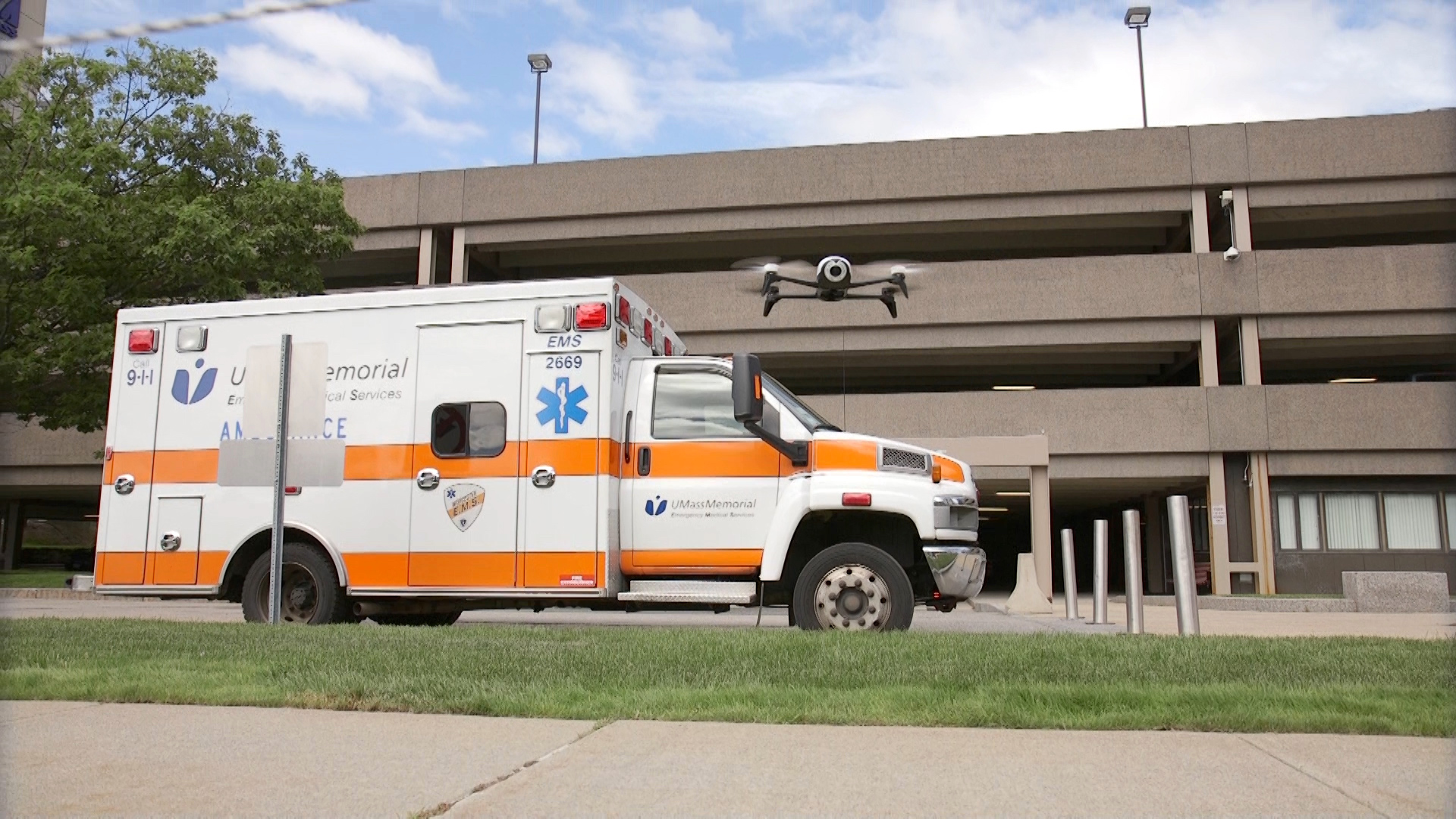 When first responders arrive at a scene with multiple casualties, there are a lot of unknowns. The environment is chaotic and communication is challenging, making it difficult to assess the situation and determine just how many people are injured and if it's safe to start looking for survivors.
Even in the chaos, first responders must do their best to locate victims and get them the care they need as quickly as possible—and that's something researchers at University of Massachusetts Medical School think drones can help with. With funding from Massachusetts Central Homeland Security Advisory Council and Worcester Emergency Management, the team plans to show how drone technology can help first responders assess these situations and communicate what they find to local hospitals preparing to care for victims, all in real time.
"Information in this kind of situation is very difficult to come by," said John Broach, Assistant Professor of Emergency Medicine. "There are tons of people on scene waiting to receive casualties and it's difficult to know how many there are. We hope by giving us a bird's eye view of the scene, drone technology will help first responders, the incident commander and hospitals really understand what's happening on scene."
Why drones
By deploying an unmanned aircraft system, or UAS, Broach said first responders will not only have a better idea of how many people are injured, but also who has the most severe injuries and where those victims are located. Typically first responders will provide immediate care and transport for the first victims they see, but there might be others with worse injuries further back in the scene.
Knowing there are more serious injuries in areas they can't see on their own will enable first responders to better allocate triage resources, Broach said, as well as allow hospitals to prioritize resources for the sicker patients who have yet to arrive.
Images from a drone also give the incident commander an overview of the scene without putting people at risk, Broach said, making it easier to determine where ambulances and other search and rescue resources should go first. Broach expects drones to help incident commanders better manage these scene and find victims quicker, which is key in a mass casualty situation.
The overview a drone provides will also help with logistics and determining the best way for emergency vehicles to enter and exit the scene, Broach said, which can be a challenge in these chaotic environments.
Training 
For this to work, Broach said the drone must be easy for first responders to operate—basically something they can send on its way by simply hitting a button, with no need for a specialist to fly it. That's why they've opted to use the Bebop Parrot Model 2 drone for their research. It's a steady drone that provides the images they need, Broach said. It also comes with a 30-minute battery life as well as an infrared camera to help locate victims at night.
As part of a study to determine interest in deploying drones during these situations, researchers asked 14 first responders to take a short tutorial then actually fly the UAS, Broach said. Most of them were excited about the technology and how it could help during one of these events, whether it's a shooting or a natural disaster.
"This is going to change the way mass casualty events are managed," Broach said. "It provides such a unique perspective and valuable insight, and in our short study we found almost everyone said it would be applicable in a real world mass casualty situation."
Putting it to the test 
Later this month, the team will test their drone during a mass casualty drill, Broach said. Through a simulated shooting with 200 victims and an active shooter, they'll see if the drone can improve the speed and accuracy of the response.
"As part of that, we're also going to transmit images to the incident commander, who will evaluate if this is something that will help them," he said. "It's a subjective measure of whether people see this as useful in managing mass casualties. We're going to try to evaluate how the technology would work in a variety of ways in the hands of the first responder."
As the research progresses, Broach hopes to do more studies to determine just how this technology can help receiving hospitals as well, he said.
The future 
Deploying drones during these situations also opens up the door for other technologies, such as augmented reality and telemedicine, Broach said. Using an optical head mounted display like Google Glass, first responders can transmit what they're seeing to someone who isn't on the scene, maybe a trauma surgeon who can help determine a victim's injuries or an off-scene decision maker trying to decide the best way to respond to a natural disaster.
Virtual reality is a way of bringing hospital providers to the scene, which means patients can get the care they need quicker and hospitals can better prepare for their arrival, Broach said.
"Having the ability to see that may really speed up the triage process and the treatment process once patients arrive at the hospital," Broach said. "The technology is going to change the way we manage large, complex disasters. These technologies are the future and the direction of really significant research and exploration."