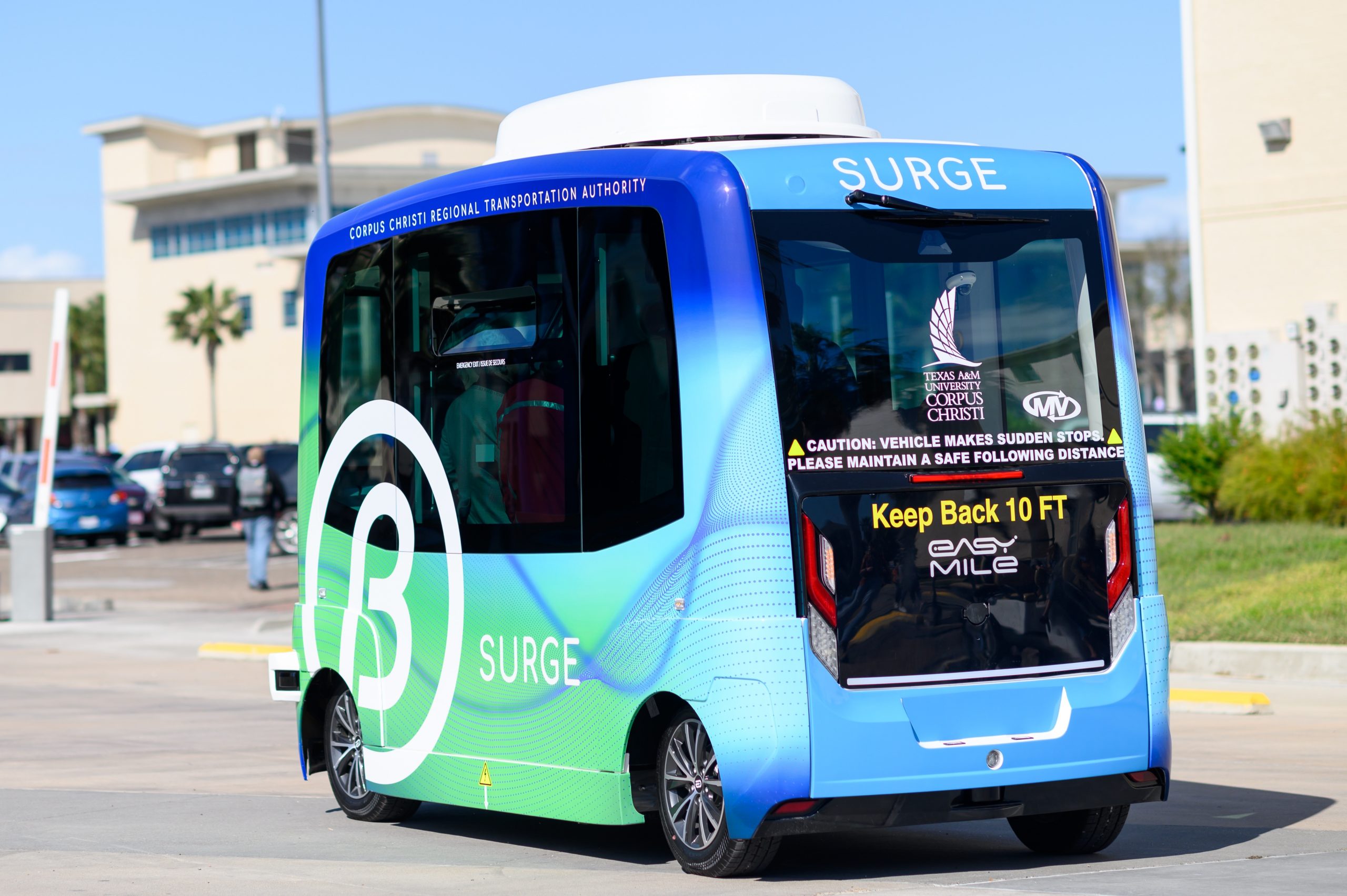 Texas A&M University-Corpus Christi students and faculty can now travel to parts of campus on an EZ 10 autonomous shuttle.
The two-year pilot began in January, with the shuttle, known as SURGE, traveling a complex mile-and-a-half long route where it intermingles with vehicular traffic, supply trucks dropping off goods and pedestrians, Corpus Christi Regional Transportation Authority (CCRTA) CEO Jorge Cruz-Aedo said. The shuttle's route takes about 20 minutes to complete and circulates through student housing, student common areas, the administration parkand various educational centers.
Parking on this island university can be challenging, and, before beginning this project, the CCRTA already provided shuttle and fixed-route service to the campus to help alleviate traffic and congestion. A few years ago, Cruz-Aedo started looking into adding an autonomous shuttle to the mix. After addressing all safety concerns and developing a route that met National Highway Traffic Safety Administration (NHTSA) standards, the team moved forward with the project that officially launched last month.
"Safety was our primary concern," Cruz-Aedo said. "We wantedto provide all services in a highly safe and secure manner for our riders. We had to ensure the technology was robust enough to handle a university setting."
The team choose the EZ 10 shuttle from EasyMile for its accessibility for passengers with disabilities, reasonable cost and advanced technology, Cruz-Aedo said. The shuttle wasdelivered to the university in November, and the team spent two months mapping the route and performing various tests to get it ready for prime time. They tested the vehicle in different weather conditions and identified spots where sensor interference might be an issue. They also made sure it could safely navigate the route and its varying elevations with a full load of passengers.
The shuttle will be operated by CCRTA contractor MV Transportation, Inc. Riders can take CCRTA transportation to get to campus and then connect to the shuttle, which can hold up to 12 riders and features a built-in access ramp for passengers with disabilities.
"The biggest emphasis we've had so far is training the ridership on where to go, how to catch the shuttle and how the route works," Cruz-Aedo said. "It's been an educational process for us to get them up to speed, but the more we educate the more ridership we have every day."
Cruz-Aedo is also interested in incorporating the shuttles in other parts of the community. This project will help determine where the autonomous shuttles might offer the most benefit.
So far, the rides on campus have been going smoothly, with stakeholders, faculty members, students and community members all offering positive feedback about their experiences, Cruz-Aedo said. They like the fact the zero-emissions shuttle islowering the community's carbon footprint and that they're out in front of an emerging technology that is changing the way people travel. Residents who haven't been to campus in years have told Cruz-Aedo they visited just so they could take a ride on the shuttle.
"The community likes this novel approach to providing transportation," Cruz-Aedo said. "They like that we're leading the way here in south Texas and bringing state-of-the-art transportation to this community. There's a certain amount of pride that the community has knowing we're out in front."