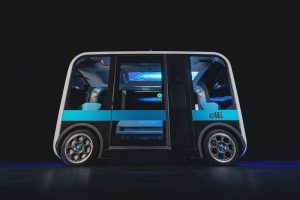 Big players in the automated vehicle industry are coming together to promote safety and transparency.
Through the U.S. Department of Transportation's Automated Vehicle Transparency and Engagement for Safe Testing (AV TEST) Initiative, nine companies and eight states will participate in public events and share information about testing efforts via an online public platform. Such transparency will keep the public informed while also allowing initiative members to learn from each other to solve common problems, helping to move the industry forward.
Participating companies include Beep, Cruise, Fiat Chrysler Automobiles, Local Motors, Navya, Nuro, Toyota, Uber and Waymo. The states involved are California, Florida, Maryland, Michigan, Ohio, Pennsylvania, Texas and Utah. The National Highway Traffic Safety Administration (NHTSA) will facilitate the testing, development and deployment of advanced vehicle safety technologies.
"Many innovators are testing the vehicles and systems that may lay the groundwork for a revolution in how we travel," NHTSA Deputy Administrator James Owens said during a recent speech about the program. "However, there's been no one-stop, centralized, nationwide source for information and transparency about the safe testing and development underway, until now."
The AV TEST Initiative is the first platform connecting the public, manufacturers, developers, operators and all levels of government to voluntarily share information about the on-road testing and development of prototype automated driving systems, Owens said.
Beyond the public events, which are slated to begin this summer, the initiative also will centralize the department's role in promoting safety and building stronger relationships between federal, state, and local governments and stakeholders. The online, public-facing platform created will provide a place for participants to share details about testing activities and other safety-related information.
Companies can use online mapping tools to indicate on-road testing locations through the platform Owens said, and can share testing activity data, such as vehicle types and uses, dates, frequency, vehicle counts and routes. Governments can update the platform with information about regulations, emergency response plans and legislation at both the state and local levels.
Autonomous shuttle service provider Beep plans to share regular information about how its vehicles operate and respond in various scenarios, including interacting with pedestrians, bicyclists and mixed traffic.
"This initiative will allow us and others in the AV industry to advance our collective learnings with the goal of improving public visibility and awareness of our results while building meaningful relationships among other participants and stakeholders to enhance safety for everyone," Beep CEO Joe Moye said, according to a news release announcing the initiative.
The AV TEST initiative will accelerate innovation, progress and long-term adoption, said Vikrant Aggarwal, the company behind the Olli autonomous shuttle. He describes the program as a "big step forward" because the "centralized source of data will benefit the industry holistically." The expanded testing the initiative provides will help fine-tune the technology and build public confidence.
"By collecting valuable insights from companies, state and local governments, the entire industry will no doubt improve, as transparency and openness are the only ways to cultivate the innovation needed to push autonomy forward," Aggarwal said. "A collaborative approach between government, industry and riders will pave the way for much-needed industry standards and benchmarks to make AVs safer and more effective. This will help get vehicles on the road and in our communities faster, during a time when autonomy is needed more than ever."
Toyota became involved with the program to share information and help the public understand how the technology works and how it's being tested, Senior Engineer Active Safety Jade Hill said. Consumer education is a focus for the company because, as this space is new for everyone, there is still a bit of hesitation to adopt and accept the technology.
Providing transparency will help get people comfortable with the idea of autonomous vehicles, Hill said.
"It's pretty clear the public has a lot of questions and concerns. It's a mysterious technology," she said. "This is just another way of giving them all the information they need to educate themselves on what we're doing rather than staying behind closed doors. We want people to be excited about the technology and accept it because it does have great potential to improve the transportation system."