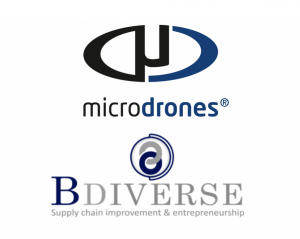 BDiverse of Israel, a supply chain improvement and entrepreneurial consulting firm, is pleased to announce they will be supplying Microdrones surveying equipment throughout Israel, the Middle East and the Persian Gulf.
BDiverse brings smart and innovative solutions into the world of supply chain, logistics, and infrastructure where they anticipate that the leading-edge technology from Microdrones will provide enormous added value to their customers.
Boaz Gilad, Co-CEO at BDiverse, recognizes the use of drones will improve the efficiency, productivity, safety and final deliverables for their customers. "We're very excited about this new partnership and looking forward to meeting new challenges from our customers," says Gilad. "We'll be glad to show them the benefits of using Microdrones for surveying and mapping. Using drones can reduce dramatically the conventional construction and operational processes costs creating more efficient workflows for our customers."
Available immediately, BDiverse is offering Microdrones Integrated Systems that come with everything a commercial user needs to get started using drones for surveying and mapping – the UAV, the sensors, and the software and hardware.
BDiverse can help promote business interests and create partnerships with relevant bodies in Israel and abroad. Their background in HLS organizations, logistics, supply chain management, and advanced technology systems help connect stakeholders and investors in both the private and government sectors.