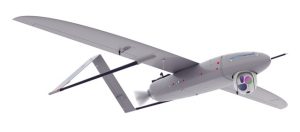 UAV Factory recently introduced the Penguin C Mk2, a small tactical UAS with a swappable nose concept.
The drone has more payload capacity, endurance and capabilities than the company's Mk1 drone, according to a news release, and recently completed a validation flight program. It is optimized for payloads up to eight inches in diameter weighing about 4 kg, while improved aerodynamics and increased fuel capacity give the drone enhanced flight endurance.
With the system's swappable nose concept, it's easy to integrate custom payloads and to quickly replace payloads in the field. The nose features an integrated motor that adds roll stabilization to the payload and protects it during recovery.
The UAS has successfully completed flights of 25.5 hours while carrying the Epsilon 140 LC day/night payload. It is natively compatible with the entire range of Epsilon payloads, including Epsilon 175 and Epsilon 180 gimbals.
The system, which can operate in GPS-denied environments, uses Silvus 2×2 MIMO datalinks with a radio link range of more than 120 kilometers. MESH, beamforming, various encryption options, an integrated spectrum analyzer and interference avoidance are also available. A Datalink Interference Cancellation functionality is available for U.S. customers.
The drone also received a propulsion system upgrade. A high-reliability fuel pump system now complements the 28cc EFI engine, enabling it to operate continuously over 55° Celsius ambient temperatures.