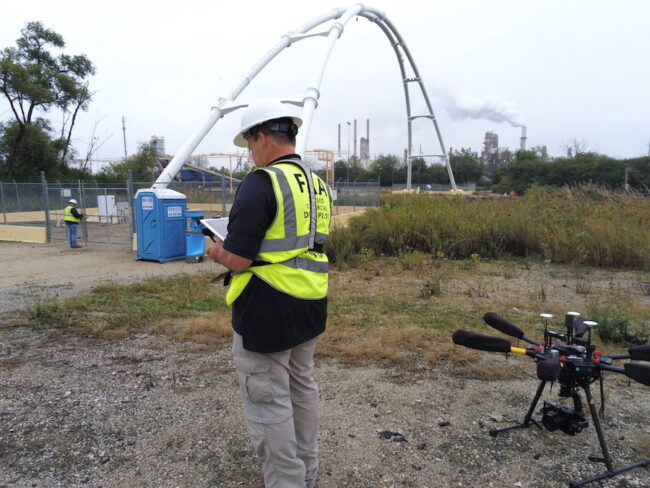 While many exhibitors at the recent Commercial UAV Expo in Las Vegas showed off their newest hardware, UK based Consortiq had a different story to tell. With a headquarters office at Heathrow Airport and a U.S. Hub in Annapolis, Maryland, the company provides drone-based service packages that can include digital asset modeling, infrastructure inspections, mapping & surveying, and methane detection. It also supplies training and field services.
"What's new is we're supplying a full suite of data for digital asset management systems," said Brian Grant, sales director for the Americas, explaining that the data they provide had expanded from RGB images to thermal and LiDAR. "Now, we're doing those beyond line-of-sight. We're also using terrestrial-based radar, laser systems and 360-degree cameras on the ground. So now, when you look at a facility it's not just the drone shot from above but there is data from below or inside. So, we're providing more of a complete data package."
In another enhancement, Grant said, Consortiq is partnering with Cedar Park, Texas-based Optelos, which "addresses the needs of large enterprises to upgrade their drone mapping software into a complete visual data management system," according to the Optelos website.
"Let's say you're doing an inspection and tagging items with the AI; we can add information to the tag such as the date of the last inspection, helping to avoid unscheduled maintenance," Grant explained.
Consortiq supplies drones for assignments, both non-Chinese and DJI, depending on customer preference and requirements.
Finally, said Grant, Consortiq now sees itself teaming with other reputable drone service providers to meet the needs of large customers.