As drones and other robotics settle into a recurrent role in the oil and gas industry, operators are looking into more complex and creative uses for the technology.
As the environmental engineering lead for BP, Peter Evans has had a front row seat to the evolution of drone use in the oil and gas industry. It's clear to him the systems, once considered a novelty, are no longer in the proof of concept phase; rather, they've become routine pieces of kit relied on for a variety of applications both onshore and off.
While Evan is most familiar with the impact drones have had on methane detection, with the sensors flown making it possible to measure rather than calculate emissions (an important distinction), he's also seen how UAS have changed visual inspections. Drones have become the default technology, Evans said, because it's easier, faster, safer and cheaper to deploy UAS than it is to erect scaffolding and shut equipment down to inspect assets manually.
And drones are being flown to inspect a host of oil and gas assets, from tankers and boilers to flare stacks and pipelines. They're flying close to vertical structures to identify damage and scanning the inside of vessels to spot defects. They're handling offshore inspections of all types so humans don't have to travel to remote, dangerous locations, including floating production storage and offloading (FPSO) vessels, which are ships that carry an entire oil and gas production system.
As operators put more trust in the technology, they are looking beyond the initial visual inspection use cases for other opportunities. Fugitive emission detection, with an early focus on methane, has expanded, for example, while more complex applications, like measuring a tank's wall thickness using an ultrasonic sensor, are starting to gain traction.
A growing list of applications also includes oil spill detection, security, construction monitoring and logistics. Operators are also implementing suites of robotics into and around their facilities rather than simply flying a drone or two, further increasing efficiencies and cost savings.
These emerging, varied drone uses are a natural extension of the push for autonomy, Evans said, with early adopters starting to scale and those hesitant at first now ramping up. All the majors, including BP, Chevron, Shell and Exxon Mobile, have robust programs, with the increase in autonomy and the eventual move to BVLOS applications, once regulations allow, expected to open up even more opportunities.
Trends within the industry also have shaped use cases, including the drive to improve efficiencies to keep oil prices down, the call to reduce methane and other emissions for more environmentally friendly operations and the ever-present focus on safety, said Sean Guerre, executive director of the Energy Drone & Robotics Coalition.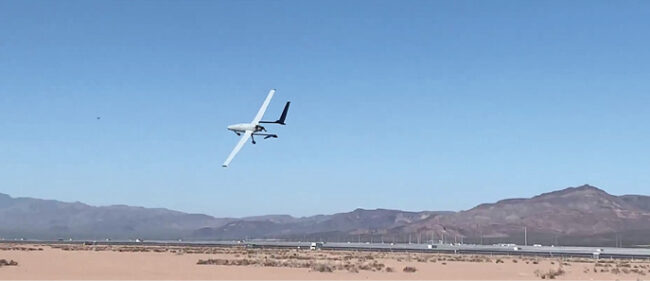 As the technology has evolved so too have the users, Saxon Unmanned Founder John Ferguson said. They understand the benefits, and typically know exactly what they want the system to do and the type of sensors that can make it happen.
"Adoption was slow for years, but as drones have proven their value, our clients have become more savvy," Shay Roehm, CEO of the McPherson, Kansas, company said. "When you think about the ability to see slippage on a pipeline, for example, and to monitor that based on historical data moving forward, comparing every new inspection to the first, you can find anomalies quicker and prevent distress and other issues that can cause harm to humans and property. They're really starting to see the value in making this investment."
KEEPING HUMANS OUT OF CONFINED SPACES
Oil and gas facilities have no shortage of tight, dark spaces that need regular inspection. Traditionally, humans enter these confined areas to perform the necessary work, putting themselves at risk while also having to shut the assets down. With the right technology, that's no longer necessary.
"The robots are getting better. They're more capable and more reliable. The data is very high quality," said Larry Barnard, an industry consultant who recently retired from Chevron after serving as DS&C operational governance, unmanned systems. "Before, we had to rely on individuals entering a dark, dirty environment and put safety equipment in place to extract them if they became overcome or stuck. Robots can go in and linger. They don't care if there's enough oxygen, or if it's dirty."
The Flyability indoor Elios drone systems Barnard relied on at Chevron have been deployed to collect visual data in a variety of oil and gas assets, including fluid catalytic cracking (FCC) units, cokers, storage tanks and stacks, said Zacc Dukowitz, Flyability's senior communications manager. Turkey's Tüpraş' Izmit Refinery, for example, flew the Elios 2 to inspect an FCC, a large piece of equipment used to convert heavy oil into fuel products like gasoline.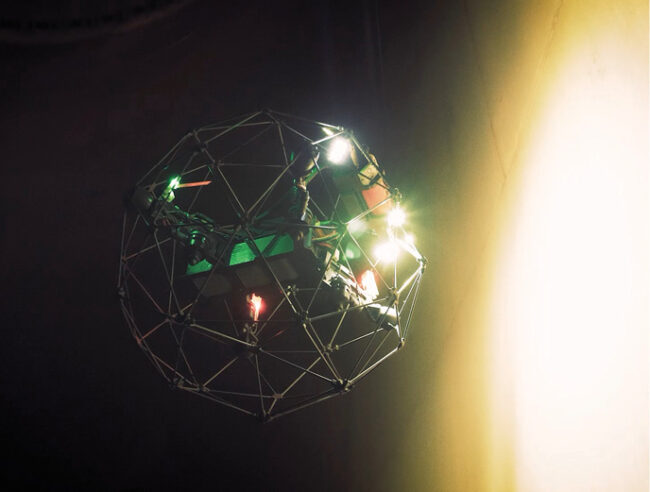 In three days, the Elios 2 inspected the 164-foot riser, the vapor overhead pipe and cyclone separators without anyone ever needing to enter the unit.
Inspectors deploy the newest Elios, the Elios 3, for 3D mapping to better understand the environment they're flying in, Dukowitz said, and to ensure full coverage. The Elios 3 features a new propulsion system, LiDAR sensor, a close-up inspection payload and FlyAware to run the SLAM engine. FlyAware enables flight stability, critical for these types of inspections, as well as the 3D mapping, 3D reporting capabilities and the possibility of full autonomy.
Norway's ScoutDI offers an indoor confined space solution to monitor asset structural integrity, Marketing Director Eivind Sivertsen said, picking up issues like corrosion, rust and cracks. The tethered system doesn't require a battery and flies with a thin, lightweight cable that powers the drone and provides a data connection between it and the ground station.

The 3D scanning LiDAR the drone carries creates a 3D map of the environment that is sent to the drone pilot, who can zoom in, pan and rotate the map to see if there are obstacles around the drone. The LiDAR also helps with continuous, stable motion, keeping the drone steady and easy to fly in these GPS-denied environments.
Of course, drones aren't the only robots finding their place in oil and gas inspections. For example, Confined Space Robotics, an Alberta-headquartered company spun out of Spence Corrosion, has adapted a robotic arm developed in Australia to take 3D scans inside tanks and vessels, said Norman Spence, CEO of both companies. A digital twin is created and downloaded into the computer system, which creates a model of the most effective method of abrasive blasting inside the tank. When ready, the operator pushes the button and the arm performs the work.
"It creates a path and follows the path repeatedly every time," Spence said. "We're learning a lot from the robots. We'll go in after the work has been performed and notice the robot did this well, but didn't do that well so we have to make an adjustment. It's taken three years to get to where we are, but we're pretty confident we know all the parameters the robotic arm needs for the height, the distance, the speed and the separation from one path to the next."
Now, about 96% of a tank can be blasted using a robotic arm.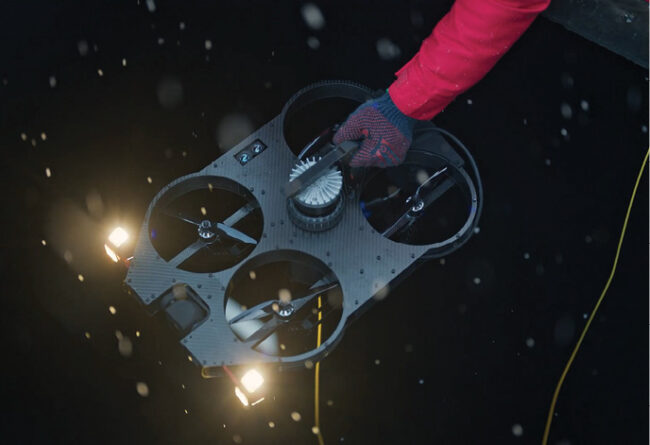 The company is also a North American Distributor for ScoutDI, Spence said. The drone can inspect tanks and identify hazards, including gas leaks, and then create a 3D model of the tank that's sent on to the robotic arm. This also makes it possible to complete an inspection and get a 3D model of the tank at the same time, without having to send anyone inside the vessel.
The goal is for the process to one day be autonomous: The drone flies a pre-determined path to complete the inspection, with the information downloaded to a robot that immediately makes the repairs. Spence has plans to design robots to perform other tasks, including coatings.
Submersible robotics are also being leveraged, Barnard said.
"There are folks making robotics that can be submerged in a tank with product still in it to take scans or inspect the tank walls or floors," he said. "That means the companies don't have to incur the cost of taking the asset out of service, emptying it and cleaning it. The robot is making tactile contact with the tank components to inspect them. That's pretty exciting."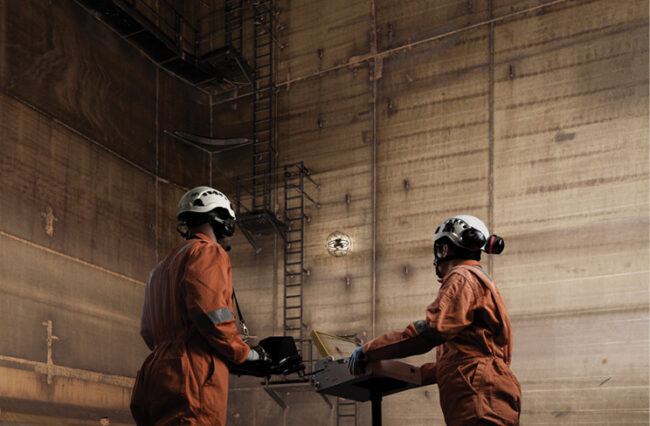 THE GO-TO FOR CRITICAL INFRASTRUCTURE INSPECTIONS
The inspection of safety-critical energy infrastructure via drone has become second nature, Cyberhawk Chief Revenue Officer Patrick Saracco said, with full-scale adoption particularly taking off in North Sea offshore platforms. Whether onshore or offshore, drone-based inspection can capture visual data of live infrastructure like flare stacks without the need for technicians performing the inspection at height or coordinating a planned shutdown.
Drones are being deployed to remotely observe and monitor deficiencies, Roehm said, allowing companies to move from responsive maintenance to predictive maintenance. The more information they have on an asset, they better they can predict when components might begin to fail. They're creating models with the information collected and comparing data to past and future inspections, with AI starting to play a role in identifying problems.
Beyond visual inspections, drones are starting to carry other types of equipment, such as ultrasonics, ScoutDI's Sivertsen said. With an ultrasonic sensor onboard, drones can efficiently measure steel thickness on several points of an asset to assess the need for repair. If it's too thin, a repair should be made. It's an example of an emerging use case born from asset operators watching drones performing other successful applications. In the future more and more of the inspection and maintenance scope can be done with flying drones and other robotic systems.
Then, of course, there's pipeline inspection. Drones can be flown along these assets carrying RGB cameras, thermal sensors or LiDAR to look for encroachment and signs of spills or leaks, including dying vegetation, Guerre said. Methane detectors are also being flown to measure emission levels.
Pipeline security represents another use case, Ferguson said, especially overseas. Drones can spot illegal taps and recognize when there's something out of place in a right of way, like a vehicle.
"We completed a 20-mile inspection in a recent study and counted 1,700 illegal taps," he said. "If you think about the amount of money being lost on a daily basis, it's significant."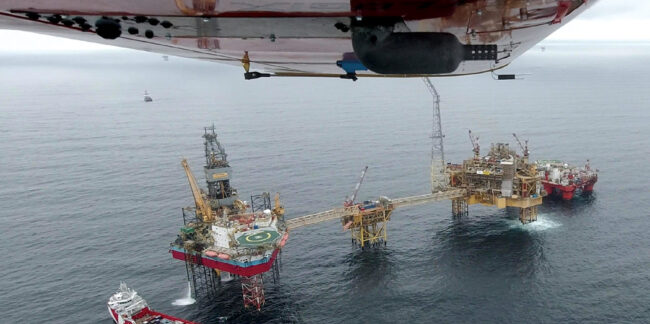 FUGITIVE EMISSION DETECTION
A CRITICAL USE CASE
Emission detection via drone, specifically methane, is starting to become routine both upstream and downstream, Guerre said. Sensors can detect if there's methane and how much. If it's over baseline, operators know it's time to put in an order for a repair. This not only cuts the costs associated with leaks, but also addresses environmental concerns and the recent industry wide push to reduce emissions.
As BP transitions from an oil and gas to an energy company, leadership has laid out a series of sustainability aims, which include a commitment to measure all methane emissions across the company, Evans said.
This is particularly critical offshore, where leaks in well pads can go undetected for long periods. Pairing the drone agnostic sensor with a fixed-wing system like the U.K.-based Flylogix's that has the endurance, ruggedness and communications capabilities to withstand the harsh conditions at deep water assets, makes routine inspections of such assets possible, Flylogix Commercial Director Chris Adams said.
BP also must perform atmospheric measurements around facilities to ensure the other measurements are accurate and complete, Evans said. The SeekOps sensor allows that by actually measuring a plume to work out an emission rate rather than just observing and calculating it.
"Over the last few years we've developed this offshore measurement capability where we have fixed-wing drones that take off from the shoreline and head out to facilities to take the measurements we want and then return," Evans said. "We're avoiding using crewed aircraft and sending extra personnel offshore, and we're receiving measurements that are as independent of operations as possible."
Smaller systems are typically used for onshore methane inspections, allowing the drone to get closer to the source for accurate detection, localization and quantification, said Iain Cooper, CEO of Austin-based SeekOps. To achieve this, the team sets up way points around the equipment, in collaboration with the operator, allowing the drone to fly curtains to capture a full 3D plume, critical to the process.
Once the site is mapped out, a flight plan is created to leverage the drone speed and sensor sensitivity, Cooper said. Operators have access to a real-time feed from the ground control station; if there's a large leak that needs attention, they're alerted immediately.
Data is also streamed to the cloud where an algorithm is used to determine initial leak points, leak rate from the methane concentration, GPS coordinates and wind vector. This information is packaged into a report that tells operators the size and location of any leaks identified so they can prioritize repairs. Leveraging automation, the drone can fly the exact same path for the next inspection so operators can compare where they were to where they are today.
While methane is the primary focus, there is interest in using drones for other fugitive emission monitoring. SeekOps, for example, is also trialing a prototype CO2 sensor. (For more on BP's use of the Flylogix UAV and the SeekOps sensor, see the methane feature in this issue).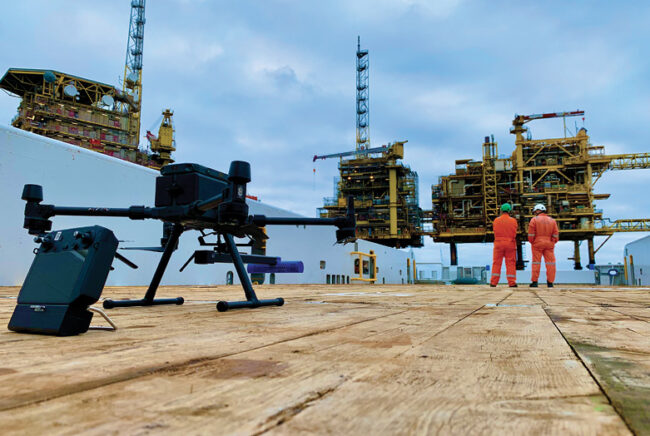 OIL SPILLS
Identifying oil leaks is another common drone use that spans upstream, downstream and midstream, CEO and co-founder of American Robotics Reese Mozer said.
"Drone-based inspection is not just limited to monitoring the condition of safety-critical infrastructure, but it can be deployed for emergency situations as well, particularly during an oil spill response," Saracco said. "Drones can help response teams assess the situation as it unfolds, using live streams, and detect the size and spread of an oil spill so they can better coordinate vessels that will be used as part of the cleanup operation."
Flylogix has partnered with Oil Spill Response Limited to determine how UAS can best work with manned aviation to respond to oil spills globally for a more environmentally friendly and lower-cost approach to cleanup. The companies have performed a series of exercises to gain insights into how the two can complement each other, including one last year.
WORKING TOGETHER
As technologies evolve, oil and gas players are now leveraging multiple robotics in a single inspection, Guerre said.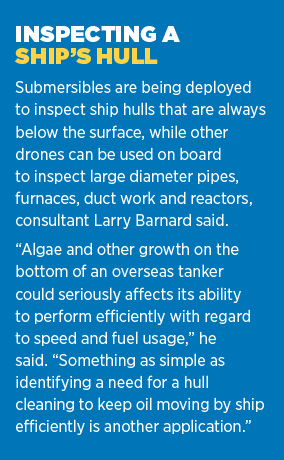 This is especially useful on a FPSO, where many pieces of equipment need inspection. Drones can provide the aerial view of linear assets while a crawlers handle the inside of tanks.
The robotics also can be complementary, Guerre said. For example, an operator might use a drone to detect methane for one asset and a crawler built to autonomously run a pattern for another, depending on which has better access.
"I can do a complete FPSO inspection 100% with robotics," Guerre said. "That's happening right now, especially on behalf of regulatory bodies to gain approval to use these types of technologies for routine inspections."
Submersibles are also in play for underwater inspections, Guerre said. Some robots actually live on the sea floor and autonomously inspect subsea assets, like pipelines, following a planned pattern. A few systems in the proof of concept phase are expected to stay underwater for one to two years.
LOOKING AHEAD
As regulations allow BVLOS flights to become routine, it will open up more opportunities in the oil and gas industry, Guerre said, and help advance autonomous operations.
Automation will be a driving force, Roehm said, with AI capabilities continuing to grow and better inform where the defects are and their level of priority for repair. Protocols will improve, as will predictive maintenance, with systems detecting a problem and determining how to react in real time.
Eventually, every oil and gas asset from well pads to pipelines to refineries will be monitored on a daily basis via drones that live on premise and go out on multiple inspections a day without human intervention, Mozer said. Autonomous systems will gather more data than ever before, further improving efficiencies.
Multiple drone operations will also start to become more common, Guerre said, with several flying autonomously from a remote command center or somewhere on site, without the need for a pilot. Emission detectors deployed on autonomous drones will serve as a sort of alarm system for when emission rates have exceeded the baseline, Evans said, also making it possible to identify short-lived events such as equipment upsets. More progress will be made with tactile sensors that make contact with the targets to measure metal thickness or listen for valves not operating properly, Barnard said. Equipment integrity readings taken by aerial/crawling robotics above ground and at height, in densely-obstructed areas, will provide much more refined and repeatable data, and reduce the risks, time and costs associated with using people.
"As people use drones more and more to collect visual data, people at refineries and other oil and gas installations notice the value and ask, 'Hey, could you fly over here so I can see what's happening?,'" Dukowitz said. "This is often the kind of informal discovery that drives adoption and new uses—people see the technology in action and start experimenting to find new ways to use it."