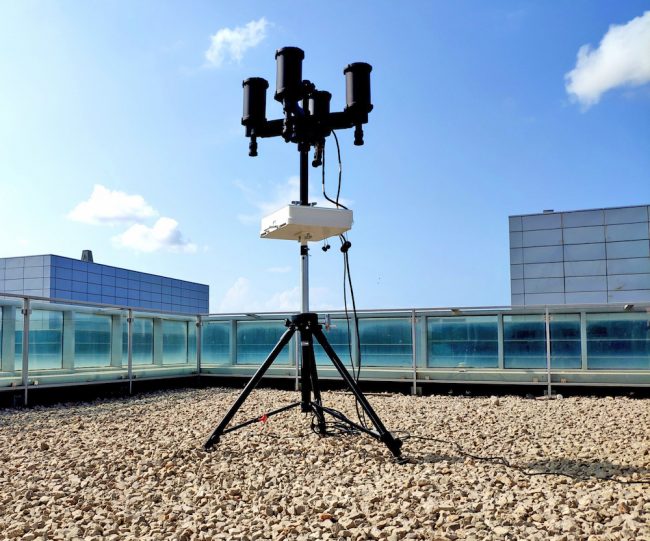 Drones, you might say, are value-neutral. While often beneficial to industry, government and hobbyist use alike, they can be used to disrupt events, endanger airspace, even threaten assassinations.
Enter D-Fend Solutions, a Ra'anana, Israel/McLean, Virginia-based company that alleviates threats from potentially dangerous drones with Enforce-Air, a flagship counter-drone technology that takes control of rogue UAVs and lands them in a predefined area.
The system proved its mettle last year when it removed a rogue drone interrupting a mass held by Pope Francis with 60,000 worshippers in Slovakia. D-Fend worked with the Slovakian Interior Ministry to protect the pope, his retinue and attendees. More recently, D-Fend protected members of the G7 Summit in Cornwall, United Kingdom.
Promoting Positives Amid Rising Threats
You might expect D-Fend's leaders to be down on drones, but "we're actually driven by a kind of drone-positive worldview," Jeffrey Starr, D-Fend Solution's chief marketing officer, said. "We realize drones bring a lot of great value and they're reshaping society. And that should be protected.
"As drones proliferate, however, there is a very small portion of bad or careless actors or inexperienced operators who could create tremendous damage. So, by mitigating that threat in a very surgical and selective way that focuses on safety, control and continuity, we allow the positive drone society to flourish. That's kind of our philosophy."
In the company's view, such threats are only increasing, especially as the marketplace for drones grows. "What we're focused on and what is emerging more and more, is the threat from commercial off-the-shelf purchased drones that can be misused, adapted or carelessly deployed," Starr noted.
Biden Administration Takes Action
This threat was recognized last April by the Biden administration in the Domestic Counter-Unmanned Aircraft Systems National Action Plan, which is seeking to expand lawful protection against such intrusions. It suggested working with Congress to expand the set of tools and actors that can be brought to bear, among other recommendations.
According to D-Fend, traditional counter-UAS solutions are not the answer since they can interfere with communications and authorized drones, or miss the threat. He detailed shortcomings of other technologies in both detection and mitigation.
"On the detection side, you have radars, but they can generate false positives," Starr said. Similarly, line-of-sight solutions may not work where there are buildings or mountains; and acoustic remedies may be hampered by noisy environments or with increasingly softer drones. On the mitigation side, jamming is temporary and might interrupt other crucial communications. Anything physical, such as projectiles or lasers, could cause damage in a crowd.
Six-Step Detection and Mitigation
D-Fend's proprietary solution, Starr said, brings together technologies from military intelligence, electronic warfare and other sources in its flagship product, EnforceAir SDR (software defined radio).
The process loads identifiers of approved drones for the event or area into the system, then performs six steps through the incident lifecycle:
Receiving an alert when a drone is detected
Determining the intruder's position for real-time location tracking
Examining the drone's unique communication identifier to see if it is authorized or unauthorized
Identifying the drone's pilot position and take-off location while the drone is flying
Disconnecting the drone operator's remote control
Using Active RF (radio frequency) briefly to take over the drone and land it in a safe area.
EnforceAir supports long-range drones, both commercial and proprietary radio frequencies (such as those of do-it-yourselfers), and manual and pre-configured auto-pilot flight modes.
Six Primary Configurations
D-Fend offers six primary deployment versions that work with the EnforceAir SDR core component and can be configured for situations ranging from border protection to critical infrastructure, stadiums to arenas, VIP protection to maritime incidents:
Military—Includes a ground-level military antenna with 360-degree azimuth coverage and zero-to-40-degree elevation, an antenna cradle and weather-proofing. Can be deployed on a tripod.
Vehicle—Offers a protection bubble for VIPs, law enforcement and others who need to move without limitations or public identification. Quickly transferable from vehicle to vehicle with the antenna kit, cable set, power unit and cradle. Can be tripod-mounted.
High altitude tactical—For tall buildings, mountainous and sensitive environments. The kit features an ultra-stable tripod and a tactical, high performance, wide-angle folding antenna designed for +/- 40-degree reach.
Ground level tactical—Easily deployed in a dynamic environment, with 360-degree azimuth coverage.
Long-range directional—To cover expanses such as airports and borders, it secures the directional sensor to a pole installation bracket. Features an ultra-wide band antenna and 30-to-60-degree azimuth (RF band dependent) extended long-distance coverage.
High altitude stationary—Enhanced vertical aperture protects large buildings and stadiums. Offers 360-degree azimuth horizontal coverage and +/- 40-degree vertical coverage.
For D-Fend, it's about keeping the good guys in the skies.