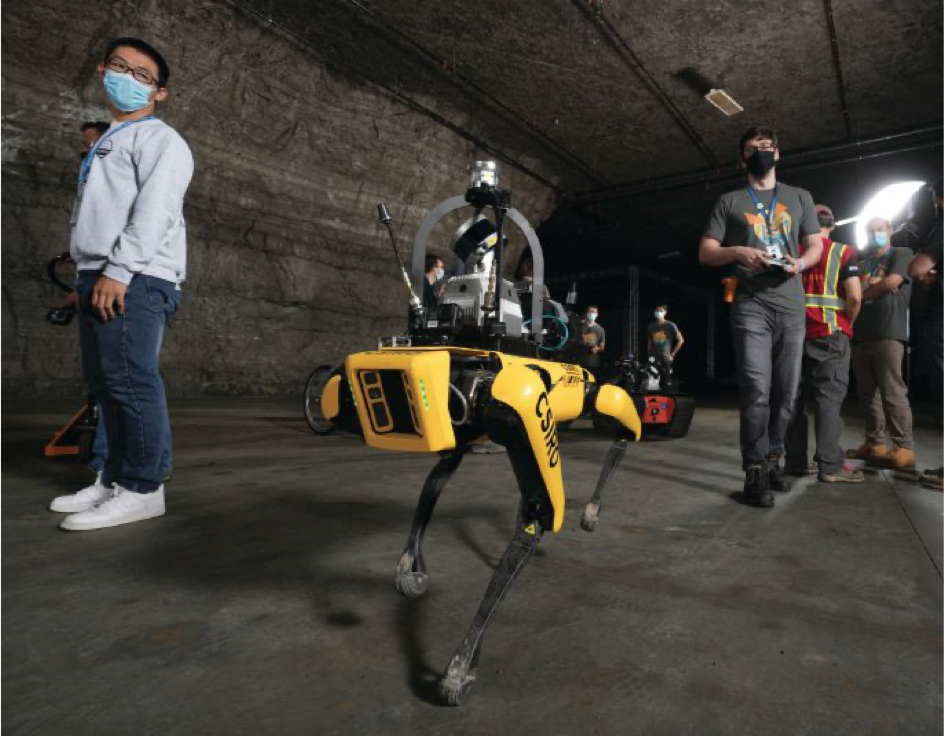 Robots revolutionize underground operations.
As the final event of the Defense Advanced Research Projects Agency (DARPA) Subterranean (SubT) Challenge concluded on Sept. 24, team CERBERUS (CollaborativE walking & flying RoBots for autonomous ExploRation in Underground Settings) stood victorious over seven other global systems competitors, taking home $2 million in prize money. More importantly, DARPA now stands better equipped to assist warfighters and first responders in safely exploring dangerous, dark or deep underground environments.
Caves, mines, tunnels, sewer systems and the urban underground are notoriously dangerous. Operators in these uncharted territories often encounter random forks in the road, deep inclines, smoke-filled corridors, uneven terrain (mud, rubble or rocks), water, airborne particulates and other unexpected obstacles. The SubT Challenge sought to revolutionize how defenders function in this hazardous and high-risk underground domain, particularly in time-sensitive scenarios.
Tim Chung, Ph.D., program manager of DARPA's Tactical Technology Office (TTO), led the project. Chung has an extensive background in robotics as a former assistant professor at the Naval Postgraduate School, director of the Advanced Robotic Systems Engineering Laboratory (ARSENL) and prior deputy director of the Secretary of the Navy initiative for the Consortium for Robotics and Unmanned Systems Education and Research (CRUSER). The SubT Challenge, Chung said, was looking for robots that are "the best all-around triathletes," able to operate in tunnels, urban underground and caves. "In the future, we can imagine reducing risk to the rescuers in those environments if robots could provide timely and critical information." Not surprisingly, the SubT Challenge scenarios involved urgent (T-minus "minutes") search and locate missions.
The three-year SubT effort focused on robotic AIML (Artificial Intelligence Markup Language) applications in dynamic underground scenarios, with an emphasis on providing actionable situational awareness. The robots continuously proved their mettle in roles ranging from low-level control—such as how to get over a rock—to more advanced tasks such as shifting into a scout or comms relay mission, to multi-teammate coordination and optimization.
THE COMPETITION
Prior to this culminating event, 14 teams deployed their autonomous robots, in person, virtually or in a combination of those formats, to map, navigate and search underground spaces. The teams participated in three underground Circuit Competitions: "Tunnel," "Urban" and "Cave." A Virtual Competition worked hand-in-hand with the live Systems Competitions, providing teams worldwide access to a synthetic environment to prove their autonomy software.
DARPA transformed a coal mine and an unfinished nuclear power plant into robot test sites. Teams earned points by correctly identifying artifacts placed within those environments. They completed four total runs—two 60-minute runs on each of two courses of varying difficulty—and earned points by correctly identifying 20 artifacts within a 5 meter accuracy. The final score was a total of each team's best mark from each of the courses. These scores determined eligibility for the final Grand Challenge.
For the final event, held Sept. 21-24 at Kentucky's Louisville Mega Cavern, DARPA wiped the scoreboard clean; teams started fresh. The live-action course involved a working commercial limestone mine and all three domains.
The Systems Competition was fierce. CERBERUS, the $2 million winner, drew its conceptual inspiration from its namesake mythological three-headed dog protector of the underworld. "From a robotics standpoint, we are inspired from the potential of combining two very different modalities of location, namely walking and flying, while simultaneously addressing in a unified manner the perception and navigation challenges." according to the DARPA website. The second-place team, CSIRO Data61, received $1 million and the third-place team, MARBLE, $500,000.
DAPRA provided separate prize money to the virtual winners. Hilario Tome, Spain-based and self-funded team Dynamo, took home the $750,000 first-place prize. CTU-CRAS-NORLAB nabbed second place for $500,000 and Coordinated Robotics came in third for $250,000. DARPA funded these latter two teams in the Systems Competition, but they were self-funded for the virtual portion.
For Chung, these challenges were worth every penny spent because they validated the reliability and resilience robots bring to the cross-domain fight. "Reliability means the equipment will do what it is expected to do in the face of what we actually expected. Resilience means that it will do what we hoped it would do in the face of the unexpected. SubT showed us how we can better accomplish both of these things through AIML and human-machine teaming."
DARPA remains eager to engage with anyone who can bring novel concepts, innovative approaches, and breakthrough technologies and capabilities in support of national security. To learn more about how to engage with DARPA visit: https://www. darpa.mil/work-with-us/opportunities.
SUBT CHALLENGE CIRCUITS RECAP
Here's where you can revisit the award announcements
TUNNEL CIRCUIT
• Tunnel Circuit Systems Competition Awards Announcement: https://www.darpa.mil/news-events/2019-08-22
• Tunnel Circuit Virtual Competition Awards Announcement: https://www.darpa.mil/news-events/2019-10-30
• Tunnel Circuit Recap Video: https://www.youtube.com/watch?v=sBujR2XJSSY&list=PL6wMum5UsYvYpbhQALOcbhzXYTt3qnzqA&index=75
URBAN CIRCUIT
• Urban Circuit Awards Announcement: https://www.darpa.mil/news-events/2020-02-27
• Urban Circuit Recap Video: https://www.youtube.com/watch?v=dcPTrH41xaE
CAVE CIRCUIT
• Cave Circuit Awards Announcement: https://www.darpa.mil/news-events/2020-11-17
• Cave Circuit Recap Video: https://www.youtube.com/watch?v=eZh-eIVui4&list=PL6wMum5UsYvYpbhQALOcbhzXYTt3qnzqA&index=2
THE ELITE EIGHT
The SubT final Systems Competition teams involved eight representatives from 11 countries. DARPA funded (*) all but two of these teams:
• CERBERUS (*) (CollaborativE walking & flying RoBots for autonomous ExploRation in Underground Settings): University of Nevada, Reno; ETH Zurich; University of California, Berkeley; Sierra Nevada Corporation; Flyability, Switzerland; Oxford Robotics Institute, England; Norwegian University for Science and Technology (NTNU), Norway
• CoStar (*) (Collaborative SubTerranean Autonomous Resilient Robots): Jet Propulsion Laboratory; California Institute of Technology; Massachusetts Institute of Technology; KAIST, South Korea; Lulea University of Technology, Sweden
• CTU-CRAS-NORLAB (*): (Czech Technical University in Prague; Center for Robotics and Autonomous Systems; Northern Robotics Laboratory; Czech Technical University in Prague, Czech Republic; Université Laval, Canada
• Coordinated Robotics: Coordinated Robotics; California State University, Channel Islands; Oke Onwuka; Sequoia Middle School, Newbury Park, California
• CSIRO Data61 (*): Commonwealth Scientific and Industrial Research Organisation, Australia; Emesent, Australia; Georgia Institute of Technology
• Explorer (*): Carnegie Mellon University; Oregon State University
• Robotika: Robotika International, Czech Republic and United States; Robotika.cz, Czech Republic; Czech University of Life Science, Czech Republic; Centre for Field Robotics, Czech Republic; Cogito Team, Switzerland
• MARBLE (*) (Multi-agent Autonomy with Radar-Based Localization for Exploration): of Boulder, Colorado; University of Colorado, Denver; Scientific Systems Company, Inc.; University of California, Santa Cruz.