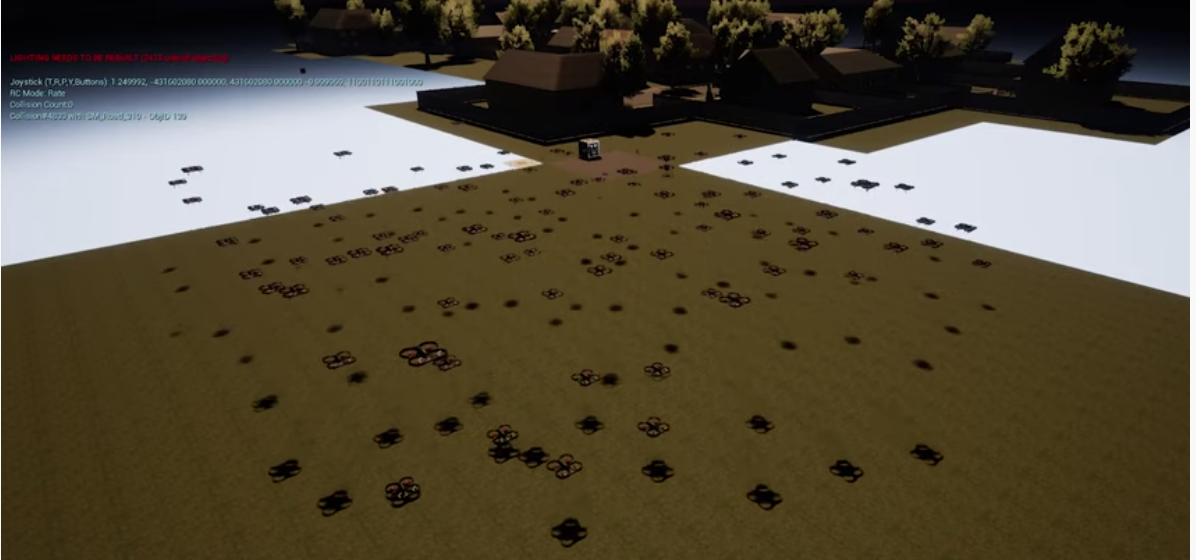 Crowded cities present an array of logistical challenges for ground troops carrying out complex missions around the globe. Tall buildings, tight spaces and limited sight lines can limit communications and mobility, jeopardizing mission objectives and putting lives at risk.
DARPA's OFFensive Swarm-Enabled Tactics (OFFSET) program has come up with a unique and collaborative way to test and explore solutions with the goal of enabling ground troops to more safely and effectively conduct operations in dense urban environments.
The OFFSET program's efforts are led by Timothy Chung, a program manager within DARPA's Tactical Technology Office. His proposed solution? Swarms of up to 250 collaborative, autonomous drones.
Soliciting Swarm Sprints
Chung is taking a "come one, come all" approach to soliciting proposals that seek to decrease the number of troops on the ground and increase the autonomous drones in the sky.
In a series of online videos, he's invited academic institutions, researchers, small businesses and large corporations alike to submit ideas and proposals for a shot at participating in a series of swarm "sprints" that are currently underway to test and develop ground-breaking swarm tactics and supporting technologies.
Now soliciting proposals for its fifth OFFSET sprint, swarm participants have been collaborating on the design, development and demonstration of their proposed swarm system architectures, testing their ideas in virtual game-based environments and then bringing them to life in a physical testbed for ground and air platforms.
"The OFFSET program is primarily interested in where there are opportunities to learn and embrace autonomous systems technologies when we're using them in large scale teams," said Chung. "DARPA seeks to accelerate the discovery of breakthrough technologies and create potential strategic and technological surprise."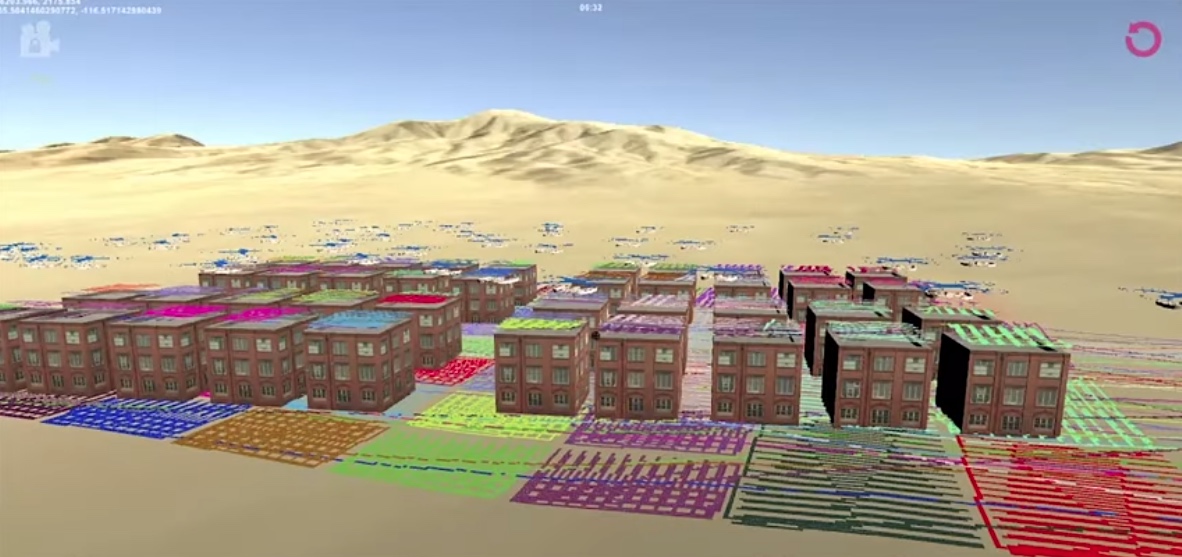 Keeping Pace with Technology
According to Chung, the OFFSET program is working to design and grow the level of autonomy needed to enable these swarm capabilities, and to explore how humans will work together with autonomous swarms to conduct operations in the future.
Chung stressed that this is an important exploration that will help the government to keep pace with technology needs and changes as advancements continue to race forward.
"When it comes to drone and robot autonomous systems, every six months there's a drumbeat of new products and capabilities," said Chung. "AI and autonomy approaches are always changing, so the structure of how we create opportunities through these sprint solicitations through the OFFSET program is leading to good opportunities for technology exchange and partnerships all throughout the industry."
From that perspective, he said everything is fair game in terms of what can be explored, as the swarm systems architecture can be coupled both the virtual environment and the actual physical testbed.
"We can explore, discover, derive some insights," said Chung. "That's quite useful for informing the investments going forward of if those technologies indicate some breakthrough on the horizon, then that would be an indicator for us to perhaps follow through with more physical hardware-based development."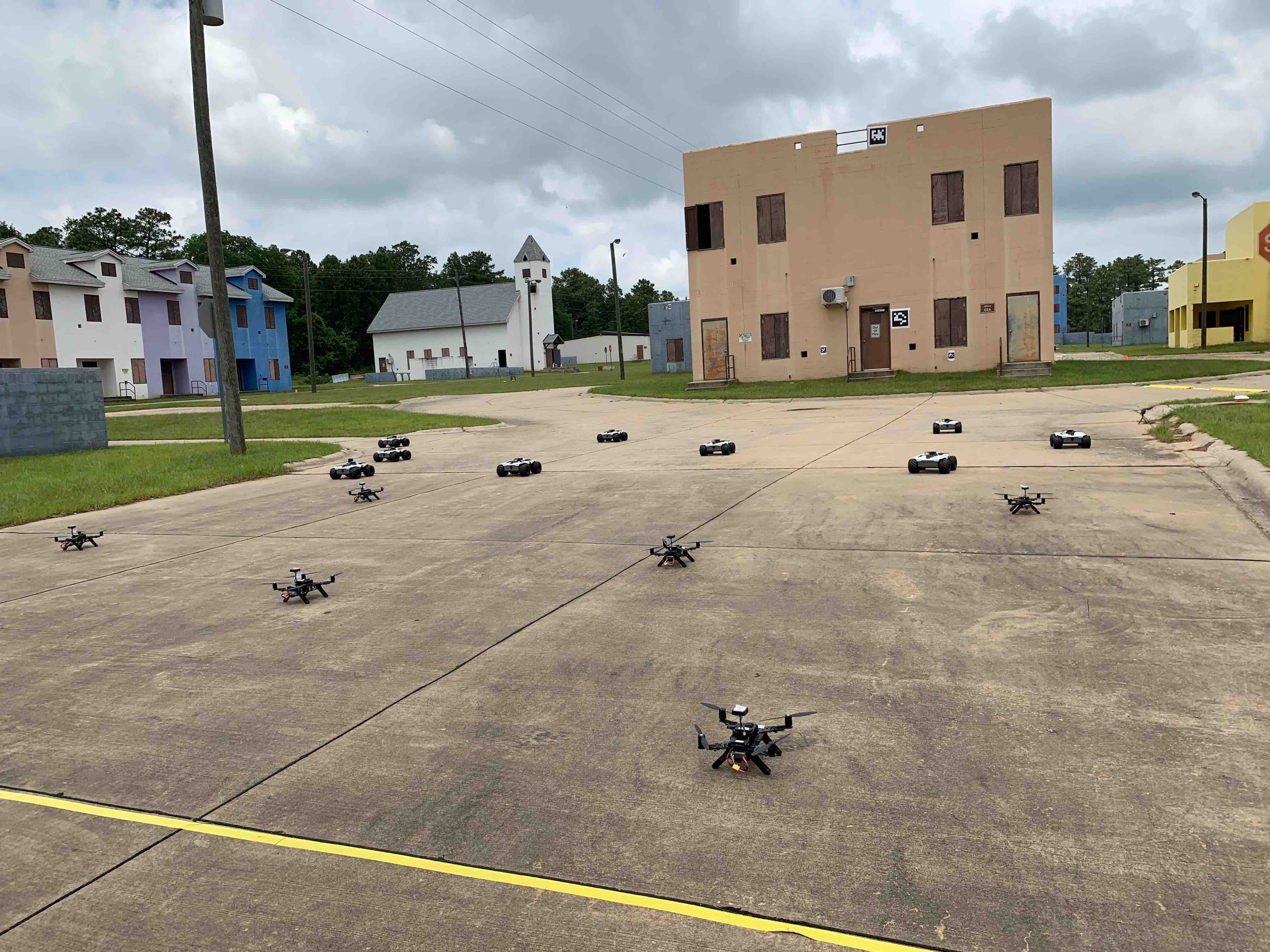 Sprint Discoveries
There have already been some exciting discoveries. 
Teams that participated in the second swarm sprint in June at the Selby Combined Arms Collective Training Facility in Fort Benning, Georgia, for example, undertook a complex scenario spanning two city blocks. 
Participants located and isolated a mock city hall building, located and secured an objective inside, and then secured the building—all while maintaining situational awareness of the surrounding area. 
As with all the sprints, the experiment brought together large companies, research institutes and universities to integrate and test out their swarm autonomy tactics and technologies. 
One of those swarm participants was Northrop Grumman, which tested their Rapid Integration Swarm Ecosystem (RISE).
"OFFSET RISE takes a human-swarm teaming approach with the understanding that this is a critical capability for the dismounted soldiers who will be using this technology," said Erin Cherry, program manager at Northrop Grumman. "This means that the swarm commander has the ability to define the mission plan, while vehicles self-allocate and autonomously execute that plan. While this is happening, the swarm commander continuously monitors the mission and is able to make decisions based on any new system-sourced information."
Raytheon BBN Technologies, a research company that's been folded into Raytheon that focuses on critical solutions for national defense and security missions, also participated.
"The OFFSET program's focus on urban environments really forces us as program participants to confront a lot of the practical coordination and safety issues that industry typically does not need to address for commercial products," said Shane Clark, principal investigator for the OFFSET program at Raytheon BBN Technologies.
As Integrators on the program, Raytheon BBN is providing the baseline functionality for the sprint teams that come and go every six to nine months. 
"That gives us the challenge of interacting with a new set of researchers bringing fresh ideas into the program on a regular basis," added Clark. "It is our responsibility to work with them and figure out how to rapidly realize their ideas on fieldable hardware. 
The goal is that there will continue to be breakthroughs through these sprints, such as one sprinter team that implemented an algorithm and sensors that allow a swarm of vehicles to identify the source of RF transmissions by sharing their observations of the RF signal strength from different positions. 
Recipe for Success
According to Clark, a rewarding aspect of the work is to identify the wide applicability of the solutions these sprints enable. 
"Swarm capabilities like rapid search and mapping have applications to disaster recovery, search and rescue, and wildfire monitoring and mitigation, just to name a few of the domestic possibilities," he said.
Chung believes OFFSET has found a recipe for success when it comes to facilitating the exchange and interactions between the government, academia and companies.
"I think one of the things we've learned is it really takes a community to create these swarm capabilities and OFFSET is interested in fostering that community," said Chung. "That future tech base that will be able to answer the call for some of these new technologies that we're discovering right now, and driving insights for the future."