TechnipFMC, a leading builder and manager of oil and gas infrastructure, is looking invest in new technologies and partner with other firms to support autonomous and semi-autonomous subsea operations.
"TechnipFMC has really shifted their thinking from the not-invented-here kind of let's-do-everything-all-in-house thought all the way to looking at venture capital investment in start-ups and also what we call open innovation," said Diana Grauer, TechnipFMC's director of external technology engagement. "And what that gives us an opportunity to do is bring technology startups, small firms (and) other third parties into our ecosystem and into our supply chain in a collaborative way. And that way we can support those groups and those technologies and help them help us provide solutions to our customer."
The product of a 2017 merger between Houston-based FMC Technologies and Paris-based Technip, the firm is a fully integrated company spanning 48 countries and nearly all aspects of energy infrastructure development, construction and service.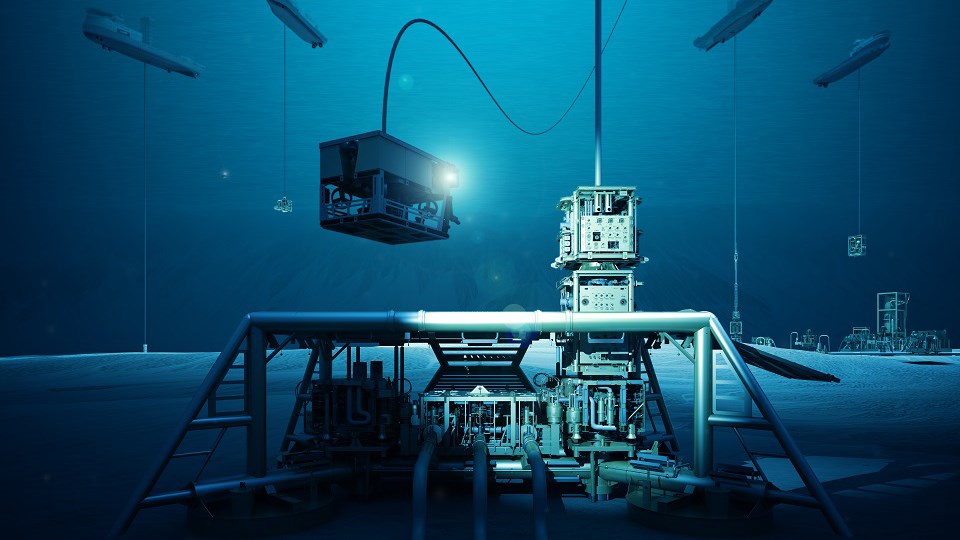 "TechnipFMC is really unique in the oil and gas and energy space. We are a full value stream provider of technology, engineering, procurement, construction, equipment and installation services for upstream, midstream and downstream," Grauer said, referring to activities around the wellhead, gathering and initial processing and then further processing of energy deposits like natural gas. The company specializes in infrastructure and has proprietary wellhead, measurement processing and compression technology. Grauer is looking to expand that portfolio to include more technologies for subsea systems including autonomous underwater vehicles (AUVs).
"What we are discovering is that one single technology is not giving us all of the answers," Grauer told Inside Unmanned Systems. "So we really shifted our paradigm to look at larger ecosystems of technologies."
She is especially looking for solutions for subsea communications and, by extension, AUV command and control.
"So the challenge with subsea communications is obviously the physics underwater," Grauer said. "So what we have done is instead of just focusing on one method of communicating subsea — like RF (radio frequency) or acoustic or optical — we're actually looking at a hybrid solution. So what we want to do is we want to bring all of those different forms into one space and have them all communicate with each other and then also with the assets subsea and topside."
The goal she said is to have a system that switches automatically between one technology and another depending on the situation — similar to the way cell phones switch smoothly from one cell to another. If underwater limitations on communications could be addressed it would be possible to gather and use large amounts of data about, for example, the environment surrounding subsea installations. She is also looking for long range, subsea communications solutions with low latency as well as a high data rate "because I can't command and control a vehicle without that information," Grauer said.
This effort, however, will likely require contributions from a number of companies to succeed, said Grauer. "What we're finding is that we have to bring a lot of different groups into this space to collaborate with us to really develop a solution." To that end she's been working with the Center for Marine Robotics at the Woods Hole Oceanographic Institution to put together a working group that will focus on seamless subsea communication architecture.
Grauer is also looking to invest in, or partner with, other companies, inventors and entrepreneurs to tackle other problems like finding options for low cost, low weight structures. "The challenge that we have subsea is that, for better or for worse, at some point in time, the vehicle is going to hit my subsea infrastructure," she said.
Specifically she is looking for economical structures that enable an AUV or a tethered, remotely operated vehicle (ROV) to handle such an impact without damaging the infrastructure and interfering with its operations or be so damaged itself that it can't operate.
"So I can't have the same thing that you have in cars where you have crumple and crush zones," Grauer said. "It's got to be able to bounce back — but, at the same time, it needs to be a low weight. I need to reduce the weight of the vehicle and I need to reduce the cost of the vehicle."
Finally she would like to find ways to do variable buoyancy to help AUVs and ROVs manage their depth and their weight in the water. This might be, for example, something like a balloon that could be inflated or deflated underwater on command.  "Buoyancy is incredibly expensive. So if someone is developing a low cost solution for variable buoyancy I want to hear from them."
Grauer asked that those with interesting technology contact her directly either via email at diana.grauer@technipfmc.com or through her LinkedIn page at linkedin.com/in/diana-grauer. She will do an initial screening and then provide an introduction to the firm's subject matter experts who will do a technical review. There will also some financial due diligence before investing.
TechnipFMC is taking a strategic approach to investing and is not looking for a fast return of 2 to 5 years, said Grauer, who manages the deal flow for the company's venture capital team. "I'm looking for a true technology development opportunity," she told Inside Unmanned Systems, adding that "we are focused on the technologies and bringing the technologies into our ecosystem — however long that takes."
That said, the company is keeping an eye on the far horizon and tracking what technologies might be in the pipeline.
"Our product roadmaps are two to three to five years out, said Grauer. "We then have the next level out, which is our technology roadmaps; those are three to five to 10 years out. And I need to be looking for solutions that are beyond those technology roadmaps."
There are potential challenges in taking such a long view but Grauer encouraged innovators to contact her with their ideas. "We're looking for people to come in and help us disrupt our current operation."
ART courtesy of TechnipFMC