Drone Delivery Canada (DDC) recently completed testing on its Robin XL UAS, the company's mid-sized delivery drone.
Several aspects of the drone were tested, including communications system; navigational guidance system; autopilot system; take-off and landing performance; general flight stability and performance; multiple velocity vectors and altitude profiles; sound pressure levels; and battery consumption characteristics, according to a news release. Tests were conducted at the company's Tranquility Base test range.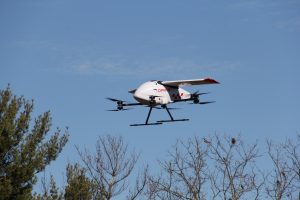 Once all testing is done, the combination VTOL/fixed-wing drone will be deployed to support COVID-19 related activities and to begin making remote deliveries. Testing is expected to be completed over the next three months, with projects beginning in 2021. Flight approvals will be requested through Transport Canada following the Special Flight Operations Certificate (SFOC) process DDC has used in the past.
The Robin XL has an expected range of 37 miles and payload capacity of 25 pounds. It features an integrated parachute system to "mitigate its risk profile" for future flights over people. Cargo is stored inside the drone, which has temperature control capabilities.
The UAS is designed to work with DDC's DroneSpot depot system, automated battery management system and FLYTE software. Future versions of the Robin XL are expected to feature DDC's touchless cargo drop functionality.
The Robin XL also can carry specialized sensors, cameras and video systems, expanding use cases in commercial, industry, government and military markets.