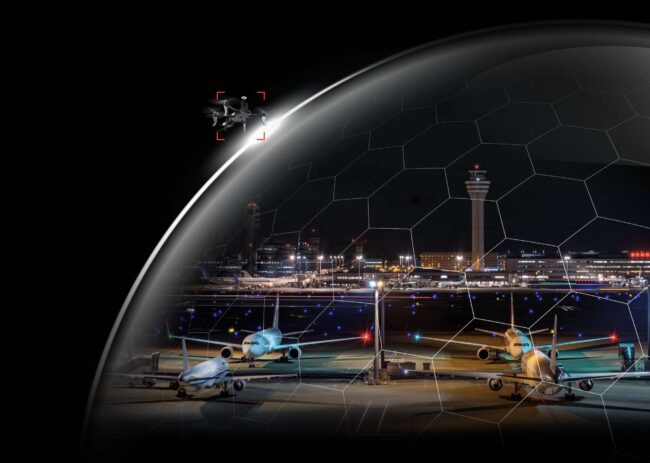 STERLING, Va., and LONDON, UK— Airspace security company Dedrone announced Jan. 19 it has entered a partnership with G4S, an Allied Universal company, covering Europe, Middle East and Africa (EMEA).
G4S will now offer Dedrone's command and control drone detection, tracking and identification system to its customers in more than 50 countries across EMEA.
"This partnership with Dedrone enables us to add another layer in our risk-based assessment approach, to assess the customer specific threat level, in perimeter and airspace protection. Dedrone's ability to easily integrate with third-party products also means that our customers can quickly incorporate counter-uncrewed aerial system capabilities into their existing security infrastructure," said Erik Deleersnyder, regional director of technology solutions development at G4S.
The State Police of Latvia is one of G4S's first clients to benefit from this new partnership, with Dedrone used to establish a mobile drone detection system for large events in Riga.
"This detection equipment is a significant addition to the State Police of Latvia's ability to effectively control the traffic of uncrewed aerial vehicles. The first tests with Dedrone have proven that it's of a high quality; it will undoubtedly improve our ability to strengthen Latvia's internal national security," said State Police of Latvia representative with responsibility for UAS and air navigation, Māris Vitkovski.
"These devices make it possible to determine the height, route and, most importantly, the location of a drone's remote pilot, which is essential for detecting any potential law breaking. We will use Dedrone to ensure public safety, including during public events, in order to prevent violations, including those that may threaten the safety of the public."
Latvia has 6,000 registered drone pilots and many more who are not licensed, so the police need to strike a balancing act between guarding against the risk of drones and allowing people the freedom to use them in a safe and responsible way.
Dedrone's command and control counter UAS platform, DedroneTracker, is built on an open systems architecture and allows for easy integration to any third-party inputs, including sensors and cameras that may already be in place. DedroneTracker, through its DTI protocols and artificial intelligence/machine learning engine, continuously evaluates and prioritizes drone threats autonomously in the background, through interrogation of possible targets for operator attention. Dedrone also recently released DedroneDefender, which mitigates drones through precision radio frequency jamming.
"Forming this partnership with one of the world's leading security solutions providers is the logical next step for Dedrone as we continue to lead the cUAS market globally, and we are pleased to provide G4S customers with our full suite of products to ensure that the threat of drone incursion can be effectively and speedily countered," said Jan Schween, vice president for EMEA of Dedrone. "No matter the size of the site or the current security setup, we're prepared to quickly integrate our best-in-class cUAS solution for effective airspace protection."
Dedrone works across 40 countries, including four of the G-7 nation governments; nine U.S. federal agencies, including the Department of Defense; more than 75 critical infrastructure sites; 20+ airports; and 50 correctional facilities worldwide. The company actively provides drone detection services for some of the most high-profile events around the world and works closely with more than 35 law enforcement agencies.