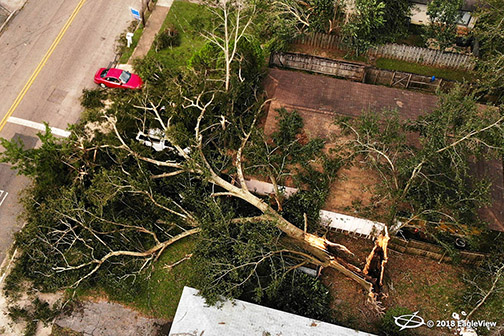 Last Thursday, less than 18 hours after Hurricane Michael hit the Florida Panhandle, EagleView Technologies deployed its unmanned aircraft system (UAS) to capture imagery of the damage.
The fixed-wing aircraft collected ultra-high-resolution Reveal aerial imagery captured at 0.75-inches ground sample distance (GSD), according to a news release. The imagery offers first responders, insurance carriers, and electric utility customers access to post-event property information, such as roof damage, fallen tree locations and flooding.
The company staged multiple fixed-wing drones throughout the southeast states alongside the EagleView OnSite network of UAS operators before the Category 4 hurricane hit on Oct. 10.
"Our skilled network of drone operators and fixed-wing pilots enable us to respond to our customers both quickly and efficiently," COO Jay Martin said, according to the release. "We understand how devastating these storms are to communities, so we utilize every resource we can to get customers imagery as soon as possible."
Here's a look at some more of the images collected: