As drone use by hostile militaries and non-state actors increases, defense officials are searching for the best tools to use against them to protect overseas and domestic bases and forward operating units.
In September, the Joint Counter-small Unmanned Aircraft Systems office issued a short list of recommended options for counter small UAS as a service systems, or C-sUAS CaaS, based on demonstrations held in April at the Yuma Proving Ground in Arizona.
"The three most promising CaaS systems were from Anduril, Black Sage Technologies and SAIC," the JCO wrote in a memorandum for service or combatant commanders. All three of the recommended systems, as well as several others, were on display at the Association of the United States Army's 2022 Annual Meeting & Exposition in Washington, D.C.
Most of the systems involve cooperation between vendors to deliver a layered approach. First the drones are detected and classified, then a variety of defeat mechanisms can be used, from jamming them to frying their electronics to catching them in nets to knocking them out of the air.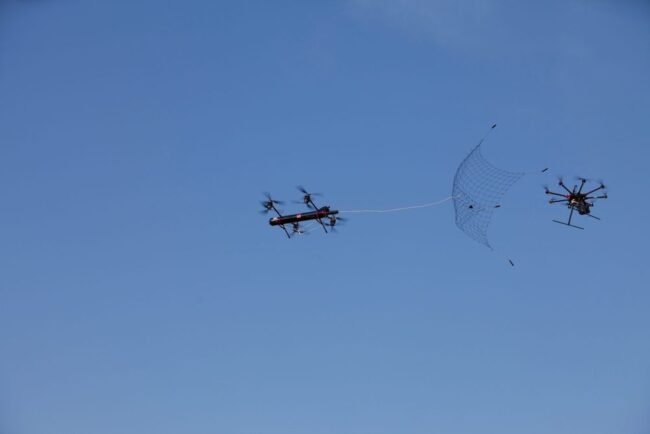 SAIC
SAIC's approach involves 10 other companies that supply a variety of detect, tracking and identification options, involving up to 25 or more types of sensors, all overseen by SAIC's Valkyrie command and control software. This allows any sensor to be paired with any effector, from jamming systems to mid-air capture systems. Threats are tracked and operators can decide what do to about them with a simple click on a screen that resembles a weather display.
"We're actually continuously tracking drones inside this room," said Jeremy Davidson, SAIC's systems engineering senior manager.
In the JCO demonstration, SAIC's system used the EnforceAir system from D-Fend Solutions to force-land a Phantom 4 Pro V2 drone and an Opterra Dragonlink, and SCI Technology's mid-sized, quad-rotor AeroGuard UAS chased down threatening systems and caught them in a net.
Black Sage Technologies
Unique among the companies recommended by the JCO, Black Sage Technologies does nothing but counter-UAS work. Its DefenseOS uses six passive radio frequency detectors, four radar systems, four optical systems and a plethora of mitigation systems, including lasers, a cannon and the Black Sage-developed Goshawk long-range jammer.
Variations of the system are in use at two airports in Southeast Asia and with police forces in the Middle East and a Nordic country, said Dirk Manley, director of new business capture for the Boise, Idaho-based company.
As with SAIC's offering, the detectors and effectors can be mixed and matched, and the systems deployed "are all different, with different CONOPs," Manley said.
"The Black Sage Technologies CaaS was very effective," the JOC memorandum says. "The Goshawk PNT jammer is a very powerful broadband jammer that demonstrated the ability to mitigate all autonomous threats, some of which were likely defeated at ranges before some sensors detected them."
Anduril
Anduril's counter-UAS offering includes a smaller number of systems but offers a similar palette of passive detection, a long-range sentry tower, various jamming and electronic warfare options and Anvil, a snub-nosed, reusable UAS that knocks enemy drones out of the sky by smashing into them at up to 150 miles per hour. The whole system is powered by the company's Lattice operating system.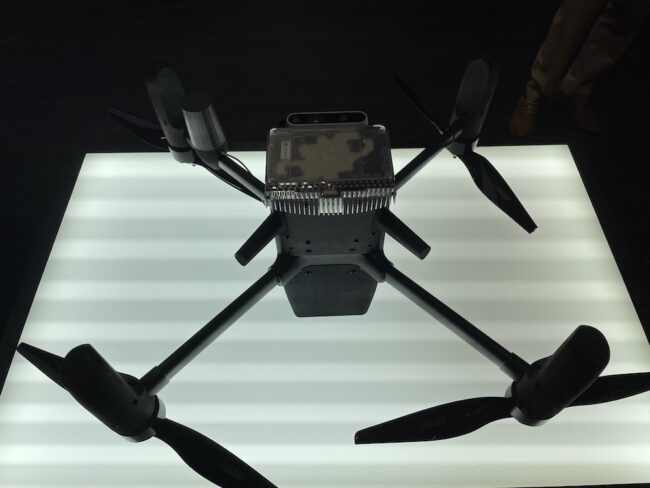 The JOC memorandum says Anduril "provided a turnkey solution with lessons learned from USMC and SOCOM [the U.S. Marine Corps and Special Operations Command] for rapid operational capability."
Anduril subsidiary AREA-I is also partners with Lockheed Martin on Morfius, a counter-drone swarm technology that uses high-powered microwaves to fry the electronics of enemy systems. The system uses AREA-I's ALTIUS aircraft, avionics and software for the systems, said AREA-I CEO Nick Alley.
It's not clear what effect the JOC's memorandum will have. The memorandum says there's no requirement to award to these vendors, it's just intended to urge service or combatant commanders to consider the options. It's likely the commanders would require further demonstrations before buying.