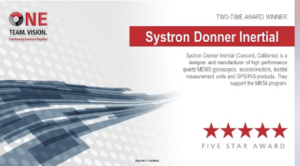 Systron Donner Inertial (SDI), for the second time consecutively, has been recognized by Raytheon Integrated Defense Systems for supplier excellence. Last month SDI received Raytheon's 5-Star Supplier Excellence Award in support of the Mk54 Lightweight Torpedo Program.
Raytheon's Integrated Defense Systems business instituted the annual Supplier Excellence Awards program to recognize suppliers who have provided outstanding service and partnership in exceeding customer requirements. Award candidates are judged on certain criteria, including overall quality, on-time delivery and demonstrated commitment to continuous improvement. A 5-Star recognition is the highest level of recognition a Raytheon Integrated Defense Systems business supplier can achieve for excellence in quality and performance, and Systron Donner Inertial was one of nine companies selected.
"SDI is honored to continuously support the Mk54 Torpedo Program, Raytheon IDS has played a big part in helping SDI achieve the delivery of over 2,500 SDI500 tactical grade IMU's back in January 2018," said David Hoyh, director sales & marketing for SDI. "SDI's mission for its growing line of tactical grade products is to deliver superior inertial bias performance under environmental conditions in smaller, lighter, more reliable, cost effective product solutions than traditional tactical grade technologies."
For further information and specifications on the SDI500, call 925-979-4500, e-mail: sales@systron.com; or visit the website: www.systron.com.