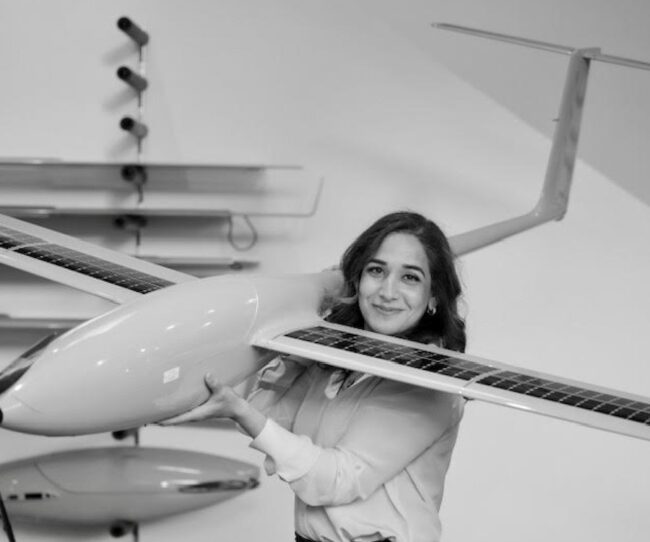 As a witness to the 9/11 attack, Fatema Hamdani, cofounder and CEO of Kraus Hamdani Aerospace, has often wondered whether smarter technology and information could have prevented the deaths that occurred that fateful day.
"One of the questions that stayed with me during that time was, 'Was there something we could have done in terms of data and intelligence that could have avoided that catastrophe and those lives being lost?'" recalled Hamdani, a former partner at the consulting firm Ishi Systems, Inc. The firm had personnel engaged in a project at Marsh McLennan, an insurance company located at the World Trade Center.
Fifteen years later, when Hamdani partnered with entrepreneur Stefan Kraus to launch drone company Kraus Hamdani Aerospace, lessons she'd learned during 9/11 became key drivers for the company: using technology to solve problems and save lives.
The result is the K1000ULE (Ultra Long Endurance) solar-powered glider, which can fly non-stop for 26 hours, longer than any electric UAS in its size and weight category. The K vehicle is 10 feet long and 16 feet wide. Its altitude capability is up to 20,000 feet above mean sea level, and it can carry a payload of up to 7 pounds.
"The focus of the company is the ability to gather data and intelligence while providing communications services so that the gap between data, intelligence and decision-making can shrink and lives can be saved," Hamdani said.
Drones for Defense
With more than 60 percent of its work focused on defense, Kraus Hamdani Aerospace, based in Emeryville, California, is working with the U.S. military to provide communications and intelligence services in conflicted areas.
"When the attack in Ukraine happened, the first thing that was jammed was GPS and satellite communications, and that's why alternatives are needed." Hamdani said. "Anti-access and area-denied contested environments have become critical components that we solve for."
During missions the company's drones function as flying cell towers that can extend communications networks to mobile-phone users over wide areas. "When we are at altitude, everything to the horizon is line of sight as compared to a terrestrial tower, which has limited range," she said. "So, we are one of the best cell towers, just in the sky."
Without divulging the nature of its involvement with the military, Hamdani said the company is "engaged with the Department of Defense to discuss how our technology can support key needs in Ukraine by providing communications and intelligence services throughout the conflicted areas."
And as the company has grown, its missions have evolved into using unmanned aerial systems to protect warfighters, civilians and wildlife alike, and help victims of natural disasters.
Deploying and Swarming
Beyond its ultra-long flight time, another unique feature of the K1000ULE is its ability to fly in mission-based swarms. While drones that deploy in swarms currently require a lead aircraft or a set formation, Kraus Hamdani Aerospace has developed the code for swarms that can autonomously coordinate in flight based on each system becoming self-aware.
"Even if one aircraft is removed, the swarm will reform fully autonomously," Hamdani said. "Each of the aircraft is aware of its own capability and the capability of all the other assets within the swarm so that they can autonomously coordinate among themselves to ensure that the mission gets completed based on the mission profile."
Kraus Hamdani's mission-based swarming was developed this summer for the Air Force's Big Safari Program, which supports projects in special mission aircraft. The project was funded by the National Science Foundation's Small Business Innovation Research program Phase II.
"If you look at the conflict areas we are going to be facing, whether that be the Pacific or others, our self-aware swarms understand the capabilities of each of the deployed assets, and through full autonomy are able to conduct and operate complex missions without a human in the loop," Hamdani said.
The company's work with the U.S. Army includes serving as the primary aerial tier for Project Convergence, a modernization initiative to experiment with and assess new technologies at U.S. military sites. During annual demonstrations, Kraus Hamdani Aerospace has deployed drones that can connect and extend communications among a range of UAS flying at the same time.
"When compared to satellites which are typically high-latency and relatively low-bandwidth, we can control and manage multiple communications networks providing low-latency and high-bandwidth at extreme ranges while station keeping," Hamdani said. "The army has been trying to address this for the past decade. We're one of the technologies that can address the Army's critical needs within this modernization requirement."