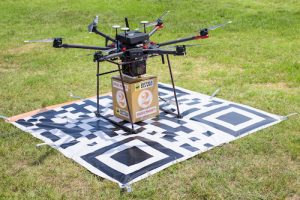 Deuce Drone recently moved simulated packages during a demonstration of its UAS retail delivery system.
The test took place on a closed course and demonstrated key aspects of how the integrated service would work, including the ordering app, the automated drone flight management system, the package management system and sensor safety systems, according to a news release.
The company began technical development of the service in April. The goal is to design software, package management systems, customer apps and other technology to make it possible for UAS to safely deliver packages between businesses and customers.
During the test, the drone completed automated flights between several takeoff and landing areas. The drone also was able to identify the landing zone and make precision landings. Sensor object detection with flight control and the interactive app were also demonstrated.
"We are very proud of the Deuce Drone team for coming so far so fast," CEO Rhett Ross said, according to the release. "The feat of having the drone pick up and move packages from multiple simulated retailer locations to multiple customers, along with the sensor system able to complete object detection and affect flight actions, is a significant milestone in our development."
Deuce Drone will now work on developing the components that make it possible to safely move packages from the retail floor to the drone landing area, drone ground operations and the retail facing app. The company is also working to meet FAA operation requirements to allow for retail product delivery later this year.