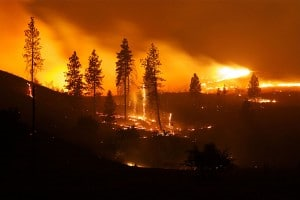 Drone America and Thrush Aircraft are working together to develop the first autonomous air tanker, which would give firefighters another tool to monitor and attack wildfires.
The tanker will combine Thrush's large airframe and airborne delivery system with Drone America's "Ariel" amphibious platform, according to a news release. The aircraft will have the ability to deliver 800 gallons of fire retardant autonomously. The system will also perform long-duration tactical surveillance flights to give personnel on the ground a real-time understanding of the fire.
"As the almost incomprehensible devastation of the 2017 fire season has shown, there is virtually no limit to the level of destruction to property and natural environments wildfires can cause," said Mike Richards, president and CEO of Drone America, according to the release. "We founded our company on the belief that highly-reliable, well-integrated autonomous systems can significantly improve public and environmental safety. Our collaboration with Thrush represents a major step forward in achieving that goal, and we're excited to be joining forces in the fight against one of our country's most challenging foes: wildland fires."
The tankers will be equipped with infrared cameras, sensors and integrated communication equipment to map and communicate fire intensity, rate and direction of spread.
Both companies are also looking into other unmanned heavy-payload applications, such as humanitarian aid, disaster relief, remote cargo transportation and maritime patrol.