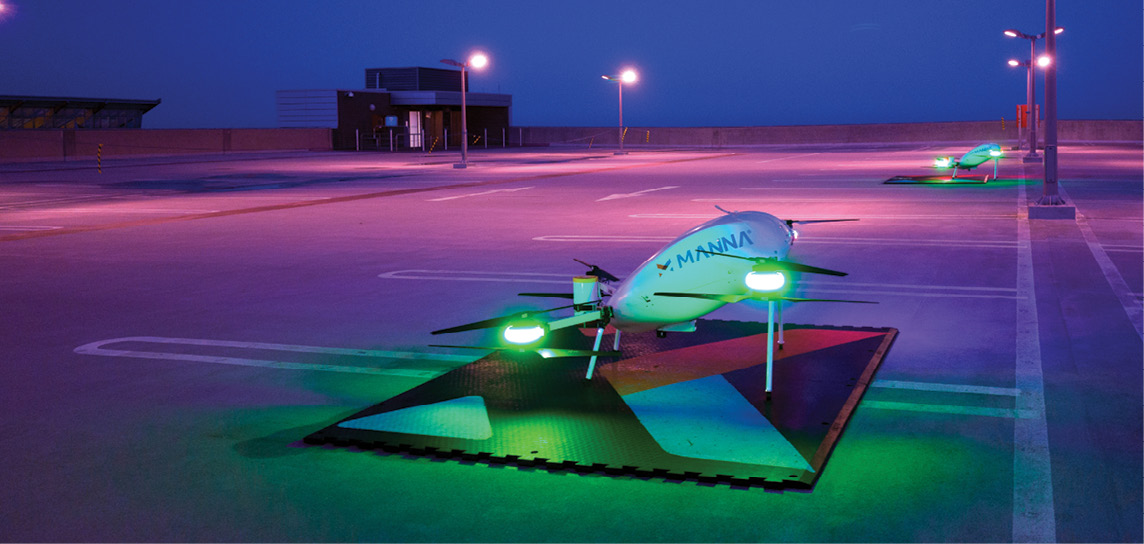 Companies on both sides of the Atlantic are gearing up for full-scale exploitation of drone technologies for goods delivery. If the promise holds true, people will have greater and faster access to the products they want, and suppliers will have greater access to the customers they want than ever before.
For years, experts and amateurs have predicted that goods delivery would be the first area in which civil unmanned aerial systems, UAS or drones, would be employed widely and in great numbers. That prediction does not appear to have been wrong, as evidenced by recent developments in Europe and the United States. While most readers will not yet have spied parcel-laden drones buzzing overhead in their towns and neighborhoods, the time is coming, and perhaps sooner than you think.
"We've been delivering into back and front gardens in high-density suburbs for over three years," said Kate Devlin, chief of staff of Dublin-based Manna Drone Delivery. Manna has already carried out more than 100,000 deliveries in multiple trials across locations in Ireland.
"Right now, we have a viable drone delivery platform that is ready to scale with sensible unit economics," Devlin said. Manna is planning to roll out full services in the Dublin suburb of Blanchardstown in September, to provision about 130,000 residents. The company expects to perform between 500 and 1,000 flights a day there.
In 2024, Manna will launch full services in about 10 additional Irish locations, and in a handful of locations in two more European markets, reaching a total population of about two million residents between 2024 and 2025.
"I think we're looking at hockey-stick style acceleration from 2024 onwards in Europe, where, in terms of the regulatory situation, we are ready to go." Devlin said. "In the U.S., where the market is still regulatory progress dependent, we think we'll see a lag of about two years behind Europe."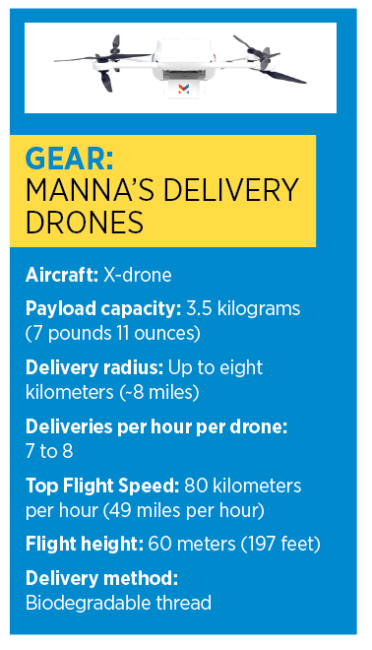 ONWARD AND UPWARD
Manna is one of a handful of companies now at the leading edge of the drone delivery business. It announced its expansion into mainland Europe and the United States earlier this year.
"We deliver everything from take-away food to beer, to medicines, and even hot coffee," Devlin said. "So, everyone in the household is our customer. In our last operation in Galway, we delivered to almost 40% of the households in the community. Our drone is fully autonomous, and we can operate 20 drones per operator."
The company's latest aircraft, the X-drone, can carry about 3.5 kilograms of cargo in a 30,000 cubic centimeter hold. Deliveries are undertaken within a relatively small radius, up to eight kilometers. Each X-drone performs seven or eight deliveries an hour, flying at about 80 kph, at roughly one-tenth the cost of a human driven car.
"We take off from the roofs of our very high-volume partners," Devlin said, "or from our 'hive,' where we centralize aircraft and can fly to pick up products from our smaller partners such as restaurants or pharmacies, etc. As we always say, it's not about the drone, it's about the entire stack—delivery as a service. For our customers, it's faster, more reliable, safer, greener, quieter and more private.
"For the small businesses that we power, it allows them to reach about 100,000 customers with a three-minute delivery service," Devlin said. "This is a sensational improvement in terms of their ability to serve more customers, ultimately allowing them to grow their businesses."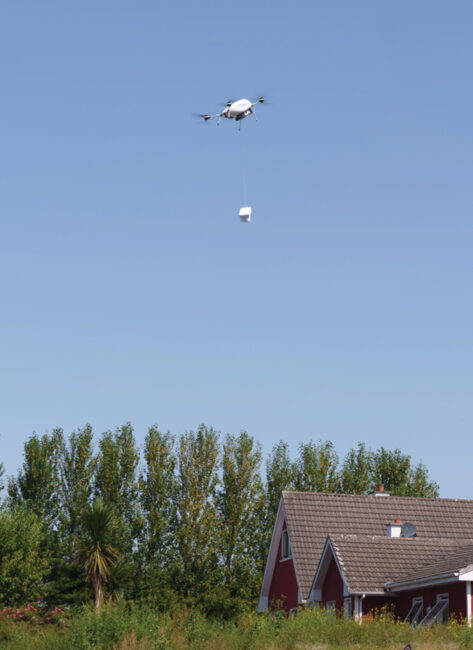 GOING BIG
On a somewhat larger scale, at least in terms of vehicle size, the European company Dronamics recently became the world's first cargo drone airline. It successfully completed the first flight of its flagship aircraft, the 16-meter-wingspan Black Swan, in May, flying from Balchik airport in Bulgaria. The milestone was the culmination of months of ground testing and subscale flights, and demonstrated the potential of unmanned aircraft in the logistics industry.
The Black Swan is a long-range drone built specifically for cargo. On its first flight, it was remotely piloted by two
commercial airline pilots from the Dronamics ground control station. The company is the brainchild of brothers Konstantin and Svilen Rangelov, who wanted to develop a quicker, greener and more affordable way to deliver goods, same day, to everyone, everywhere.
The Black Swan can carry a 350-kilogram cargo up to 2,500 kilometers. It is up to 80% faster, 50% cheaper and emits 60% lower emissions than alternative modes of transport, including conventional airfreight. Dronamics partnered with Zero Petroleum and Cranfield Aerospace Solutions to adopt fossil-free alternatives to power the Black Swan's engine.
"We're more than the aircraft itself; we offer an end-to-end cargo mobility solution, consisting of our drones, our network of droneports and mobile control and cargo operations," said Svilen Rangelov, who is also the CEO. "Our solution flies directly between two points that don't have to be hubs, contrary to the traditional hub-and-spoke model. At each droneport, you'll find one of our ground control stations, where the pilots remotely control the aircraft. Once the drone has landed, the mobile cargo operation begins. Incoming cargo gets unloaded and processed, and then the outgoing cargo gets processed and loaded for the next leg of the journey."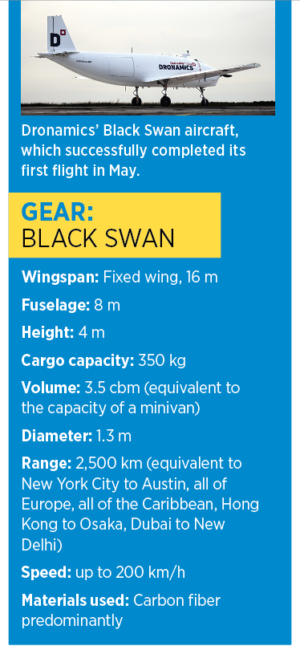 All ground operations related to cargo handling are in line with industry procedures, according to IATA standards. ICAO and security protocols ensure the safe transport of cargo throughout the network.
Currently, two pilots must operate and oversee the Black Swan during flight, in keeping with regulatory requirements, but the company is working toward single-pilot operations per UAV protocols in the near future.
"Eventually, we will have a single pilot monitoring multiple UAVs, very much like an air traffic controller," Rangelov said. "We also have a high level of automation onboard our drones, leveraging advanced technologies such as computer vision and sensor systems to navigate and make informed decisions during flight."
Dronamics has identified a solid demand on its routes for a number of key goods, including perishables, pharmaceuticals, spare parts, news and mail, fast-moving consumer goods and luxury and small e-commerce parcels. Humanitarian aid is another segment being explored, where the company can deliver significant value due to the affordability, flexibility and reach of its cargo mobility solution.
The company had to overcome many challenges along the way.
"We made many design adjustments and modifications toward ensuring the safety and reliability of our drone operations. We have invested significant resources in designing and testing our drones to meet stringent safety standards, Rangelov said. "We also had to make adjustments to the aircraft multichannel autopilot and termination system as per EASA requirements and we have demonstrated safety within our systems to European aviation authorities."
Based in London and Sofia, Bulgaria, Dronamics is set to begin commercial flights in Europe later this year. The company believes scaling up quickly and efficiently is now key.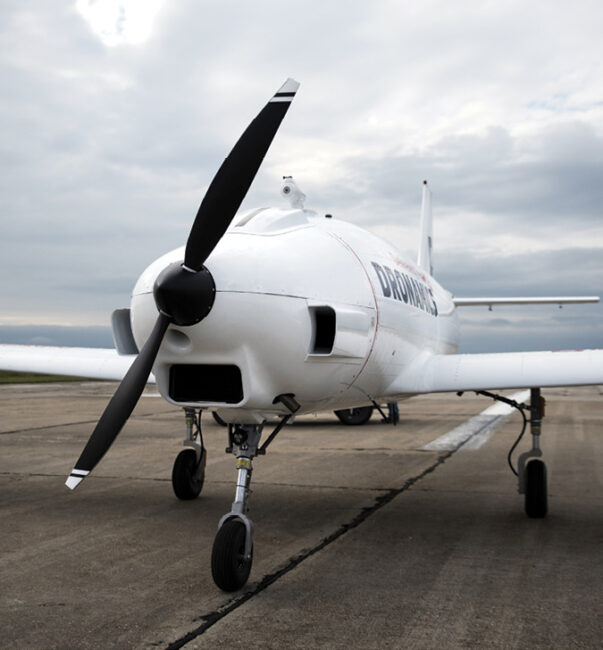 CLEAR ADVANTAGES
Among the forces driving the drone delivery market on the other side of the Atlantic is Matternet, based in Mountain View, California, which received FAA type certification for its M2 drone in 2022.
Matternet has been serving hospital systems in Switzerland since 2017 and in the U.S. since 2019, in partnership with UPS. Hospital customers typically use Matternet's system to transport diagnostics and medicine between their facilities. Matternet has also worked with UPS and CVS to deliver prescription medications from CVS to patients' homes.
"Our focus now is scale," Matternet CEO and Founder Andreas Raptopoulos said.
"We're pursuing partnerships with top-tier businesses in e-commerce and other spaces with a view to unlock scaled operations in 2024. Our goal is to establish with our partners city-wide drone delivery networks that will enable instant delivery at a fraction of the cost and CO2 emissions of any road-based system used today."
The M2 is a vertical takeoff and landing quadcopter. It can take off from and land on a flat surface or can be launched from the Matternet Station, an automated delivery portal installed at customer locations. The Station integrates with both the M2 drone and Matternet's cloud platform, providing a user interface for sending and receiving payloads. The M2 has a payload capacity of 2 kilograms and a 20-kilometer range, flying autonomously on pre-approved routes. While in flight, Matternet aircraft are monitored by a pilot located at a remote operating center. The pilot can monitor up to 20 aircraft flying at the same time and can communicate with an aircraft if necessary.
"Our drones can be 10 times faster than road transport in urban [and] suburban areas," Raptopoulos said.
"They are more predictable; delivery always takes the same amount of time, since we're not subject to road traffic and changing road conditions. We are more environmentally friendly, eliminating the carbon emissions and traffic produced by cars and trucks, and we are more cost-effective—at scale, the cost of single package delivery will be lower than road-based alternatives. And, of course, we are safer than road transport. That goes without saying."
Matternet and its partners have operated more than 50,000 autonomous flights in extensive urban and suburban delivery operations since 2017, including autonomous beyond visual line of sight flights over cities in Switzerland and autonomous extended visual line of sight flights in the U.S., operated by UPS Flight Forward since 2019.
"In the B2B [business to business] space, drone delivery networks will lead to new levels of efficiency in supply chains," Raptopoulos said, "by centralizing inventory and eliminating waste. For example, in health care storage of blood products and medicine with short shelf life can be centralized and dispatched to locations on a just-in-time basis. In the B2C [business to consumer] space, drone delivery networks at scale will allow everyone instant, on-demand access to goods at much lower cost and with much lower environmental impact."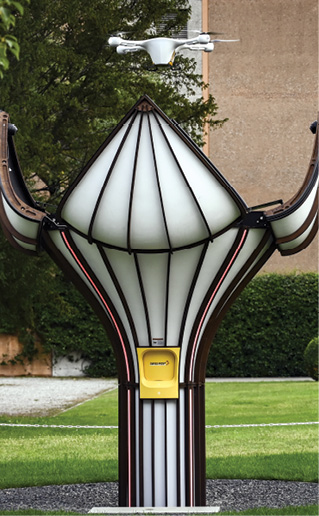 WHERE IT'S GOING
This year marks 10 years since Jeff Bezos' announcement of Amazon delivery drones. It's taken that long, but drone delivery looks poised to finally become something other than a novelty. As drone technologies continue to improve and the regulatory situation crystallizes, the adoption of cargo drones is becoming less and less a thing of the future and more and more a thing of the present.
"In five years, we plan to be in every major suburb in most European markets," Manna's Devlin said, "as well as a large portion of U.S. suburbs. For Europe, implementation of U-Space will be important, but lack of implementation doesn't get in the way of early growth. For the USA, there is a lack of clarity right now on what shape scale operations will take and how the various components of permission and airspace management will play out. We are strong believers in UTM [unmanned traffic management] as an answer in the U.S., and in Europe U-Space is an elegant and simple approach to scale operations.
"The commercial part is the easiest," she said. "Customers crave our product. Partners crave our product. The alternative—road-based delivery—is just too terrible. On the other hand, reliability and operational training are key to us. It isn't hard to build a drone. Or even a cool drone. But it's very hard to make it safer and more reliable. That takes years of learning and iteration. Hardware is hard. Flying hardware is even harder. Hardware that flies over populated areas is as hard as it gets, and the safety bar is so high, you have to think very differently."
"Safety and total cost of operation per hour have driven our design since inception," Raptopoulos said.
"Creating a scaled network in the U.S. that can lead to low unit economics has been a huge challenge. We are hopeful the FAA will provide clear expectations and standards for the path to scalable BVLOS operations in the short-term, and we look forward to working with the agency as we and the industry continue to evolve."
By all indications, the regulatory environment is becoming more receptive to innovative drone delivery technologies and services, on both sides of the Atlantic. Late in 2022, the European Commission published its Drones Strategy 2.0, focused on fostering sustainable and smart drone-based mobility. The U.K. has recently approved a "drone flight corridor," and Dronamics is taking part in a trial in Scotland, called Project Caelus, aiming to revolutionize the way health care is delivered to remote communities.
Raptopoulos said Matternet expects the regulatory framework in the U.S. and around the world to allow BVLOS flight operations, and with many aircraft under the supervision of a single remote pilot. This will unlock the industry's ability to scale, which is vital for the mainstreaming of drone-based delivery.
"We are building a world in which access to goods will be as frictionless and inexpensive as access to information through the internet," he said. "This will transform health care and e-commerce. Drone delivery networks will be a new layer of infrastructure in our cities, and will also facilitate a huge leap forward for many places with inadequate or non-existent roads today. For future generations, drones will be a transportation infrastructure that people will simply take for granted."