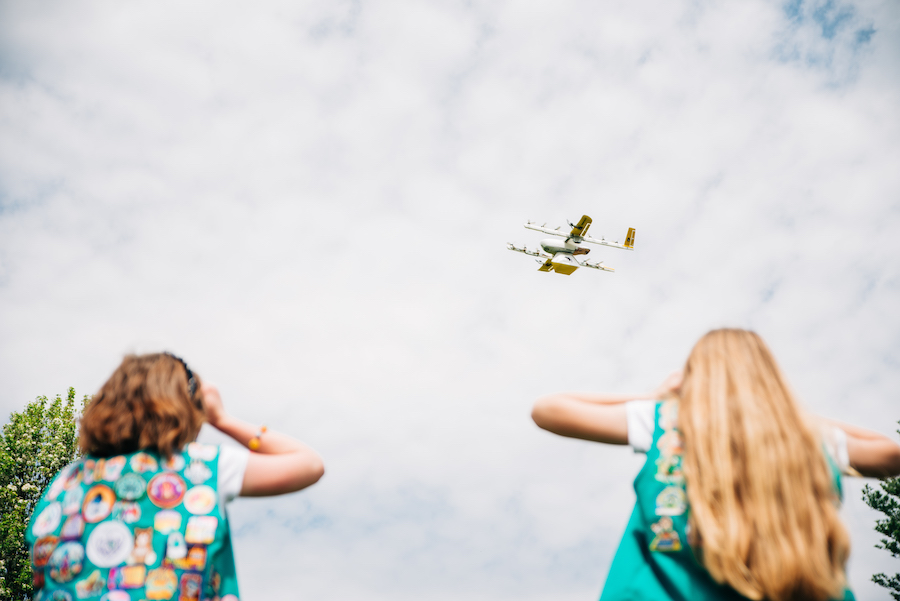 Christiansburg, Virginia, residents can now get their favorite Girl Scout cookies delivered to their backyard via drone.
Since October 2019, these same residents have experienced drone delivery through Wing's program, a first of its kind in the U.S. supported by the Virginia Tech Mid-Atlantic Aviation Partnership (MAAP) and made possible through the FAA's Integration Pilot Program (IPP). They've received packages from Walgreens, FedEx, local restaurants and the library, and can now add Girl Scout cookies to the list. Residents have responded positively to the program so far, with 87% of them indicating they like the idea of residential drone delivery in a recent MAAP survey.
Because of the COVID-19 pandemic, Girl Scout troops have struggled to sell cookies in the traditional way, even with restrictions starting to loosen around the country, according to Wing. There's less foot traffic in downtowns and other areas troops typically set up, leading to a 50% shortfall in cookie sales.
Just like with the other goods, residents in the delivery area can order Girl Scout cookies through the Wing app for arrival in about 10 minutes. The goal is to deliver at least 3,000 cookies through this partnership. Samoas, Thin Mints, Peanut Butter Patties and other favorites will be delivered to homes until the end of May. So far, Thin Mints and Samoas are the two most popular cookie choices.
Wing is also teaching local Girl Scout troops how drone delivery works and how it can benefit a community.
"It was a natural fit to partner with the Girl Scouts to help out in this situation," according to Wing. "It's also an opportunity for the local Girl Scouts to learn about drone delivery and become familiar with a technology that we hope will be widespread as they enter the workforce."