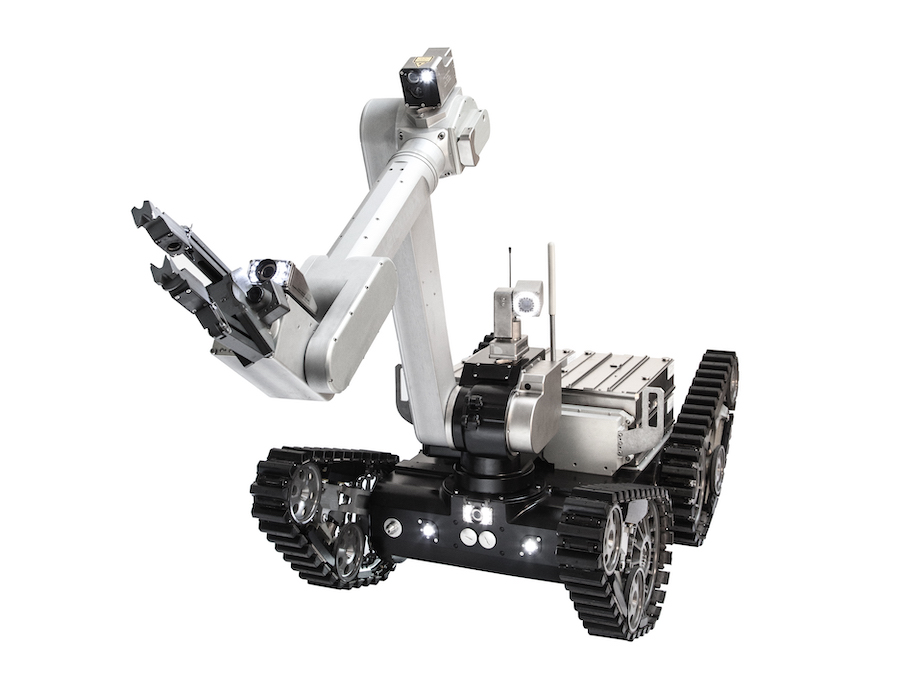 AeroVironment is focused on offering multi-domain solutions, integrating UAS, tactical missile systems and unmanned ground vehicles (UGVs) to allow customers to respond to threats rapidly, safely and cost-effectively. The now-completed acquisition of Germany-based Telerob further expands the company's portfolio of UGVs to include the telemax and tEODor EVO family.
With customers in 45 countries, Telerob offers years of experience and expertise in the ground robotics segment. Its solutions are designed to perform a variety of dangerous missions, including explosive ordinance disposal (EOD), hazardous materials handling (HAZMAT), and chemical, biological, radiological and nuclear (CBRN) threat assessment. The ruggedized UGVs feature all-terrain capabilities and come equipped with precision manipulators, autonomous functionality and mission flexibility.
The acquisition expands AeroViroment's portfolio to include a breadth of missions for defense customers. This will provide the tools the company needs for a full spectrum of operations on the ground, in the air and on in the sea, AeroVironment President and CEO Wahid Nawabi said during a press briefing about the acquisition. There is also potential to deploy these solutions in public safety, law enforcement and on the commercial side.
This mark's AeroVironment's third acquisition of the year, with Arcturus UAV and Progeny Systems Corporation's AI-focused Intelligent Systems Group (ISG) also becoming part of the company.
"This and the other acquisitions mark a significant milestone toward AeroVironment's mission to assemble and deliver a portfolio of multi-domain robotic systems," Nawabi said. "The combination of ground robotics and UAS with AI and autonomy delivers a unique set of capabilities for customers' needs in the future. All the acquisitions are aligned and consistent with our long-term strategy."
The Telerob acquisition was completed in a $45.4 million (€37.5 million) cash transaction and a pay-off of approximately $9.4 million (€7.8 million) in Telerob's debt at closing. Telerob now operates as a wholly-owned subsidiary of AeroVironment.
Mission Possibilities
Adding the Telerob UGVs opens up many different possibilities for military customers, Nawabi said, and he described one of the scenarios during the briefing.
Before recon teams set foot outside the base, Nawabi said, an operator can launch AeroVironment's Quantix Recon hybrid drone to quickly and silently scout the area. When it lands back at its base, the operator can scan the imagery collected. If an explosive is spotted, the Puma LE UAS can be deployed for overwatch and a Telemax Evo Plus sent out to conduct a close-up exam. The Evo Plus can safely disable the device while the Puma loiters to provide situational awareness. If the video feeds capture a hostile threat, the recon team can neutralize it with a Switchblade tactical missile system and then safely continue with its mission.
Detective Jay Yelick, an EOD bomb technician in the Greater Los Angeles area, talked about how his unit deploys Telerob UGVs. The team goes on 30 to 40 calls a month that range from checking suspicious packages to supporting tactile situations for the SWAT team.
One call involved a suspicious package found in front of a Planned Parenthood facility. Instead of outfitting someone with a bomb suit and sending that person downrange with an X-ray to make physical contact, they deployed the UGV to safely exploit the package, Yelick said. The UGV's manipulator arm makes fluid, human-like maneuvers, which enabled him to retrieve a cutting tool from the tool center, open the box and then use the gripper to remove the items inside it. He was able to render the area safe and restore normalcy much faster than suiting someone up to perform this dangerous task.
The manipulator arm is one of the features that make Telerob UGVs stand out from others, said Adam Jaroh, product line general manager, U.S., unmanned ground vehicles. It enables operators to efficiently complete a variety of applications and neutralize dangerous situations.
"The manipulator arm has more human-like characteristics so operators can do more tasks remotely than if they have to stand in front of a dangerous object," Jaroh said. "They can stay at a safe distance and the robot can go downrange with a full kit of tools and accessories. They can change operations downrange instead of having to go back and forth."
Ground Vehicles Move Forward
Ground vehicles are a critical component of AeroVironment's long-term portfolio strategy for multi-domain robotic solutions, Nawabi said. Integrating ground robots with UAS, AI, autonomy and machine learning allows the company to deliver more compelling solutions.
"This is a natural extension of our capabilities to solve customer problems more effectively and efficiently in the future," Nawabi said.
Telerob's European presence also gives AeroVironment better access to customers there and around the globe. AeroVironment currently serves 50 allied nations.
The companies have put together a strong team to seamlessly integrate Telerob into AeroVironment and to lead the business, Nawabi said. While military customers are a big focus, there are commercial applications to pursue, said Brian Young, vice president, product line management unmanned ground vehicles, including in the agriculture vertical. Those applications will take time to develop, however, and are being looked at as long-term business solutions.
Creating a network of various unmanned vehicles allows for extended applications, Telerob Managing Director Thomas Biehne said, allowing both companies to better serve their common customer base.
"Through combined business development, we look forward to maximizing and collaborating in the product development road map that integrates AeroVironment's UAS technology with Telerob's products," Biehne said. "We can't wait to explore new strategies, possible products, services and advanced solutions for existing and future customers.
Image credit: Telerob, an AeroVironment company.