The energy industry is taking to the air with drone solutions to tackle a top source in human-caused emissions.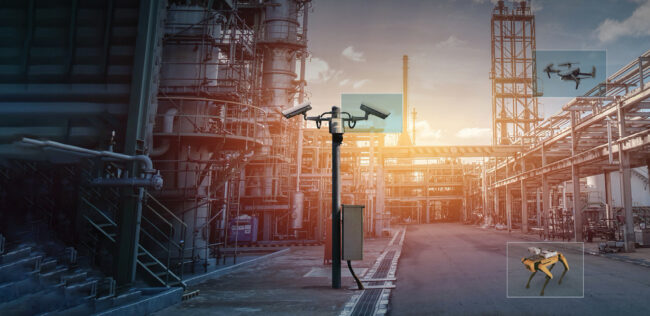 As the drive to cut greenhouse gas (GHG) emissions accelerates, the focus is turning increasingly to reducing methane. According to the U.S. Environmental Protection Agency (EPA), one-third of the warming from greenhouse gases today is due to human-caused emissions of methane, a potent greenhouse gas that has trapped about 30 times as much heat as carbon dioxide in the last 100 years.
The agency believes that sharp cuts over the next decade will have a near-term beneficial impact on the climate. Late last year, it proposed new protections to meaningfully reduce pollution from the oil and gas industry—including first-time reductions from existing sources nationwide—in a new Clean Air Act rule. The EPA intends to issue a final rule before the end of 2022.
Of course, methane emissions are not just a U.S. challenge.
The Global Methane Initiative (GMI), an international public-private partnership launched in 2004, is looking to advance cost-effective, near-term methane abatement, as well as recovery and re-use. Its Oil and Gas Subcommittee is investigating mitigation opportunities such as technologies, equipment upgrades and enhanced management practices that take advantage of improved measurement and emissions reduction technology.
In addition, the U.S., the European Union (EU) and more than 100 countries launched the Global Methane Pledge (GMP) in 2021 at the COP26 conference in Glasgow to reduce anthropogenic methane emissions at least 30% by 2030 from 2020 levels—strengthening the push to limit global warming to 1.5 degrees centigrade and avoid near-term tipping points.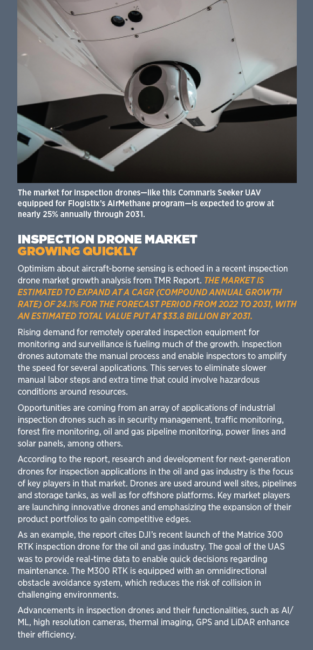 METHANE STRATEGIES
All this methane-mitigation activity has spurred urgency for the energy industry ecosystem. UAS and sensors are playing a role in not only driving emission reduction but also boosting public relations, investor support and corporate ESG goals.
In June, the energy industry gathered in Houston at the 2nd Annual Methane Strategies Forum, led by EnergyNEXT and collocated with the Energy Drone & Robotics Coalition Summit, to discuss real-world strategies, tactics, use cases and projects for global methane emissions reduction.
Most oil and gas methane comes from a small number of sources, said speaker Thomas Fox, president of Calgary-based Highwood Emissions Management.
"Whether it's 5% of sources accounting for 50% of emissions or 2% accounting for 80% of emissions, it has really important implications for how we go and look for methane," he said. "There's a small number of sources that if we can mitigate or prevent, we can hit up most of the challenge relatively easily."
However, Fox said there are still many unknowns.
"We still don't really have a great sense of how much we're emitting and how it varies by different companies or different basins," he said. "We also don't have a really good sense of how to measure methane. Technologies that we have available to us are changing, and as those technologies change, we're learning about what works and what doesn't, where it works and where it doesn't work."
Methods also differ dramatically, with minimum detection limits for OGI (optical gas imagery) at around 20 grams/hour and around 250,000 grams/hour for satellite.
Fox's company also tracks the number of vendors in the space, which he said is evolving like crazy, with a "huge amount of innovation happening right now.
"Companies themselves must adapt to these changes, in what the challenge actually is and how we confront this challenge, what technologies we use and how we can solve this problem effectively," he said. "Because we really need to focus on preventing and finding and eliminating these really large sources of emissions."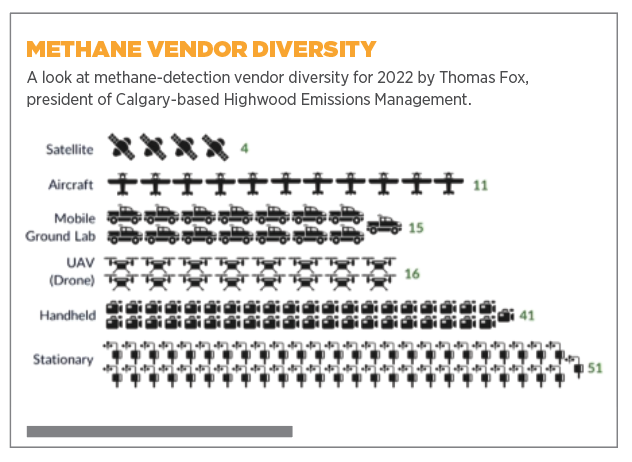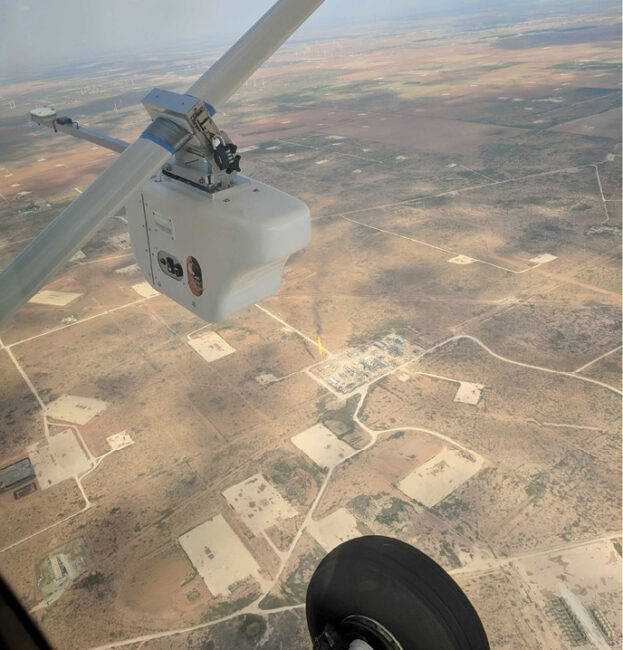 AERIAL RAPID SCREENING COULD BE A GAME-CHANGER
Environmental watchers and energy industry engineers fear that leaks from mines, wells, refineries, storage facilities and pipelines are vastly underreported. Until recently, however, they lacked the equipment to prove it.
Now, they can confirm suspicions beyond the researchers' own expectations. The amount of methane leaking from a large U.S. oil and gas producing region is several times greater than federal government estimates, according to a new study led by Stanford University.
Using airborne sensors able to detect methane leaks from individual oil and gas production facilities, the researchers studied the Permian Basin in New Mexico, one of the world's most expansive and highest-producing oil and gas regions. They estimate that more than 9% of all methane produced in the region is being leaked into the skies, several-fold higher than U.S. EPA estimates and well above those in the published literature. The EPA puts leaks at 1.4% of production on a national basis.
"We surveyed almost every oil and gas asset in the New Mexico Permian for an entire year to measure and link emissions to specific anonymized facilities," said Evan Sherwin, a post-doctoral scholar in Stanford University's Department of Energy Resources Engineering and co-lead author of a new paper in the journal Environmental Science & Technology exposing the discrepancy. "It's worse than we thought by a long shot."
However, the researchers caution that the study is only of a single region during a specific period and cannot be projected nationally or beyond at this time. The larger and more hopeful message in the study is in the monitoring technology itself. Inexpensive and precise aerial rapid screening of methane leaks could be a game-changer for environmental monitoring.
Regular flights over oil and gas-producing regions would be more accurate and cost-effective than current approaches, Sherwin said, although some ground-based monitoring is still important for smaller emissions. Current ground monitoring of methane leaks costs about $600 per facility, according to industry estimates, and proposed U.S. EPA regulations would require this as many as four times a year. With more than 30,000 oil and gas assets and 15,000 kilometers of natural gas pipelines in the New Mexico Permian Basin, those costs could come to roughly $70 million annually.
"Per-site estimates for aircraft-borne sensing are significantly cheaper than that," Sherwin said.
The team has already begun discussions with regulators and the industry to encourage wider adoption of this type of sensing. Researchers are optimistic. Once leaks are identified, shutting them down is often an inexpensive and straightforward fix. They hope these new monitoring techniques can be widely adopted to spot the super-emitters quickly, stop losing product and cut off damaging methane leaks as soon as possible.
SNIFFER, LASER AND OGI
As companies look to manage methane emissions, three sensor technologies—sniffer, laser and optical gas imagery (OGI) thermal camera—have emerged as front-runners for aerial detection and measurement of methane emissions. While OGI and sniffer technologies have been widely used on the ground, they are now making their way onto aerial applications.
"As those technologies change, we're learning about what works and what doesn't…"

Thomas Fox, president, Highwood Emissions Management
At the 2nd Annual Methane Strategies Forum, Donald Garland, solution consultant and service provider at DronesPlus Dallas, a DJI dealer, discussed the pros and cons of each sensor type.
He cited Soarability as a prime example of sniffer technology, with models like the Sniffer4D (now V2) and Mini2 for DJI Matrice M30 drones. The company's new CRDS ultrasensitive methane detector offers sensing at 1 part per million, versus most other sensors in the 100-120 ppm range.
Garland said the pros of sniffer technology, relative to laser and OGI, offer low cost ($6,000-$14,000), provision of data such as concentration, and approximate location and durability. However, the tech is subject to windy conditions, and it does not provide the exact location of the leak, using waypoints instead of mapping in many cases.
Lasers such as AILF's U10 unit used by DJI provide data on concentration and location that is much more specific for 2D and 3D mapping. The U10 provides an audible detection alert and visual location information via an RGB camera. However, Garland said, lasers are relatively expensive ($67,000) and their optics are delicate. While some are critical of laser's false positives, Garland would rather be alerted to a leak that, upon further investigation, is not there, than to miss it all together.
OGI thermal cameras from the likes of Sierra-Olympic (Ventus) and FLIR (G300 a series) provide visual confirmation of leak and location, and are not subject to wind speed and direction. Because thermal cameras sense changes in temperature, Garland said, the greater those changes the more likely they will detect a leak. However, they are expensive ($100,000-plus) and do not provide needed data such as concentration and size of leak. Vendors are working to improve solutions in those areas.
Sniffer Robotics is another company focused on methane detection in landfills, and it also is working with utilities as they expand their interest in detecting methane. "We can, within 90% accuracy, identify a leak within 40 feet of the drone," said Arthur Mohr, founder and CEO of the Ann Arbor, Michigan-based company.
The SnifferDRONE is an EPA-compliant alternative means for surface emissions monitoring. The company is working with the EPA to obtain formal approval. The system features a closed-path methane detector onboard a drone and a gas-collection hose with a weighted air inlet nozzle that is suspended from it to collect gas samples at the ground surface during flight.
ENERGY COMPANIES FUND METHANE DETECTION
Energy companies already have invested heavily in reducing methane emissions, but efforts have accelerated in 2022.
In May, TotalEnergies launched a worldwide drone-based emissions detection and quantification campaign across all its upstream oil- and gas-operated sites. To identify, quantify and reduce its methane emissions, the French company's campaign uses Airborne Ultralight Spectrometer for Environmental Applications (AUSEA) technology that it developed with the French National Research Center for Scientific Research and the University of Reims Champagne Ardenne.

Under development by the partners since 2017, the AUSEA consists of a miniature dual sensor mounted on a drone capable of detecting methane and carbon dioxide emissions while identifying their sources. Measurements can be taken at all types of industrial facilities, onshore or offshore. These supplement findings from traditional techniques such as infrared cameras, ground sensors and satellite.
After being successfully tested, TotalEnergies is rolling out the AUSEA technology globally.
"Considered to be currently the most accurate technology in the world to detect and measure methane emissions, AUSEA will help us to refine our emissions calculations and to take stronger measures to reduce our emissions even further in order to achieve the targets we have set," said Nimita Shah, president, OneTech, of TotalEnergies.
The AUSEA technology is being further developed to move from a manual to an autonomous mode to increase the frequency of methane emission measurements.
In March, BP Ventures announced a £3 million equity investment in Flylogix, a UAV maker with a focus on methane detection. It combines its UAV with artificial intelligence, satellite communications and methane sensor technology from partner SeekOps to monitor and measure methane in some of the world's most remote and harsh locations.
"Flylogix has been instrumental in how we undertake measurements of methane emissions in the North Sea." said David Hayes, managing partner, BP Ventures.
A U.K. company, Flylogix has worked with BP since 2018 to monitor assets across that country's North Sea deposits. During an emissions-measurement flight, the aircraft manages itself autonomously with pilot oversight from the shore, flying as close as 250 meters from installations. Using technology designed by NASA for the Mars Curiosity Rover, Flylogix livestreams data collected by a SeekOps sensor on its wingtip to an onshore support crew.
"Mounting these detection devices on a drone lifts our service to the next level."

Mims Talton, CEO, Flogistix
This method of methane monitoring supports BP and the wider industry in its efforts to monitor and drive down emissions without the need for additional people offshore and the cost and carbon emissions associated with that.
"This latest investment will help Flylogix bring our proven UAV technology to new regions and develop applications to realize the potential of unmanned aerial vehicles," said Charles Tavner, CEO of Flylogix.
Flylogix plans to expand to new geographies, including the U.S., Norway, and Trinidad and Tobago, and to enter the biodiversity and renewable energy industries, conducting wind turbine blade inspections for offshore sites.
VENDORS PARTNER FOR BETTER UAV SOLUTIONS
As with most new technology development, partnering helps speed the process and ease the cost burden.
A little more than a month before the BP Ventures investment, Flylogix and SeekOps announced they'd expanded their strategic partnership after conducting successful emissions surveys on the United Kingdom Continental Shelf (UKCS). The team demonstrated top-down methane emissions measurements for several remote offshore platforms, highlighting an industry-best minimum detection level of 2.5 kilograms/hour. Both companies are now expanding coverage across the rest of the UKCS, as well as deploying UAV missions to the Norwegian Continental Shelf, and the Dutch and Danish sectors of the North Sea.
"We are very excited to extend our collaboration into a wider range of territories, enabling more operators and assets to accurately quantify and report their emissions as they move toward satisfying the requirements of the Oil and Gas Methane Partnership 2.0 framework," said Iain Cooper, CEO at Austin-based SeekOps.
The partners have many flights scheduled this year to jointly help their customers in decarbonization efforts.
"When it comes to emissions, you can't manage what you can't measure," added Flylogix's Tavner. "And so SeekOps' ability to quantify the invisible, and our use of long-range unmanned systems to change the paradigm on collecting data in remote environments with minimum personnel or operational disruption, is a potential game-changer for the energy industry.
In June, production optimizer Flogistix and Terrafugia's Commaris brand announced a collaboration combining the Commaris' Seeker UAV with the Flogistix AirMethane program aimed at advancing the speed and accuracy of aerial methane sensing. Commaris, out of Las Vegas, had the Seeker on display at the Energy & Drone Robotics Summit in Houston.
The Seeker is an electric, fixed-wing VTOL hybrid aircraft designed for autonomous commercial aerial applications. It has a long-endurance capability, with more than 3 hours of flight time without a battery change. Its modular design enables assembly and disassembly in the field in less than 3 minutes. Payloads can be customized with a variety of modular options.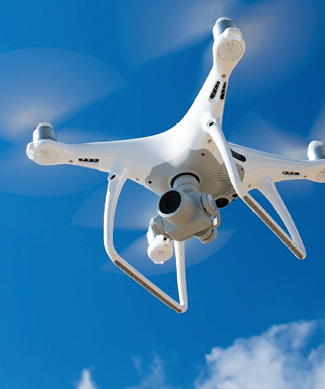 Flogistix's new AirMethane program is designed to identify fugitive methane leaks via a drone equipped with a technologically advanced system. It uses OGI camera, sniffer and laser detection capabilities to pinpoint leaks with accuracy for quick resolution. Inspection reports and videos on its Flux performance dashboard allow for timely regulatory reporting and compliance auditing.
Combining the UAV "with sensors we are integrating into the platform, plus Flogistix's sector experience, operational acumen and proven data delivery capabilities, will position both companies to jointly provide value in the growing field of aerial data collection and delivery," said Kevin Colburn, president of Commaris.
"Utilizing our methane detection methods is not new to the industry," added Mims Talton, CEO of Flogistix. "However, mounting these detection devices on a drone lifts our service to the next level. Our leak detection solutions are the most accurate and efficient methods to inspect well pads, pipeline right of ways, compressor stations, and other oil and gas locations. Not only can this method save time, but it is also the safest and most accurate aerial detection available."
ALL TOGETHER FOR BETTER SYSTEMS
A greater focus on systems engineering, from both the vehicle and software perspectives, is helping to improve inspection and detection.
Drone in a box, an emerging form of autonomous UAV technology, is one of the latest trends coming to methane detection. While traditional UAV systems consist of an unmanned aircraft and some form of ground-based controller, drone in a box solutions deploy autonomously from a container that also functions as a landing pad and charging base. After carrying out a flight plan, they return to their base to charge and/or upload information.
According to the company, Israel-based Percepto has the only drone in a box solution with an integrated OGI camera. In July, the company announced a new partnership with Hellenic Drones to boost adoption of autonomous drones within the oil and gas and solar farm industries in Greece and Cyprus. The partners demonstrated drones with OGI in a refinery near Athens, one of the first such demos performed within the oil and gas sector.
"Percepto's end-to-end system will offer new possibilities for the oil and gas and solar farm industries to be in compliance with regulations and ensure consistent operations without interruption," Hellenic Drones' Co-founder/CEO Dimitrios Skliros said.
More significantly, the drone in a box can be paired with Percepto's Autonomous Inspection and Monitoring (AIM) software for industrial sites such as oil refineries. The solution combines drones and ground robots to automate inspections, as well as emergency response and security. In April, AIM won two awards at AUVSI's XPONENTIAL conference.
With AIM, sites can automate remote inspections of critical infrastructure without a human operator. From data capture to AI-powered insights and reports, Percepto is the only end-to-end automated inspection solution on the market, according to the company.
"We are in a new era of autonomous commercial drone operations that provide end-to-end solutions, delivering whole new levels of safety, security and efficiency for industrial operations," Percepto Co-founder/CEO Dor Abuhasira said.
The solution enables remote site monitoring to run inspections and provide situational awareness at high altitudes and hard-to-reach locations, collecting data without risking employee safety. Robots can run inspections around the clock, unbound by the availability of pilots or employees.
Most significantly, the technology integrates robots and sensors in a system to collect and manage visual data from any device, all in one place.