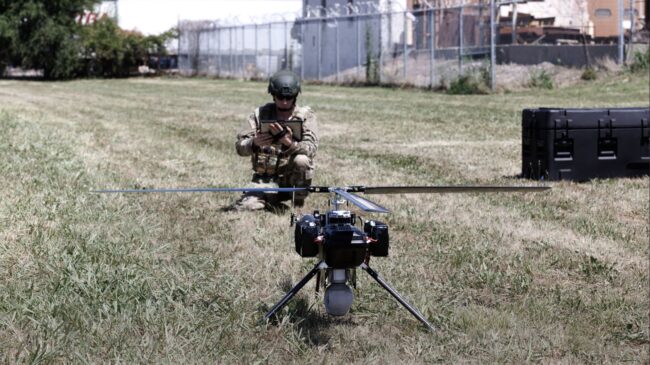 AeroVironment, Inc., a global leader in intelligent, multi-domain robotic systems, today announced the launch of the next-generation VAPOR® Helicopter unmanned aircraft system (UAS), VAPOR 55 MX. Delivering new levels of operational performance with a completely redesigned modular autonomy framework, VAPOR 55 MX enables increased endurance and expanded payload capacity to meet current and emerging needs of defense, commercial and industrial customers.
"The new VAPOR 55 MX is an easy-to-maintain system that incorporates a highly versatile modular architecture and tool-free rail system for simple, efficient integration of third-party or custom payloads, allowing users to adapt to multi-sensor, multi-mission requirements including utility inspection, aerial surveying, public safety and defense applications," said Trace Stevenson, AeroVironment vice president and product line general manager for small UAS.
Built on the class-leading endurance and payload weight performance of its predecessor, VAPOR 55 MX features a new sleek and efficient low-profile design that enables the helicopter UAS to stay in the air 25 percent longer and operate in all weather. VAPOR 55 MX is heavy-lift capable and its increased usable payload capacity allows users to choose from single or multiple payload configurations.
This expansive modular payload bay can carry up to 12 pounds of payload with more than 70 minutes of flight endurance while still maintaining the 55-pound gross take-off weight (GTOW) restricted by the Federal Aviation Administration (FAA) for commercial customers. For military customers that require more take-off weight, VAPOR 55 MX is capable of a 65-pound GTOW and can carry up to 22 pounds of usable payloads with a reduced endurance trade-off, nearing the edge of Group 3 weight class.
To learn more about the all-electric VAPOR 55 MX Helicopter UAS, visit www.avinc.com/uas/vapor.