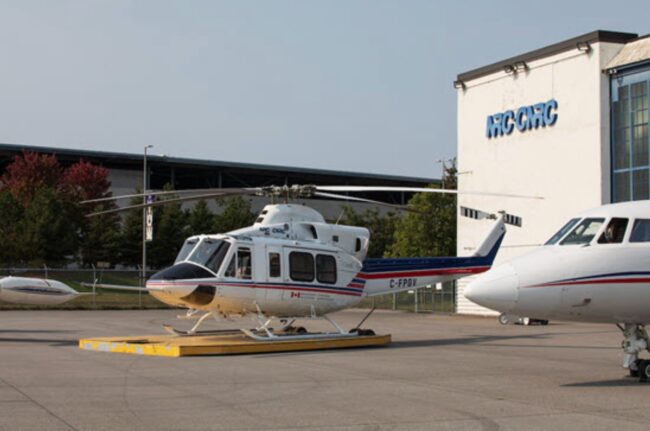 The Yuma Proving Grounds was abuzz this May as the U.S. Army hosted the Experimental Demonstration Gateway Exercise. EDGE 2023 featured 105 recorded first-time events, 83 different technologies, 11 partner nations and 32 Department of Defense partners. In demonstrations and presentations, well over 1,400 participants collaborated around key themes. UAS were firmly in the mix.
The gathering is hosted annually by Future Vertical Lift—Cross Functional Team (U.S. Army Futures Command). A post-event press conference featured an impressive array of U.S. and international commanders, providing an opportunity for Inside Unmanned Systems to ask about UAS within EDGE, what lessons were learned and what future explorations might pay off.
Dan Bailey, an aide to Maj. Gen. Walter Rugen, director of FVL-CFT, fleshed out UAS prominence within EDGE.
"Unmanned aerial systems is a very large term for a lot of capabilities," he began. "It was really a space that, multi-nationally, we had the most involvement. But, I think the key is how you integrate those collectively and how you bring to bear what their effects are into the common operating picture."
Bailey, who is also a test pilot, linked UAS to one of EDGE's major concentrations: interoperability. "Our international partners brought several different unmanned systems; we employ pretty much the suite of capability from an unmanned perspective from the Army, from what we call launch effects, or small drones, up to our Gray Eagles."
Bailey noted an advancement in deployment. "Instead of interoperability or just being able to work together, we're actually integrated." To that end, EDGE offered a learning experience. "The opportunity to have both virtual launched effects in our system and live launched effects, and other larger UAS, brought to bear the entire ecosystem we're trying to demonstrate out here."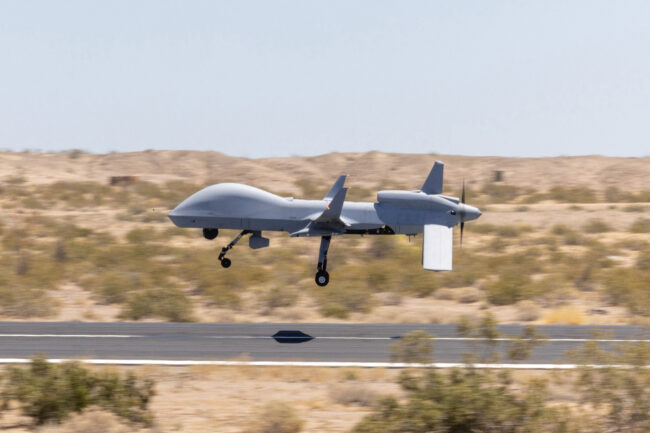 Coalition building, theater linkage, deep sensing and agile integration were among the attributes explored.
International Integration
U.S. and international forces deployed close to 25 UAS variants, from small launch effects to the Gray Eagle. Ukraine discussions were largely avoided to avoid touching on classified material, but Rugen asked EDGE's exercise director, Lt. Col. Tanner Spry, to delve into allied participation during the event.
"France, in particular, had four or five UAS in what they call a micro and a mini size scale—so, more direct soldier support, close-in, overhead surveillance type capabilities," Spry said. Expanding from that, you had two different UAS systems: one from Germany called the Vector and another from Italy called the Rapier, which were a little bit longer-endurance higher-altitude type UAS that were able to extend their ability to see beyond the objective area.
"From there, we had several other types of UAS at various altitudes, ranges and endurance time. So, a wide, wide variety, everything from small, short-duration type UAS is to longer high endurance UAS as well." One of the latter, a Kraus UAV solar platform, provided significant network capability. Innovation also was abetted by the proving ground's ability to furnish real-time test analytics for learning, auditing and evaluation.
The U.S. did not deploy an unmanned Blackhawk to Yuma, but an autonomous Bell 412 brought by the Canadian National Research Council attracted attention. "We had several missions including the Bell 412," Spry said, "in a contested logistics-type environment—autonomous resupply. "It was the first time conducting autonomous landings in a dusty desert environment, and it yielded a number of post-air assault use cases."
Brig. Gen. Chris McKenna expanded on this heavily modified craft. "It's entirely fly by wire and has a whole bunch of algorithms that underpin it. They've been doing a lot of experimentation in a relatively constrained way in Canada. This offered an opportunity to sort of open up that dataset quite significantly and work in a degraded visual environment. There's a big difference between sand and snow from a LiDAR point of view; this aircraft has a LiDAR sensor that allows it to autonomously determine the best landing point.
"It is supervised autonomy—there's still a pilot in the aircraft with hands close to the controls. But certainly, a couple of firsts for us, [including] an autonomous no-hover landing."
Participation in EDGE allowed the Canadian team to collect data and interact with partners. "We never would have had the opportunity to do so if I kept it at home," McKenna said.
From the German point of view amid the constrained airspace of Europe, Lt. Gen. Andreas Marlow called for international interoperability. "For autonomous systems across the board, that is something we are currently looking very intensively into—our experimentations and testing in our own national framework, but also looking at what our partners are doing. EDGE was extremely helpful to see where our partners are standing and where they have comparable challenges, and whether they have found good solutions."