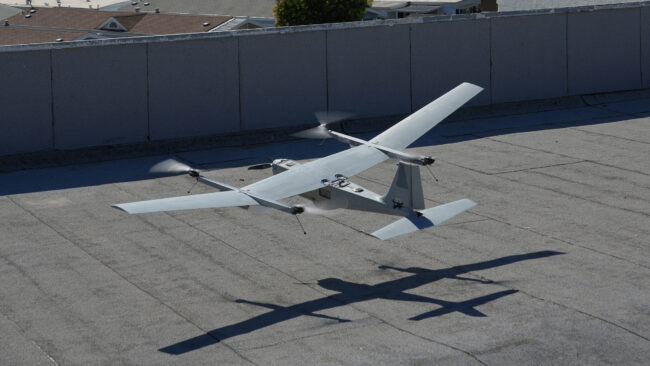 AeroVironment has expanded the capabilities of its successful Puma SUAS with the introduction of a VTOL kit. This enhancement to the 3 AE (all environment) model allows for a shift from fixed-wing to VTOL in minutes, expanding operational capabilities in urban and/or GPS-denied navigation in contested spaces.
"Puma VTOL is a new capability into our Puma family that allows launch and recovery with a small footprint," Scott Newbern, AeroVironment's vice president and chief technology officer, told Inside Unmanned Systems during our livestreaming at XPONENTIAL 2023. Instead of a 100-meter clearing for the standard model, the VTOL version can reduce the needed space to 16 meters. "It's really about that expeditionary operation in a smaller footprint," Newbern said.
The VTOL kit comes with a couple of different options. "If you buy a new Puma 3, you can get VTOL as part of your kit," Newbern continued. "For a Puma 2 or a Puma 3 that's already fielded, it's retrofittable and compatible."
The VTOL package consists of boom assemblies, a pre-wired center wing avionics module and fastening hardware, with one-time installation. "It's a modular kit," Newbern said. "If you need to do vertical takeoff, you put the booms on. If you want to do traditional Puma operation, it's just like always."
The VTOL enhancement joins other Puma 3 AE advancements. An upgraded motor improves climb rate by up to 26% in heavier configurations. Field swaps of Mantis payloads reinforce day and night operations, and can improve endurance to 2.5 hours. Manual or automatic navigation can include AeroVironment's VNS (Visual Navigation System). There's also a Puma-wide update to the data link.
The Puma 3 operates through AeroVironment's Chrysalis solution. "We recently introduced an upgraded ground control station called Chrysalis," Newbern explained. "It is a tablet-based system. For Puma VTOL, it's already integrated." Simplification embraces one-button launch and recovery by a single operator.
Returning to the VTOL version, Newbern described it as "plug and play. It's really meant for expanding a mission capability. It's great to offer an incremental capability on the basic platform."