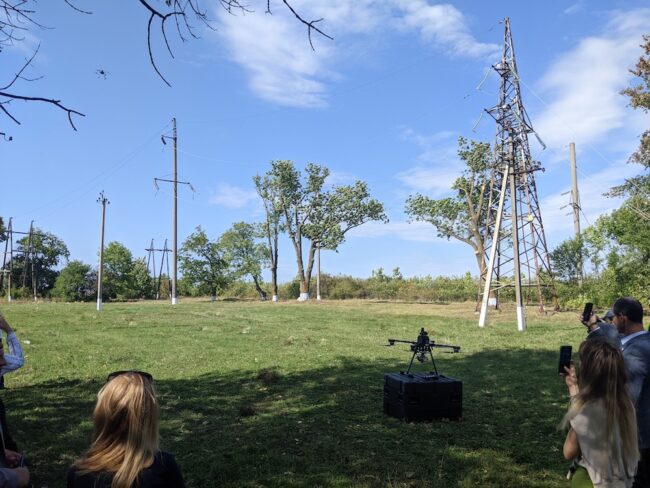 A Florida-based remote sensing company is working with the Republic of Moldova's state-owned power company, preparing workers to leverage unmanned aircraft remote sensing technologies to inspect power lines and help set up renewable energy systems. This will significantly reduce the country's dependence on power from war-torn Ukraine.
The U.S. government, through USAID, has embarked on a four-year project to modernize Moldova's power grid, connect it to neighboring Romania and bolster it with solar and wind­ power facilities. Moldova currently buys all its electricity from Ukraine, but the country' power grid has suffered under the Russian invasion.
The overall effort will cost $60 million, and $1 million of that has gone to provide drones, software, training and consulting from Triad Drones, based in Tampa, Florida. Triad has provided 10 of its Echo Blue UAS, which include on-board LiDAR and thermal imaging systems. The company also recently conducted training for 13 employees of Moldelectrica in the village of Corbu to prepare them for this new endeavor.
"This is the utility company's first experience with drones and their missions are important ones," company President Walter Lappert said. "They'll be deploying their Echo Blue UAS to inspect existing power lines and related infrastructure, which will en­able them to more effectively maintain and monitor this crucial infrastructure.
"They'll also be deploying their Echo Blues to help scout for and survey the best possible locations for new renewable energy installations, as well as monitor those installations once completed."
Triad Drones will also be working with the government of Moldova to help set up and implement its back-end GIS systems to process and manage its data.
"We are absolutely committed to ensuring their success as they make this considerable leap forward to increase overall safety, productivity and efficiency," Lappert said.