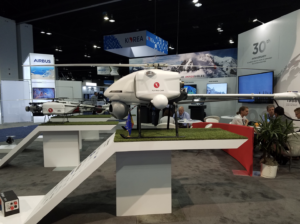 FLYING-CAM unveiled its newest unmanned aircraft system (UAS), Discovery, at a reception during this year's AUVSI in Denver earlier this month.
The company is celebrating its 30 year anniversary, and until recently focused on deploying drones to capture footage for the film industry, with credits such as Iron Man 2, Game of Thrones and Ocean's 7.
In 2017, FLYING-CAM released Sarah 4.0, a system that can carry a variety of sensors and be used for other applications as well, marking the first drone from the company designed for uses other than cinematography.
With the potential drones offer the civil market and the interest in beyond visual line of sight flights (BVLOS), they felt it was the right time to develop a drone that could not only capture beautiful imagery for movies, television shows and commercials, but that could carry a variety of payloads to collect the necessary data for other applications, Founder and CEO Emmanuel Previnaire said.
To keep up with the ever-changing technology in the UAS industry, FLYING-CAM followed up with its latest system, Discovery, which features increased endurance.
"In the past, you could stay in business with a product for 15 years. Now, every six months you need to update," Previnaire said. "We designed a platform that follows the pace of technology."
FLYING-CAM displayed its various systems during the show, with Discovery the largest and most versatile. Attendees had the chance to see just how much the systems have changed over the years. The newest drone features autopilot that allows for 3-D mission planning and a modular design that makes it easy to swap out payloads for various applications. It has about a two-hour flight time with 15 kg of payload and a one-hour flight time with 30 kg, giving it the endurance it needs to take on a variety of missions, such as mapping and inspections.
The system offers reliability, precision and adaptability, Previnaire said. To fly on big motion picture sets, over actors and crew members, FLYING-CAM's drones must be safe and reliable, and that safety and reliability will carry over to other missions the Discovery performs.