If you're attending AUVSI XPONENTIAL 2018 in Denver — April 30 to May 3 — you'll want to see as many of the exhibitors as possible to harness the power of unmanned technology.
But that's easier said than done as this intersection of cutting-edge innovation and real-world applications brings all things unmanned into sharp focus. More than 8,500 industry leaders and forward-thinking users from both the defense and commercial sectors will come together to learn the latest on policy, business use cases and technology applications, and more than 400 exhibitors will be on hand to share their knowledge and show off the latest in unmanned innovations.
Here are just a few of the many technologies and products that will be showcased at XPONENTIAL 2018. For more on these companies and the latest technological advances, visit the exhibitors on the trade show floor, along with our coverage.

New Puma 3
AeroVironment #3015
AeroVironment Inc., a global provider of unmanned aircraft systems (UAS) for both defense and commercial applications, recently announced the company is now taking orders for its new Puma 3 small UAS. 
AeroVironment upgraded the Puma's airframe to enable robust operation of its i45 EO/IR sensor suite with SIGINT payloads in harsh and demanding environments. In addition, the Puma 3 incorporates AeroVironment's latest digital data link (DDL) with security upgrades to support operation in more challenging radio frequency (RF) environments, with M1/M2/M5 and M3/M4/M6 frequency bands and with AES-256 encryption.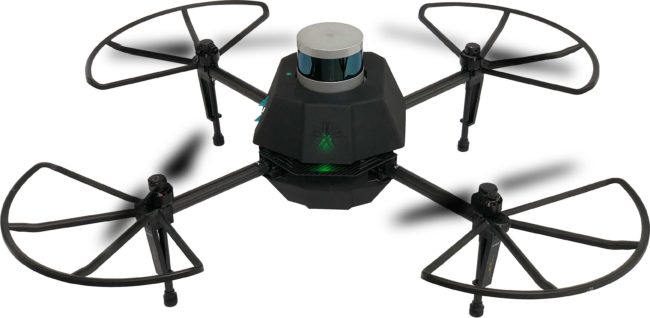 A3Rs (Advanced Autonomous Aerial Robots)
Exyn Technologies #4229
Exyn A3Rs (Advanced Autonomous Aerial Robots) are designed for surveying and inspecting underground mines. Exyn A3Rs, powered by exynAI autonomy core, are self-piloting robots and can be deployed anywhere within a mine without a pilot or prior map. Once deployed, Exyn A3Rs will collect all the data needed for mine surveying and inspection with little to no human supervision. Exyn AI software runs fully onboard the robot, therefore intermittent or lost communication with the robot does not compromise the safety or completion of a mission. Once the robot is back within communication range, the mission information can be downloaded off the robot to provide real-time updates and sensor data.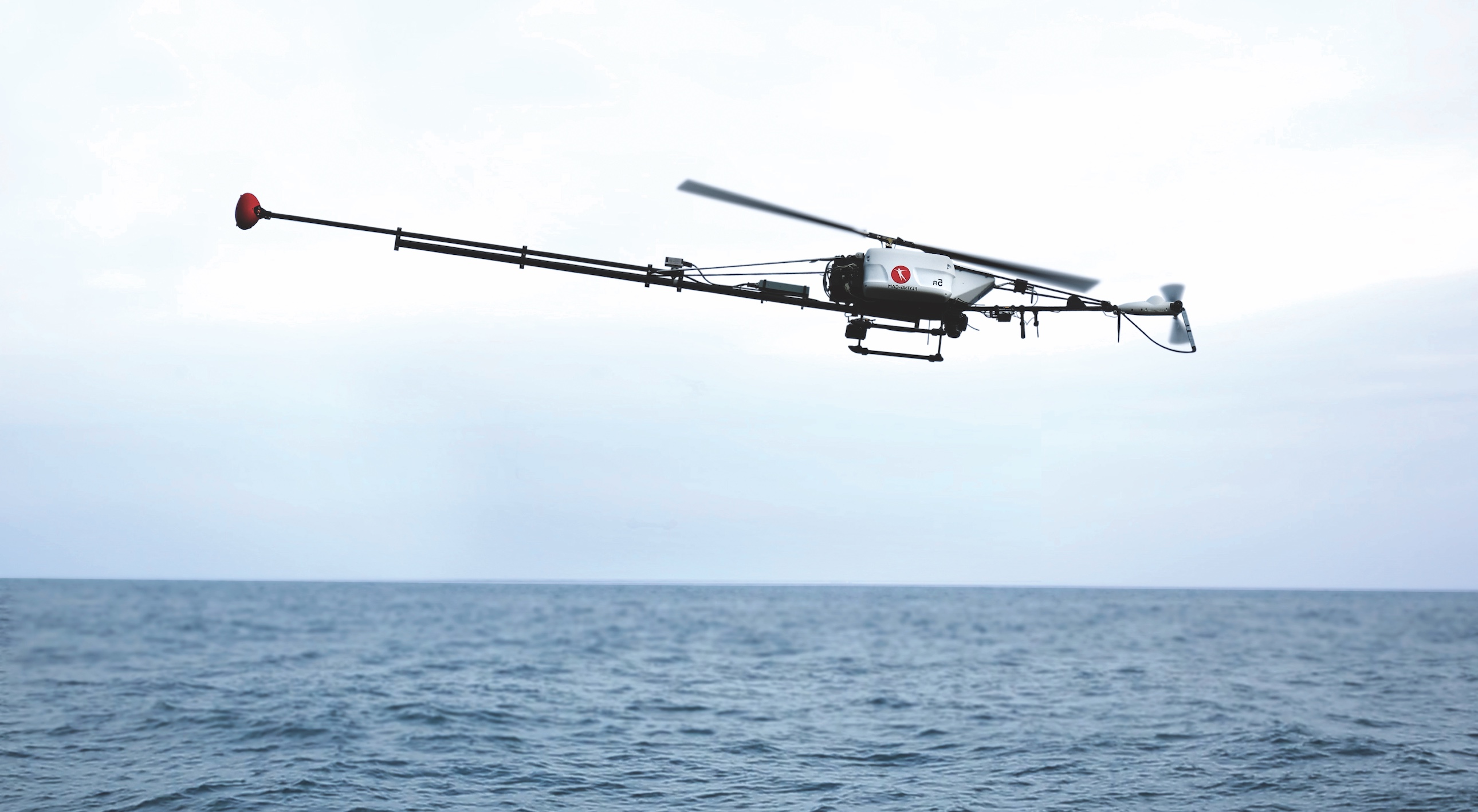 SARAH e 4.0
Flying-Cam #3922
Flying-Cam's 2018 model, SARAH e 4.0, is equipped with the advanced Scintrex CS-VL cesium-vapor magnetic sensor and RMS Instruments' AARC51 adaptive aeromagnetic real-time compensator. The evolution of Flying-Cam technology is soon to surpass manned aviation in a variety of fields.
Heading precision is key for a helicopter. Flying-Cam Engineers chose the best Dual Antenna GPS board on the market and are using it with real-time kinematic (RTK) code GPS:
• Speed Over Ground Precision: +/- 1cm/s
• Heading solution with Dual Antenna GPS
• RTK GPS centimeter accuracy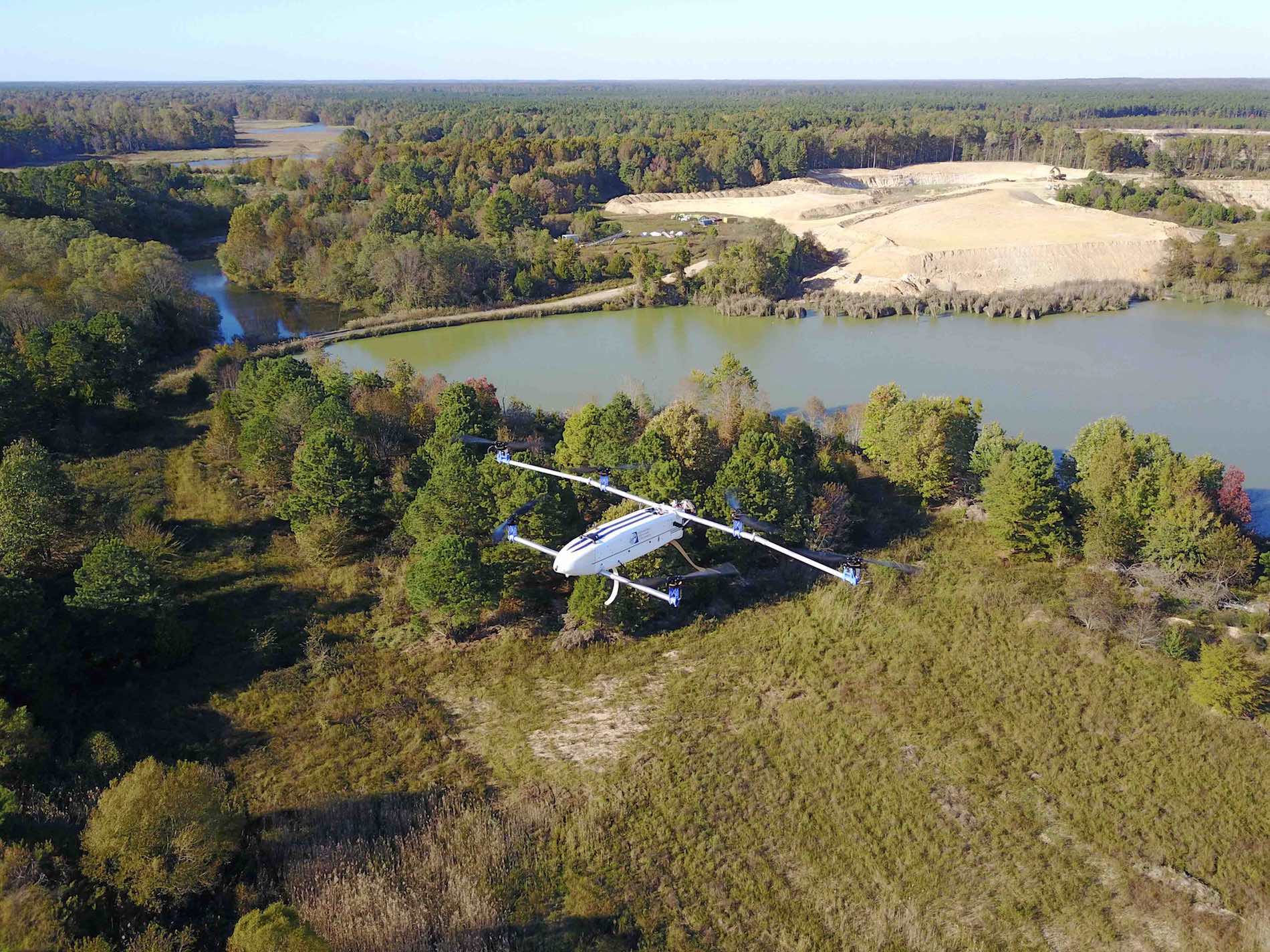 HAMR
Advanced Aircraft Company #3332A
Advanced Aircraft Company (AAC) produces vertical takeoff and landing (VTOL) unmanned aerial systems (UAS) targeting military and commercial markets. Its first product, the HAMR UAS, is a hybrid electric multi-rotor with a 3.5-hour max endurance. The HAMR achieves long endurance for two reasons. First, aerodynamic design improvements increase aerodynamic efficiency. Second, the aircraft incorporates a hybrid electric propulsion system. Using FAA Part 107 operations, the HAMR can survey 1,500 acres carrying 6 pounds of payload. For extended line of site operations, the HAMR can survey 3,500 acres carrying 4 pounds of payload.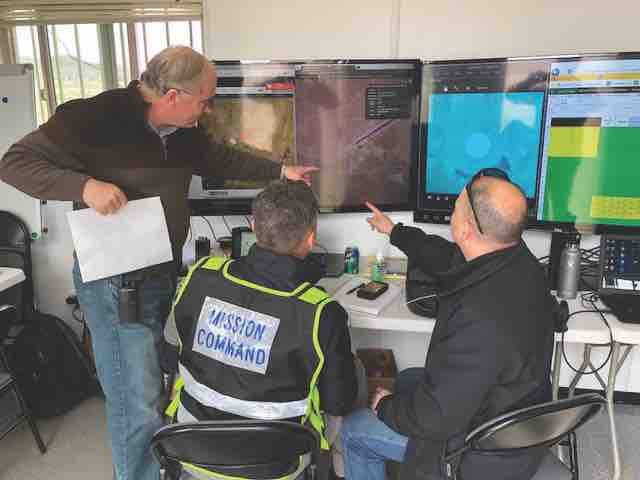 NIAS, NASA UTM Program Complete TCL 3 Testing
NASA #4215, NIAS #615
The Nevada Institute for Autonomous Systems, which manages the Nevada UAS Test Sites, and its NASA Unmanned Traffic Management (UTM) partners flew multiple Unmanned Aerial Systems (UAS) over a week-long testing period at the Reno-Stead Airport. The testing focused on airspace management technologies that will enable the safe integration of UAS into the NAS.
NASA provided a Flight Information Management System research platform that will serve as a future prototype for the FAA to use to coordinate with unmanned service suppliers operating throughout the nation. Research areas of emphasis which is part of the NASA TCL 3 Campaign, included UAS ground control interfacing to locally manage operations, communication, navigation, surveillance, human factors, data exchange, network solutions, and BVLOS architecture.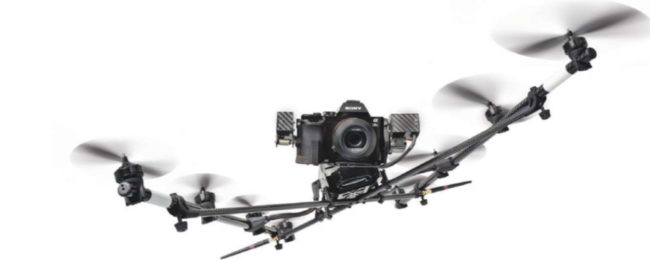 The Intel Falcon 8+ is Now UL 3030 Certified
Intel #628
Unmanned Aerial Systems (UAS) have long been used in military and public safety applications and are now being widely adopted in commercial applications including agriculture, package deliveries, wind turbine monitoring and inspections, search and rescue operations, disaster relief and much more. As the numbers and applications of drones increase, so does the need for standards for safer product development and operations. Drones' on-board power sources are typically lithium-ion based batteries that need to be protected against electrical, mechanical, and environmental conditions. UL's expertise with lithium-ion battery and holistic system safety supports the world's innovations of new product categories before use in mass adoption. UL 3030, the standard to which Intel's Falcon 8+drone was certified, achieved initial U.S. consensus in December 2017 and is scheduled to complete a bi-national accreditation for the U.S. and Canada this year.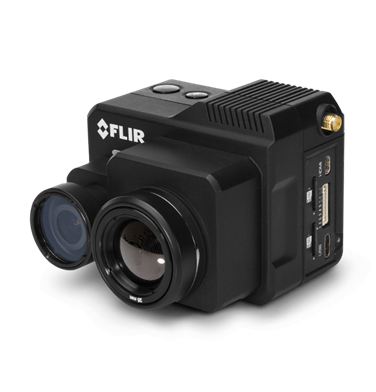 FLIR DELTA and Duo Pro R
Duo Pro R–The new FLIR Duo Pro R combines a high resolution, radiometric thermal imager, 4K color camera, and a full suite of on-board sensors to bring you a powerful dual-sensor imaging solution in the world for small commercial drones. Users can capture actionable data around the clock.
FLIR DELTA–Drone Education Lab for Thermal Applications offers knowledge, best practices, training and street truths. Whether the mission is public safety, industrial inspection or a new emerging use, future and current drone operators and their teams can become pros with help from FLIR DELTA, a free source of cutting-edge insights.

Aspen Avionics and Sensurion Aerospace Team to Co-develop Commercial UAV Avionics
Aspen Avionics #3143, Sensurion #2011
In March, Aspen Avionics and Sensurion Aerospace announced a co-development partnership that will bring certified avionics to the burgeoning UAS and unmanned air-taxi marketplace. Aspen Avionics'/Sensurion's focus is on FAA-certified autopilots, communications, navigation, and surveillance systems, for small, medium, and large UAS, including future cargo and passenger carrying aircraft.
Initial product development from the team will include an autopilot/flight controller, TSO'd GPS/GNSS, and surveillance systems including ADS-B.
Sensurion CEO Captain Joe Burns said, "We are combining the talents, agility, and pedigree from two industry leaders to bring UAS consumers what they want, with a value proposition that puts safe drone technology to work across many industries."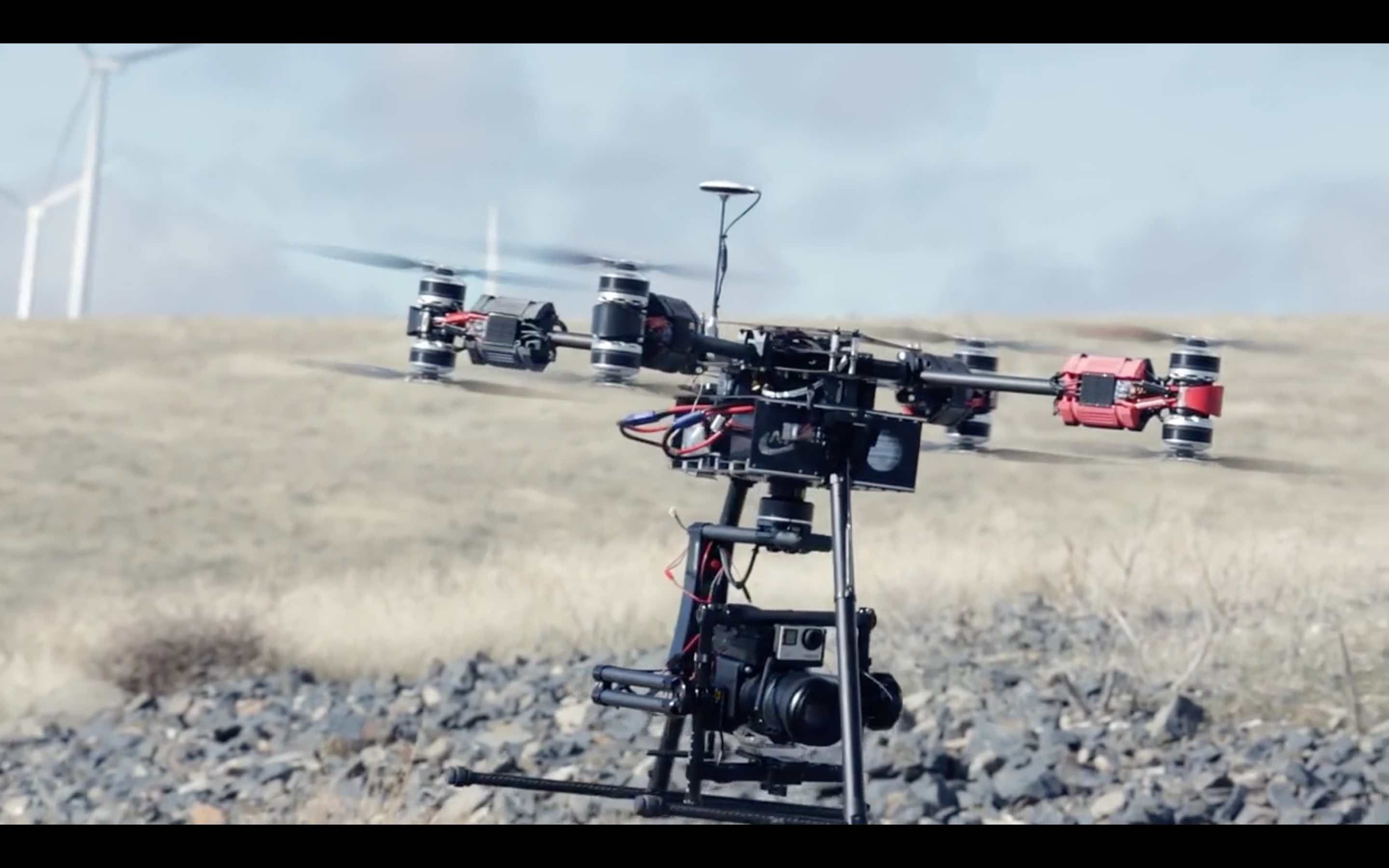 Phase One iXU
Phase One Industrial #1637
Phase One Industrial is a provider of 50MP to 190MP medium format cameras and imaging solutions for aerial and industrial applications. The company's technology was recently used in a case study done by ATI, a manufacturer and system integrator of commercial and industrial drones. ATI was requested to execute a wind turbine inspection project in Washington to locate and photograph fissures on a wind turbine blade that were marked and measured two years prior.
Aerial imagery captured by the Phase One iXU provided accurate millimeter per pixel detail needed for the wind turbine inspection. The use of drones for visual inspections can allow some critical systems and structures to stay online during inspections, as well as save time and reduce risks.