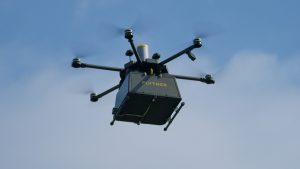 Flytrex, a leader in on-demand drone delivery for food and retail, today announced the expansion of its drone delivery service to Holly Springs, North Carolina. In partnership with Causey Aviation Unmanned, the Federal Aviation Administration (FAA), the North Carolina Department of Transportation (NCDOT), The Town of Holly Springs, and Kite Realty Group Trust (NYSE:KRG), Flytrex has begun delivering food orders via drone in partnership with Brinker International (home of Chili's® Grill & Bar, It's Just Wings® and Maggiano's Little Italy®) at the Holly Springs Towne Center to front and backyards in the neighborhood of Forest Springs. Flytrex's newest service caters to dozens of households in the area who have opted into the service. Flytrex will conduct all flights under Part 107, within visual line of sight, maintaining the highest safety standards.
"We are soaring into a new age in which smart cities harness the immense power of drones to maximize efficiency and feed consumers' growing appetite for on-demand deliveries – all while reducing our carbon footprint," said Yariv Bash, CEO and Co-Founder of Flytrex. "We're thrilled to expand our service and demonstrate the vast benefits of drone delivery to residents and businesses in Holly Springs. Together with the FAA and NCDOT, this program will reach unprecedented heights."
Customers can order food from It's Just Wings®, Brinker International's virtual brand available from Chili's® Grill & Bar at the Holly Springs Towne Center via the Flytrex app. The app will update customers regarding their order status along the route until the package is lowered by wire safely into their front or backyards. The service will expand to additional homes and neighborhoods in the coming months.
"The people of Holly Springs pride themselves on embracing new innovations," said Holly Springs Mayor Dick Sears. "As a Smart Cities Award winner, the Town of Holly Springs has been recognized for being a pioneer in the use of new technology, and our residents are excited to see how Flytrex's drone delivery service can provide additional benefits to the community."
Flytrex and Causey Aviation Unmanned are partners in the NCDOT's BEYOND program, one of nine programs in the country selected by the FAA to pave the way for routine commercial drone use in the National Air Space. North Carolina partners have achieved more national firsts and flown more missions by far than all other teams combined since the FAA launched its integration initiative in 2017.
Holly Springs is the third location in North Carolina in which Flytrex operates. Since September 2020, Flytrex has been operating in Fayetteville, NC – delivering groceries, household items, and restaurant orders to select customers – and has since expanded to the neighboring town of Raeford. In April 2021, the FAA approved the expansion of the Fayetteville service, making it among the largest-scale backyard drone deliveries of goods on record. Since February 2021, the volume of Flytrex orders across its North Carolina operations has increased more than tenfold, with thousands of deliveries to date.