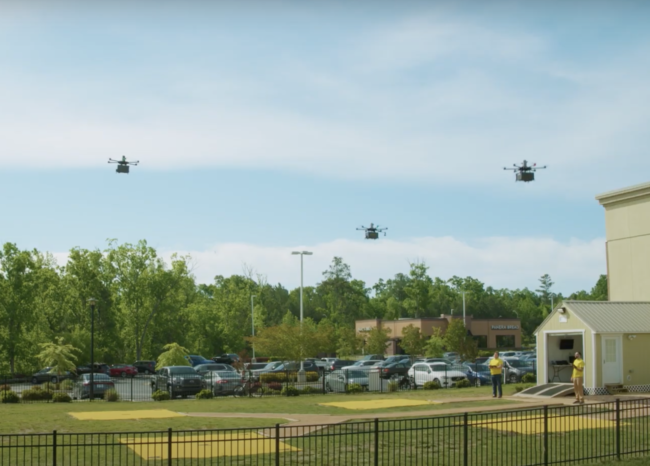 LIBERTY, North Carolina—Flytrex today unveiled Autonomous Pickup, a capability allowing for a fully autonomous delivery process from order placement, to pick-up, through delivery to customers' yards.
By cutting delivery time significantly, to roughly five minutes from the time orders are ready, this new innovation is creating new growth opportunities for major quick-service restaurants and family-owned restaurants.
With Autonomous Pickup, Flytrex drones can pick up orders from restaurants and retailers via dropdown wire and fly directly to customers' homes to deliver the goods, removing the human component from the delivery process.
Several of Flytrex's restaurant and retailer affiliates have already partnered with the company to realize this vision of a fully autonomous delivery process, including Unilever's The Ice Cream Shop, Papa Johns, Freddy's Frozen Custard and Steakburgers and Little Caesars, among others.
"This announcement is a testament to Flytrex's continued commitment to a future of ultrafast delivery for everyone," said Yariv Bash, CEO and cofounder of Flytrex. "What's so unique about this innovation is its real potential to move the needle, with more and more businesses getting on board with an undeniably seamless and cost-effective process. This upgrade is a huge step forward in achieving our vision to provide drone delivery to the millions of residents across suburban America."
Since launching the world's first autonomous drone delivery system in Reykjavik, Iceland in 2017, Flytrex has been working closely with regulators to get drone delivery off the ground. The company participated in the FAA's UAS Integration Pilot Program (IPP), which concluded in October 2020, as well as the FAA's subsequent initiative, BEYOND. In January 2023, Flytrex's longtime partner Causey Aviation Unmanned was granted Standard Part 135 Air Carrier Certification from the FAA allowing it to operate and complete long-range on-demand commercial drone deliveries in the United States.