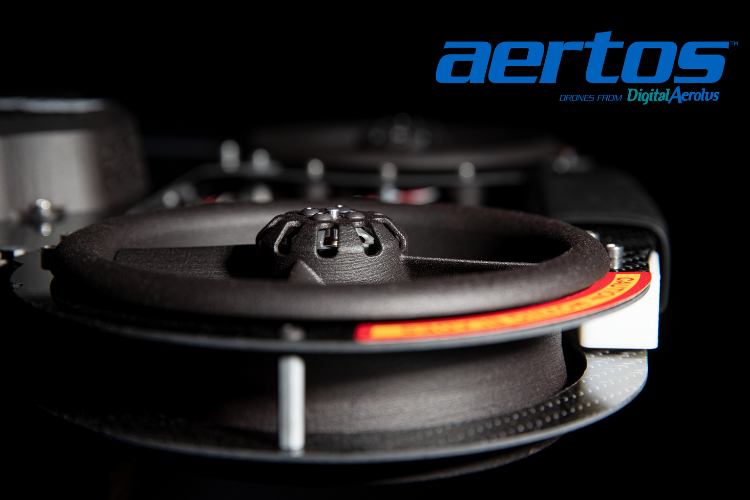 Accessing mines, power plants, underwater tunnels and other confined or indoor spaces pose a well-known array of potential risks and hazardous conditions for humans. It's no secret, then, that companies across multiple industries are increasingly turning to drones to do the job.
Yet these spaces also present significant technology challenges and threats for drones—particularly when it comes to navigation and stability. Anything from air volume to drafts, dust, signal transmission beyond line of sight, complete darkness and reflective surfaces can reduce image quality, reliability and effectiveness.
The team at Digital Aerolus turned to their deep space roots to design and build a family of commercial Aertos drones that they say can stably fly where other drones can't.
The company's original founders, including Digital Aerolus CEO Jeff Alholm, came from California Institute of Technology and NASA's Jet Propulsion Laboratory. They've applied their knowledge of artificial intelligence and advanced mathematics similar to those used in deep space navigation to develop their unique drones and software. 
"We originally looked at the drone space and realized that there was a fundamental flaw in the way that drones were flying," Alholm said at a recent Commercial UAV Expo in Las Vegas, Nevada. "We believe that external sensors should add to external stability and drift, but not be required. Instead, we use an internally referential approach."
That internally referential approach is made possible by a patented, proprietary flight software that's built in house called Folded Geometry Code, something the Digital Aerolus team said is not available in other industrial products on the market.
"Our drones internally reference themselves, much like a spacecraft does," said Jameson Huckaba, product and business development at Digital Aerolus. "That means they can fly in places like underground mines, under bridges and within nuclear containment facilities. Even SWOT teams use these drones to clear houses."
Equipped with their software, the family of hand-made carbon fiber drones includes the flagship Aertos 120, which has a compact ducted blade design, full high-definition video, FPV camera with an illuminator, and a two-axis gimbal.
The drones use Artificial Intelligence "touch and go" technology that allows the drones to recognize the difference between a physical obstacle and wind resistance, allowing them to get close enough to make high quality, photogrammetry-grade inspections without falling if it strikes an object.
According to Alholm and Huckaba, their drones can be thrown straight into the sky and will start up, calibrate and fly within seconds, something that's worthwhile in urgent first responder situations. 
In addition to the drones' quick calibration, the drones work well in rough environments and do not rely on a Global Positioning System or external sensors for stability.
"Our mathematical framework makes it possible to map sensory data into a confined space and make better, more predictable intelligent decisions," said Huckaba. "It applies to anything that flies, floats, drives or swims, and can even respond to wind and drafts."
Alholm said Digital Aerolus' drones have a range of applications, with clients across industries ranging from oil and gas, to infrastructure, energy, public safety, mining, media and more.
Specific test cases that demonstrate Aertos drones' ability to maneuver in confined spaces are inspections around and under large steel bridges, within energy plants and along turbines.
"I think what we're doing is something fundamentally different," he said. "We've created a new calculus for flying drones."