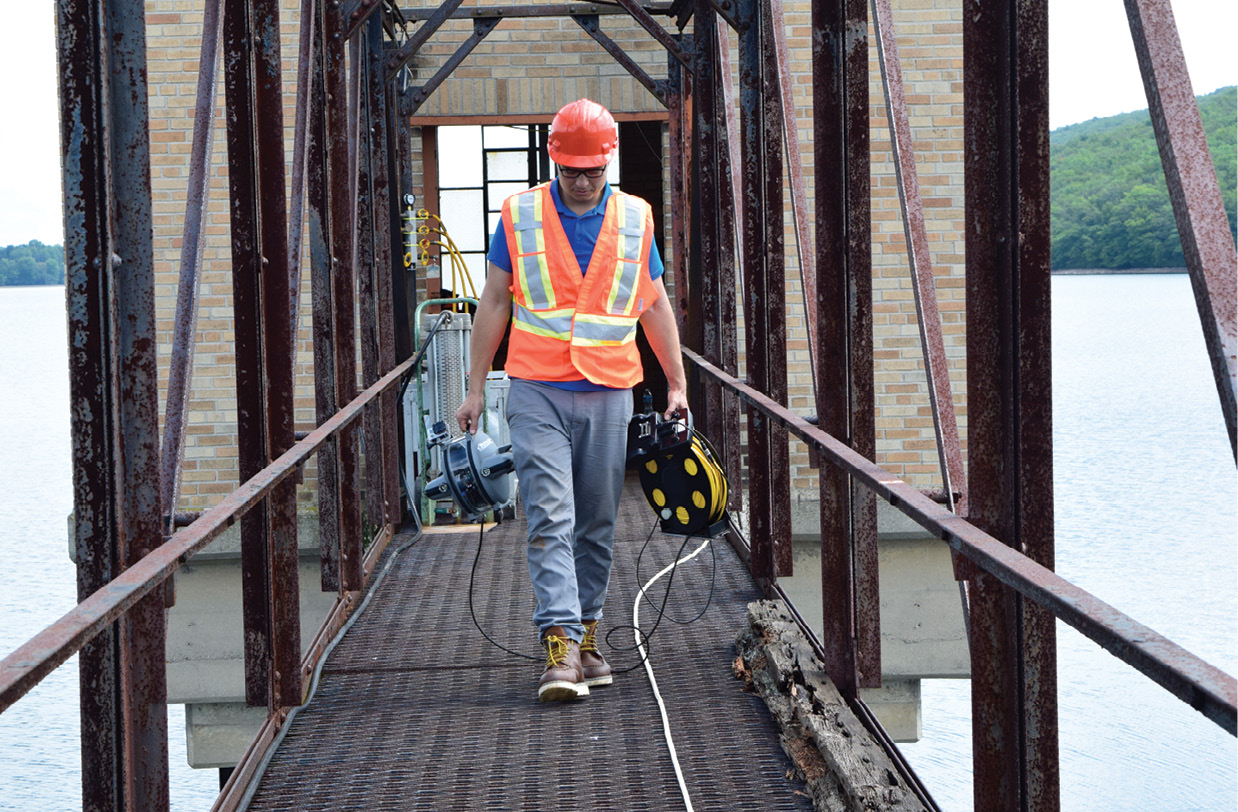 Whether in the air, on land or in water, renewable energy companies are seeking groundbreaking autonomous solutions for inspections in a rapidly changing world.
Renewable energy has become the fastest-growing energy source in the United States, while global demand is transforming the way companies are tackling facility inspections. Drones are securing a key place in that process.
"The drone industry is still somewhat new," said Harjeet Johal, vice president of energy infrastructure at Measure, a Washington, D.C.-based leading aerial intelligence company. "It's only become a mainstream technology in the U.S. renewable energy sector in the last few years, but industries have picked up the technology quite aggressively."
It's not hard to see why. Drones make inspections cheaper and safer, replacing traditional methods that involved sending humans to precariously dangle from wind turbines, traverse 20,000-square-foot solar farms on foot or send dive teams underwater.
They also make inspections faster. What often takes manned teams weeks can now be accomplished in days and even minutes, increasing energy performance and reliability.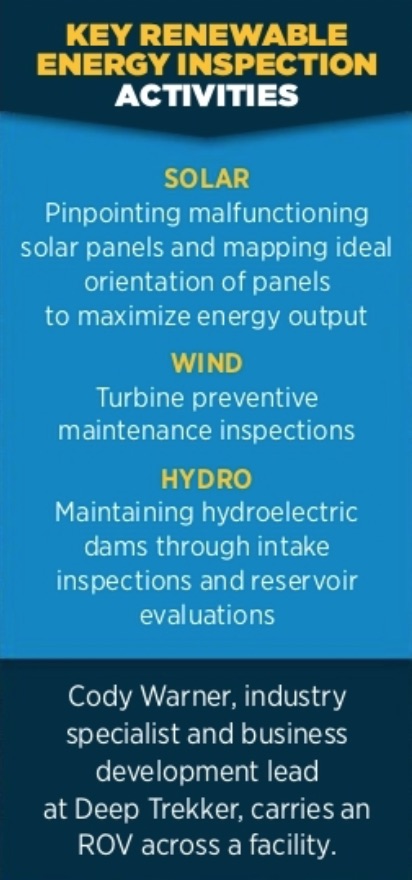 Then there's the data. Drones are able to drastically improve the quality of information gathered during inspections. With the help of advanced automation and machine learning, they're providing companies with greater visibility into future maintenance and repair needs.
Whether it's in the air, on land or in water, drone technology is offering today's renewable energy companies groundbreaking autonomous solutions in inspections for a rapidly changing world.
THE SOARING POWER OF SOLAR
In the last decade, solar power has experienced an average annual growth rate of 50 percent. As reliance on solar grows, so too does the size of sprawling utility-scale farms, making on-foot inspections less practical. Consequently, solar companies are increasingly turning to drones.
Measure's mission is to enable enterprises to realize the transformative benefits of drone technology in wind and solar. The Washington, D.C.-based company is helping clients outsource drone programs or build them in-house, providing resources such as air frames, program software, data analysis, pilot training and advisory services to keep energy operating performance at peak potential.
"A typical drone inspection takes 10 minutes per megawatt of solar, so customers are seeing value in these faster-turnaround times and the digital information it offers, paving the way toward more rapid management," said Johal, who has expertise in renewables and energy markets. The company offers a range of fixed-wing style airframes such as DJI's Mavic Pros, Inspire 2s and M210s. SenseFly eBees are well-suited for the linear infrastructure of solar farms; Zenmuse or senseFly RGB sensors can quickly observe the infrared signature of panels.
A four-step analysis process organizes, reviews and classifies data:
• By autonomously following a predefined flight along a grid pattern, drones can take pictures of a solar farm, capturing thermal images and data
• Measure's programming software then uploads to a cloud platform, stitching images together to produce a digital twin of the solar farm
• Each panel is given a GPS coordinate and undergoes automated analysis to identify variations in temperature, which tags potential defects
• Experienced engineers then look through tagged images for false positives or negatives, organizing defects into categories of risk and severity.
According to Johal, Measure's data team is capable of processing and analyzing 800 photos per megawatt of solar, which represents time that highly paid engineers don't have to put into those tasks. Measure also offers a Ground Control Flight Application, an all-in-one platform that combines a secure mobile flight application with a cloud-based management portal, enabling a team to fly safely, automate critical workflows, and manage thousands of flights, all in real-time.
These analysis programs are leading to new and richer data that can reveal complex issues and empower decision-making by building datasets to inform future inspections needs.
"Anyone can go out and fly a drone—you can go to a CVS pharmacy and buy one," Johal said. "The value is in making the inspections process more repeatable and scalable so that it's more autonomous over time."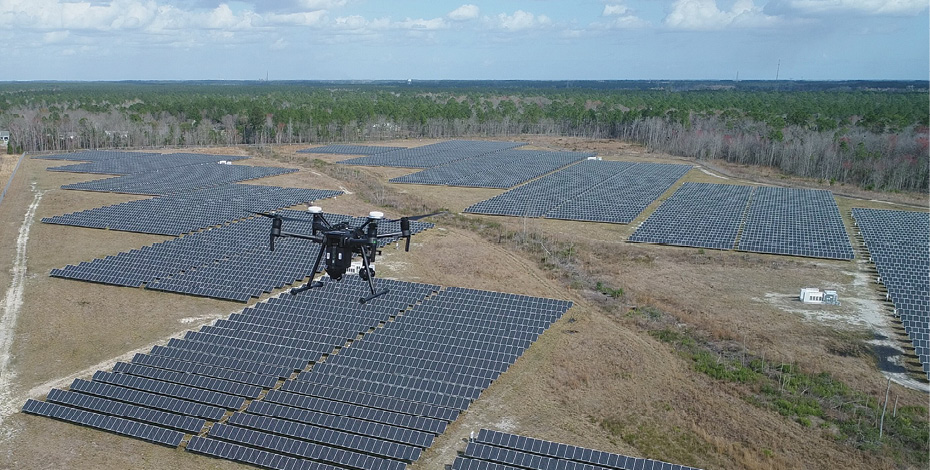 WIND FARMS OF THE FUTURE
As with solar, the wind power industry is evolving, and as turbines become larger, the cost and energy implications of shutting them down have become increasingly consequential. Drones allow turbines to be inspected while still operational, as compared with manned crews that have to shut down a turbine and hoist themselves to great heights via ropes to get a closer look at individual blades.
Measure offers wind energy companies multirotor air frames that are well-suited to the vertical infrastructure of a turbine. These drones are equipped with cameras that produce high-resolution imagery to identify fissures, cracks or other indicators of structural stresses that may require repair.
With each turbine inspection typically having about 300 images, and with wind farms typically having dozens, or even hundreds, of turbines, there are usually thousands of images that need to be processed, analyzed and classified after each inspection.
Measure's wind inspection follows a similar four-step processing and analysis to solar, uploading drone data to a cloud platform and putting it through a software program that analyzes and categorizes images and places them into a quality inspection report.
"Drones can autonomously navigate around a blade and inspect a turbine in 15-30 minutes, reducing man hours and turbine downtime by 75 percent," Johal said. "In the end, what you want is high-quality pictures that allow for an asset manager to make actionable decisions."
Together with The AES Corporation (AES), Measure is deep into the automation process for wind sites, having inspected thousands of wind turbines, resulting in one of the largest turbine datasets available.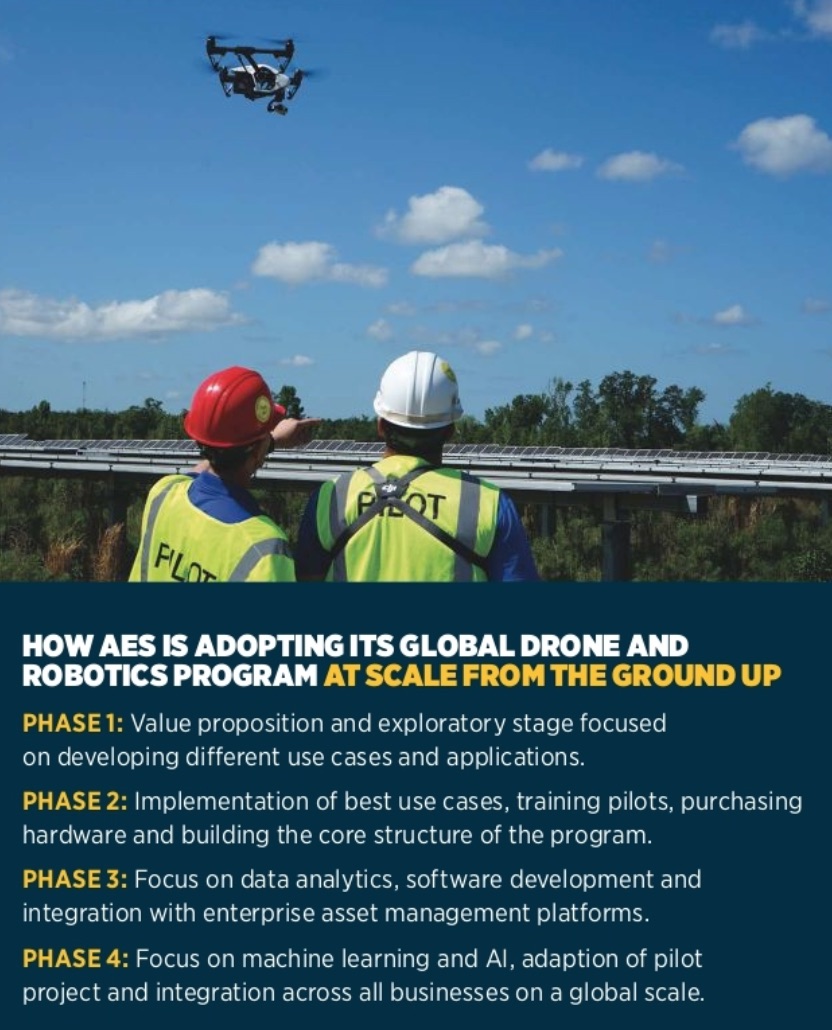 HARNESSING HYDRO
Unlike solar and wind energy, hydroelectric generators are among the United States' oldest power plants. The average hydroelectric facility has been operating for 64 years, which means many are in desperate need of repair.
To address this aging infrastructure issue and ensure that hydro facilities are operating efficiently, companies are turning to remotely operated vehicles (ROVs) to get the job done.
Deep Trekker is an advanced Ontario, Canada-based developer of underwater ROVs and submersible robots. It boasts thousands of vehicles and six product lines, and operates in more than 90 countries.
The company offers tailored and durable autonomous robotic solutions for a range of underwater structural inspections such as hydroelectric facilities and dams, replacing the need for a traditional team of divers that can be costly, time-consuming and dangerous.
According to Cody Warner, industry specialist and business development lead at Deep Trekker, regular inspections on hydroelectric facilities and dams are essential.
"One of the most vulnerable places for a power plant is any structure that's exposed to water," he said. "Water is a very tough force; it's going to beat down things like concrete and steel, so having regular eyes on those structures is really important."

Deep Trekker offers the DTG3 and Revolution ROVs, released this year, to inspect the structural integrity of a hydro facility or check blockages in an intake system that can drastically slow efficiency.
The DTG3 is a mini observation-class underwater ROV built to provide operators the ability to quickly deploy and visually inspect infrastructure within underwater environments.
"What's new about the DTG3 is how it communicates," said Warner. "One thing we were really focused on is the use of analog signals for remotely operated vehicles, so when you press a control button, the robot responds right away."
The Revolution is like the DTG3's bigger brother, about three times the size, and with an ability to fight stronger currents. It can also go deeper, to about 300 meters versus the 200-meter-depth range of the G3, and can have a gyro built into the system for super-stabilization.
"We do a lot with two thrusters on our machine, which allows it to drive straight up and down and side to side," said Warner. "We're also able to do auto depth and active vehicle stabilization that can compensate against the flow of water. When the Revolution is fighting current, it's actually actively talking to itself to re-correct."
What makes its ROVs stand apart, Warner said, is its imaging sonar, which helps them "see" through mud water at the condition of a gate or facility and sweep an area. "We have the only mini ROV that can rotate an imaging sonar, which means the ROV can rotate its body 180 degrees on an axis," Warner added.
Clients can opt to equip their ROVs with a range of features such as probes, thickness gauges, transponders and acoustics that are tailored to the type of inspection. "We've simplified the inspection process for underwater or in pipe," said Warner. "We make things that are really tough, durable and cost-effective. And we've brought the barriers down to performing these regular inspections."
SCALING UP
As drone technology advances, renewable energy companies are taking drone programs in-house for the long term and at scale.
Aforementioned Fortune 500 global power company AES partnered with Measure in 2017 to develop a centralized global drone and robotics program, building systems governance programs from the ground up and pushing for the adaption of technology across all businesses.
"Our mission at AES is to accelerate a safer and greener energy future, and we're one of the leaders in new technologies for renewables," said Bernerd Da Santos, executive vice president and chief operating officer of AES. Da Santos is also executive sponsor of the company's drone and robotics program.
"Incorporating drones, robotics, artificial intelligence and machine learning into our renewable energy inspections process on a global scale, as we've done through our partnership with Measure, is what the future is all about. The application of these technologies is helping our people and contractors do their work more safely and efficiently."
To date, AES has more than 200 pilots in 14 countries and 70 of their businesses use drones, resulting in 5,000 hours of inspection. Since 2017, it has seen $20 million in financial benefits and 100,000 hours of hazardous work avoided.
"This is a major initiative to change old assets to new assets," said Assel Ayapova, global drone program manager at AES. "We're working to change mindsets, bring high-level attention to this, involve all stakeholders at all levels and keep communications through different channels."
Currently, 65 percent of AES' businesses are using drones, and the company's vision is to have all businesses adapt all available drone technologies. According to Ayapova, "It's not just a nice to have; this is a part of our daily operations."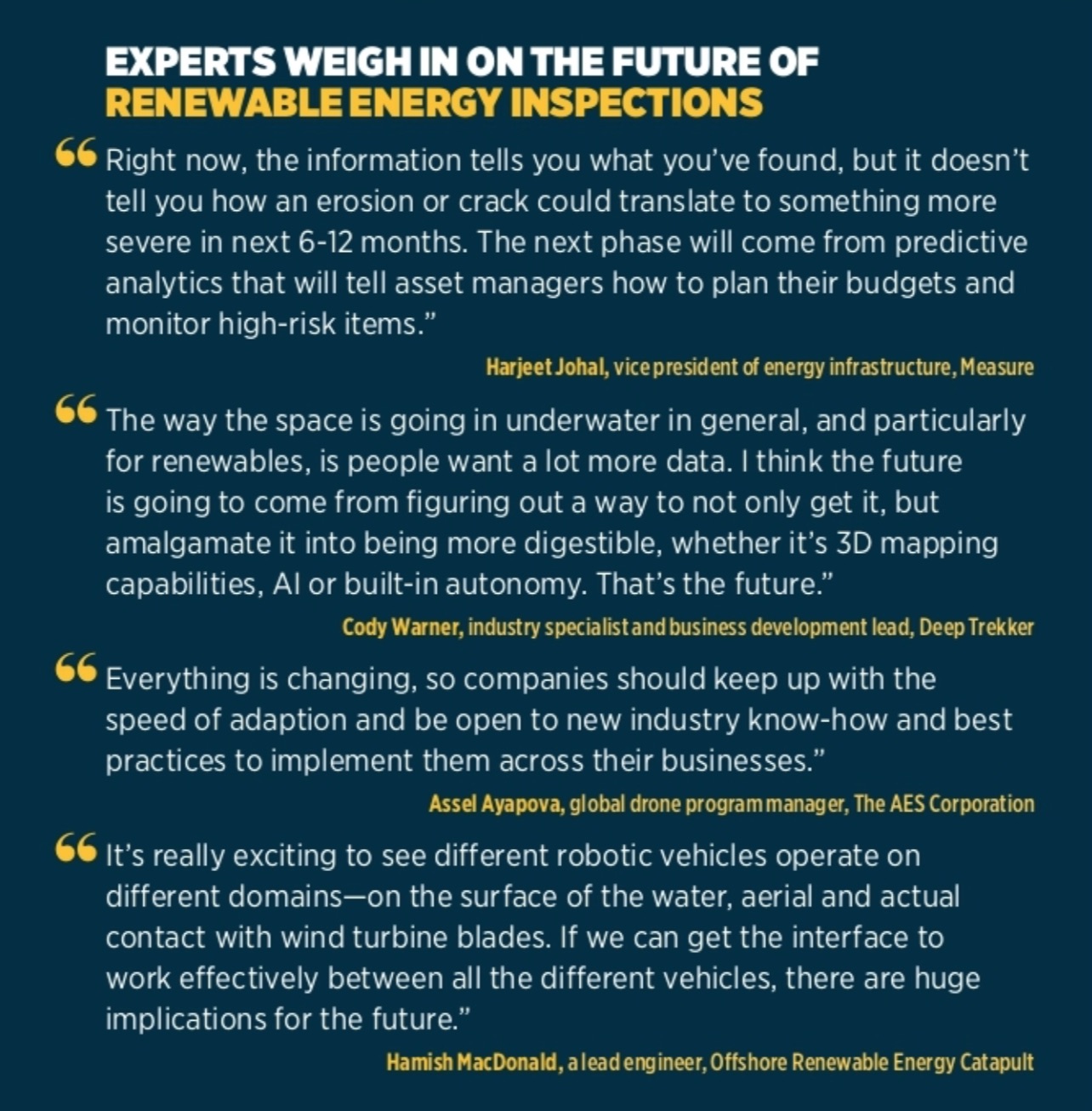 COORDINATED ROBOTICS
With considerable renewable energy growth across the globe and an increasing reliability on drones to support it, one can't help but consider what the future holds. According to UK-based Offshore Renewable Energy Catapult (ORE Catapult), that future involves coordinated robotics.
In partnership with eight industry and academic partners and as part of the UK's efforts to accelerate clean growth in the renewable energy sector, ORE Catapult is lending industry insights and engineering expertise to a project focused on developing the world's first fully autonomous wind inspection and repair solution.
Known as the MIMRee (Multi-Platform Inspection, Maintenance and Repair in Extreme Environments) project, the team has embarked on an ambitious two-year effort to prove that offshore wind operations and maintenance missions can be conducted by a team of autonomous vessels, aerial vehicles and crawling robots.
The project will combine expertise in robotics, artificial intelligence, marine and aerial engineering, nano-biotechnology and space mission planning. Guided wave research company Plant Integrity will lead it. The Halcyon vessel developed by French-based electrical systems designer for aerospace and defense Thales will serve as the autonomous "mothership." A drone system that's under development by the University of Bristol—a six-legged crawling repair robot called BladeBUG—is currently being prototyped. With various other partners, the team is off and running.
While still in early-stage development, the concept envisions a mothership vessel that could autonomously navigate to a wind turbine and deploy a drone to assess the damage. Once the damage is identified, the drone would then release BladeBUG to crawl along the length of the blade, characterize the damage, and perform maintenance and repair duties.
When its work is complete, the drone would then retrieve the robot, take it back to the vessel and move on to inspect another turbine.
"This is a really ambitious, cool project," said Hamish MacDonald, a lead engineer at ORE Catapult. "A harmonious interaction between all these different vehicles is a key aspect of the project. The main challenge will be to bring these units into one team capable of planning, communicating, sharing data and working together on a complex chain of tasks."
While still in its initial stages and with plenty of technical challenges to work out, if successful, the project has the potential to integrate inspections across a variety of renewable sectors.
"I think this project will have huge implications for other industries as well," said Dr. MacDonald. "We're trailblazing in a way because there's no other project like this that we're aware of out there. If we're successful, a fully realized autonomous solution could have a lot of cross-sector applications."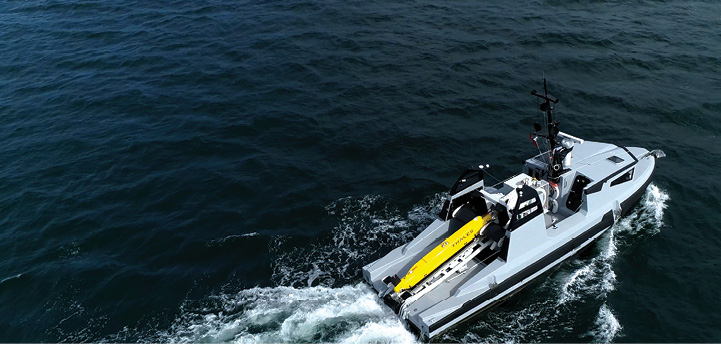 DRONE INSPECTIONS OF THE FUTURE
If the future belongs to renewable energy, drones will no doubt become an essential element across the solar, wind and hydro sectors. With the continued development of processing and analysis tools, in-house adoption of drone programs at scale and consortiums working to advance coordinated robotics, one can envision a world in which humans become an unnecessary—perhaps even altogether irrelevant—part of the inspections process.