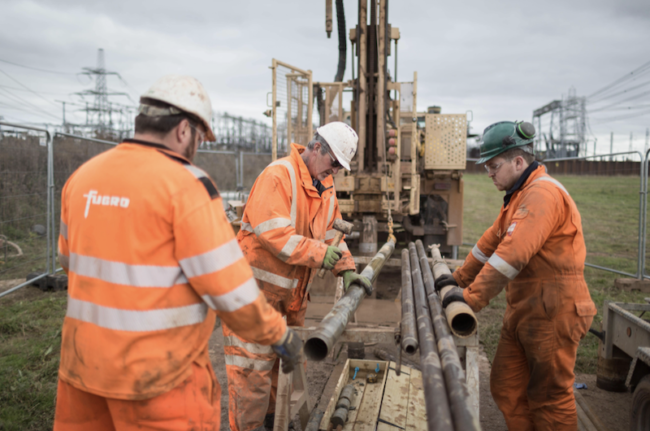 Fugro has been awarded a ground investigation contract for SSE Thermal and Equinor's planned Keadby 3 Carbon Capture Power Station in North Lincolnshire. When complete, Keadby 3 could become the UK's first flexible power station equipped with carbon capture technology, capable of capturing up to 1.5 million tonnes of carbon annually. The acquired Geo-data will enable stakeholders to understand ground conditions and make informed decisions during the engineering, design and construction phases of this project.
With fieldwork underway, Fugro is performing a range of in-depth geotechnical assessments as well as in situ testing to deliver a comprehensive set of factual ground data at the Keadby 3 site. Fugro will further support the development of Keadby 3 with interpretative reporting for site specific engineering, allowing design and ground engineering specialists to solve or avoid engineering challenges, manage ground related risk, and associated project costs.
With a generating capacity of up to 910 MW, Keadby 3 will use natural gas as its fuel and will be fitted with a carbon capture plant to remove the CO2 from its emissions. In December 2022, it became the first power carbon capture and storage (CCS) project in the UK to receive planning permission.
Matthew Chappell, Fugro's Service Line Director of Site Investigation said: "We're proud to play a part in the development of what could be the UK's first flexible power station. CCS plays a key role in realising the UK's emission reduction targets aligning directly with Fugro's purpose of working together to create a safe and liveable world. With our Geo-data, ground characteristics and behaviours can be confidently determined, and potential hazards identified, allowing solutions to be modelled and managed. We look forward to continuing to support the UK's energy transition and assist SSE Thermal and Equinor as they prepare for future developmental phases of this critical project."