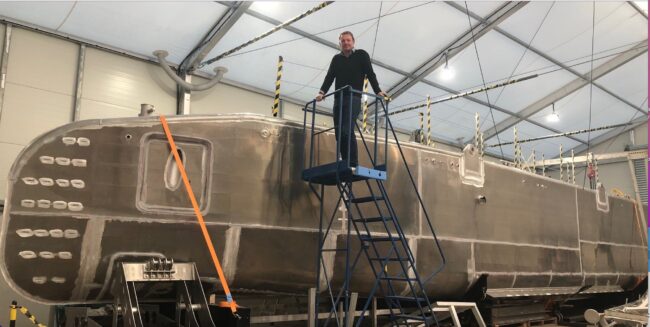 ESSEX, U.K.—SEA-KIT International's brand-new production facility is now operational for its larger XL-Class uncrewed surface vehicle, the company just announced. The Essex company's first 18-meter hull is being fitted out, and the impressively large vehicle will be ready for delivery this summer to Dutch-based Fugro, a global geo-intelligence specialist on land and at sea.
SEA-KIT currently provides high-tech uncrewed surface vessel solutions for deployment in harsh offshore environments. It offers over-the-horizon deployment of systems and sensors for a range of applications, including maritime logistics, environmental management, security and surveillance, offshore asset monitoring, marine inspection, ocean science and efficient survey of the ocean floor.
In 2022, SEA-KIT successfully delivered two more of its 12-meter X-Class vehicles. Another two are currently in build, in addition to the XL-Class, which, at up to 7 tons, has three times the payload capability and far greater power in its hold than its predecessor. SEA-KIT has recently been granted design patents for both vehicles.
"It is great to go into 2023 with the new facility up and running, SEA-KIT CEO Ben Simpson said. "With the addition of this building, we have tripled production capacity and expanded our R&D area. It gives us more, much-needed space for the ongoing development of launch and recovery systems for ROVs [remotely operated vehicles] and AUVs [autonomous underwater vehicles], mast gondolas and sensor deployment systems, as well as enhancing manufacturing efficiencies for multiple USV builds."
The new building rests alongside the company's existing base in Tollesbury, Essex. Next up is preparing the company's testing and research model, the semi-autonomous, remotely controlled USV Maxlimer, for its next mission. Maxlimer is back in the U.K. following a successful subsea volcano survey project in Tonga last August.
New hires are joining the technical, design, operations and administration teams. "We are always looking for people who want to apply their skills to supporting the company's ethos of defining the way we work offshore," Simpson said. "The industry is collaboratively working towards ambitious net zero emissions targets and uncrewed vessels are already a critical part of our maritime future."