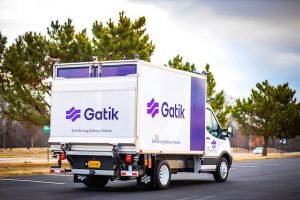 Gatik recently introduced what the startup calls the first autonomous box trucks capable of delivering ambient, cold and frozen goods.
The self-driving fleet of multi-temperature box trucks are between 11 and 12 feet long, according to a news release, and are designed to transport goods on fixed, repeatable routes between distribution centers and stores. This, the middle mile, is the most expensive and challenging part of the supply chain for retailers and represents "a hugely underserved segment" of the autonomous vehicle market.
The autonomous delivery vehicles also help address new coronavirus related challenges.
"The supply chain is more critical than ever in times of crisis—and crisis also highlights already weak links," CEO and Co-Founder Gautam Narang said, according to the release. "Consumers' needs and wants have changed dramatically, but the existing supply chain foundation is inelastic and doesn't support growth or unexpected changes in demand. Gatik enables customers to drastically optimize their hub-and-spoke operations and ensure essential supplies get where they're needed—transporting anything from medical supplies and equipment, to frozen and fresh foods, to everyday items that make us feel safe and secure."
Gatik worked closely with retail customers to design the right form factor for today's market and to help automate on-road logistics. The box trucks are able to travel down optimized predetermined routes. The "hub-and-spoke operations enhances inventory pooling across multiple locations, allowing for multiple deliveries per day, while fueling elasticity and scalability without adding labor costs."
"The logistics space has been struggling to keep up with today's consumer demand, rising costs and driver shortages," Narang said, according to the release. "With COVID-19, we know that these struggles are even more pronounced. Gatik's box truck solution offers customers both a service and a philosophy—we're optimizing hub-and-spoke supply chain operations, dramatically reducing costs and achieving a shared ethical responsibility to enhance public health and improve road and environmental safety. We're not only addressing critical industry pain points but building a logistics community that is safe, reliable and high-functioning."