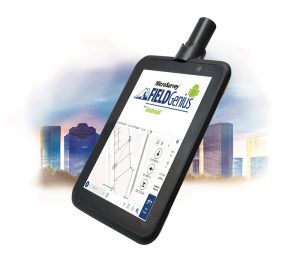 Geneq is pleased to announce the SXtab RTK, the latest tablet model in the SXtab series. This rugged and versatile tablet will be the perfect match for outdoor data collection. This product is made and equipped with the goal of facilitating its use and the mobility of professional field workers. The new SXtab RTK is designed with a view to reducing the equipment used to achieve high accuracy during data collection.

The SXtab RTK can receive RTK corrections, which let the user have great accuracy using either the Antenna that comes with the tablet or an external antenna. This tablet is running an Android OS that is bringing a wide variety of compatible data collection applications and allowing a perfect all-in-one solution.
The SXtab features an 8-inch and sunlight readable display. With the IP65 certification, it will endure the harshest outdoor conditions.
The tablet's capability to receive RTK corrections is powered by a varied connectivity system of Bluetooth, Wi-Fi and 2G, 3G and 4G cellular networks.
The new tablet is easy to carry around with the fixed hand strap behind the unit. The pole adaptor option is also available for on-the-ground point survey. Moreover, an external antenna can be put on top of the pole and plugged into the tablet for more sensitivity and accuracy when working in constrained areas.
Photos courtesy of Geneq. For more information visit sxbluegps.com/products/tablets-sxtab/.