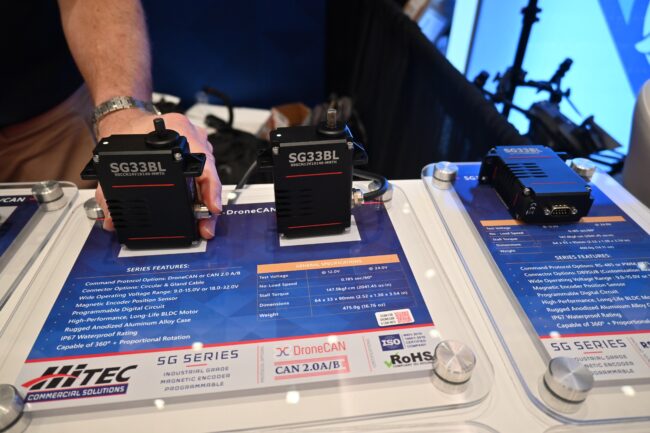 LAS VEGAS—A growing drone market means a growing components market, and a representative from servo maker Hitec Commercial Solutions said the company is moving rapidly to meet market needs even as it plans new products for the future.
"Orders have been significant for the SG series," Shawn Spiker, the company's sales manager, said at the Commercial UAV Expo here. "We're making them and trying to ship them out as fast as we can."
Those actuators were originally developed for the automotive industry and now are used in autonomous vehicles, drones, industrial automation, robotics and more, including unmanned ground and maritime systems.
Spiker said the company is also seeing interest in its systems from the makers of large agricultural drones as well as advanced air mobility systems intended to carry passengers.
"It's going to be more and more as they are finally getting the go signal to go ahead and make those larger drones, because they can get the waivers, because with a bigger drone they need to be able to fly farther, and line of sight is not very long," he said.
"That part's going really well. As for the requirements and certifications, as those start to ramp up on the vehicles and on the components, that's going to be the future, the next step we're going to have to take," he said. "…It's going to continue to grow."
The company's standard size is the SG33BLT servo, in a 33mm case, capable of operating up to 32 volts. "It's done very well, it's proven very reliable," Spiker said. There's a larger, heavier version, the SG50BL, with a 50mm case and what the company describes as a "monster torque range."
Some companies are seeing a need for something in between.
"There's actually going to be a size in between these two," Spiker said. "It's going to kind of be a sweet spot. For a lot of applications this is just too big," he said, pointing at the SG50BL, "but something that has more power than what this size has," he said, pointing to the SG33BLT. "So, there will be a 40mm versus a 35 and a 50."
However, he noted "that will be down the road. Just trying to keep up with what's going on now is almost 100 percent of our time."
Hitec has been around since 1973, but the word is still getting out, Spiker said.
"We offer more than just a hobby servo company, we're an industrial servo company, and we supply to unmanned systems, to medical, to general industrial, other aerospace, automotive, so, these are a lot of the areas that we are now strong in, and taking advantage of."