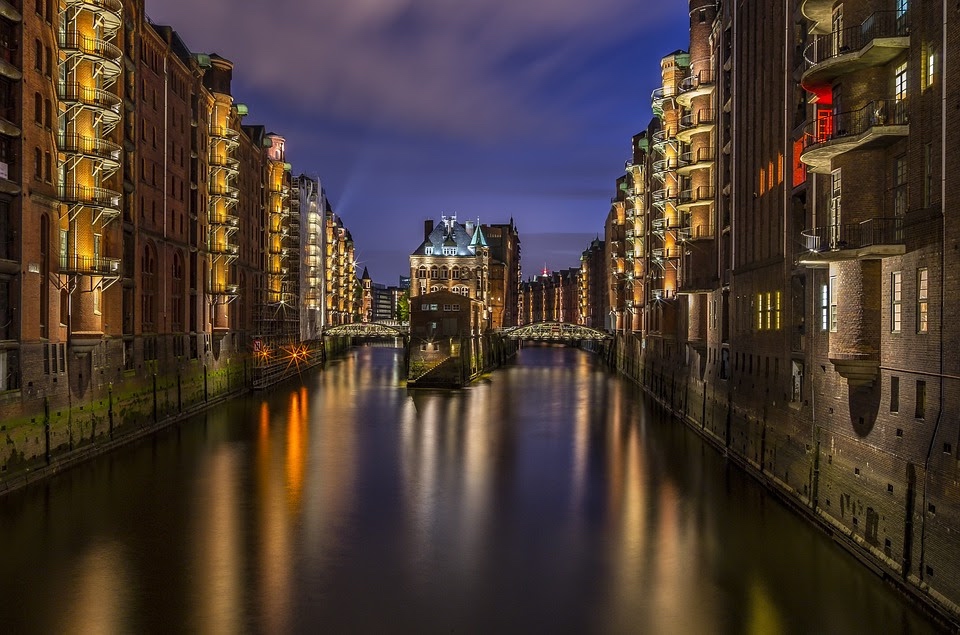 InterGEO 2016 landed at Hamburg's Messe Congress Center this year, an event that featured plenty of UAV action, with some established players joining forces and others going it alone, all aiming to deliver end-to-end drone-based solutions for surveying and mapping, and other applications.
There was really too much going on at InterGeo 2016 for anyone to encompass. So, from the world's biggest geospatial industry showcase, here are just a few highlights:
Intel slots in nicely
We have already reported on the major new alliance between Trimble, Microdrones and Delair-Tech. In the same spirit and with very similar goals, the new grouping of Topcon, Intel and Ascending Technologies was in Hamburg showing off its wares.
It was last year that Topcon Positioning announced a new partnership with German UVS maker Ascending Technologies. The agreement gave Topcon exclusive global distribution rights for the AscTec Falcon 8 multi-rotor system.
Then, just a few months later, in January 2016, Intel, of 'Intel inside' fame, purchased Ascending Technologies, of which it was formerly a minority owner. Under that deal, Ascending Technologies continues to supply the Falcon 8, now 'Intel outside', to its customers, like Topcon, in the professional UAV space. And AscTec will also collaborate with Intel's Perceptual Computing on new technologies that can help UAVs fly with more awareness of their environment.
During InterGEO 2016 in Hamburg, Intel announced the launch of the new Intel Falcon 8+, outfitted for professional industrial inspection, surveying and mapping. The system includes the Intel Cockpit for ground control and the Intel Powerpack smart battery as the power supply. The Falcon 8+ is the first Intel-branded commercial drone.
Topcon's Achiel Sturm explained his Company's new relationship with Intel: "In fact, the Topcon-Intel relationship is not new at all. We have been working with them, one way or another, for years. As you know, they already had a part of Ascending Technologies, which is our drone supplier. Now, with Intel's full acquisition of Ascending, the Falcon 8 has become a real Intel product, and of course Topcon continues to sell it through our global distribution network.
"Topcon has integrated with Intel and our other partners, bringing all in together and extending our solutions as far as possible, starting from what we do best at Topcon – workflows and processes, tendering, data collection, all the way to inspection.
Betting on Aibotix
Another consortium seen widening its reach in Hamburg is the Hexagon Group from Sweden, already a holder of Leica Geosystems, Intergraph and the German UAV Manufacturer Aibotix, makers of the Aibot X6, which it took over in 2014.
At InterGEO 2016, Hexagon announced a new cooperative agreement between Leica Geosystems and UAV maker DJI. Under this new partnership, Aibotix and DJI will collaborate on projects where strong system integration experience will play a vital role, leveraging DJI's very successful aerial devices with Leica Geosystems extensive expertise in high-accuracy measurement sensors.
"When we came together with Leica Geosystems in 2014, it was a very important step for us," said Benjamin Federmann, Director Marketing and Communications at Aibotix. "It meant we became part of the software solutions of Leica Geosystems. That's very important to us because most of our customers are looking for a solution that makes it possible to combine data from ground, from under water, aerial pictures, and so on."
Speaking to us in Hamburg, Federmann recalled how Aibotix had been looking for a way to combine all the data being generated by its UAV customers, to be able to offer not just "a flying tripod" but also software, different sensor choices, cloud solutions, big data analysis, "– an end to end solution. "So that is what happened when we joined with Leica, the Aibot X6 is now much more than just a UAV, it's part of a bigger family," he said.
"So with this new Leica Geosystems and DJI cooperation, what you will see in the future is, I will say, the next level UAV for surveying. We will working together with the complete development team from DJI, so it's not only cooperation on sales, it's hand-in-hand cooperation on development."
Federmann said the next step is to take a DJI platform and mount new payloads, including LiDAR and SLAM. "There are many things coming in the next 3-5 months." We will be watchiing closely.Federmann said under the new alliance Leica Geosystems and Aibotix will be responsible for complete solution design. During Intergeo they showed a proof of concept based on Simultaneous Localisation and Mapping (SLAM). "With SLAM integrated you have a drone that can map and use its own mapping data for autonomous flight at the same time," Federmann said. "With LiDAR systems, and the SLAM engine, it's possible to fly anywhere without any GPS support, without any magnetic support whatever, just the SLAM engine and that's it."
And that's really the bottom line for Leica Geosystems, Federmann said. "What Leica gets out of it is a UAV that can fly anywhere without any GPS support."
"In mining operations, for example, you could always have problems with GPS support, with RTK and GNSS."
RIEGL pride
With big names joining forces to the left and to the right, it takes courage and a little pride to go it alone, and that's just what RIEGL Laser Measurement Systems has done, putting together a complete optimized UAV system, meaning customers can order hardware platforms and scanning sensors, and receive training and support, all from a single independent supplier.
"We, the people who started RIEGL, came from the airborne photography industry," said the company's CEO, the venerable Dr. Johannes Riegl. "We were pilots. And we are a little proud now to have designed and fully developed this product," he said, with some embarrassment. Dr. Riegl is, by all appearances, the product of a more reserved era, when pride was simply not worn on one's sleeve. "No, we should not be proud," he insisted, "but we are, a little. We have achieved something. It shows how much priority we are giving this UAV."
The UAV in question is the RIEGL RiCopter with the company's VUX-1 LiDAR system installed. And the company has just launched a more compact MiniVUX that is lighter and more compact, even better suited for UAV-based operations.
Add to this the new RIEGL BathyCopter, a small surveying system for hydrographic applications, designed to generate profiles of inland water bodies, and you have a nice if modest range of UAV-based scanning solutions from this Austrian company.
"We developed our first drone by ourselves two years ago," said Dr. Riegl, "We wanted to create a complete surveying system, with performance and accuracy as priorities. We have achieved this and we have been accepted and well received in the marketplace."
Hélicéo moving
Hélicéo, based in Nantes and soon with an office in San Francisco, is a unique company that designs, produces and distributes innovative measuring tools for surveyors. Again the goal has been to create complete end-to-end solutions for a number of application domains.
The company's CEO Jean-François Baudet told us "We are specialized in geomatics, offering solutions for aerial photogrammetry, and 3D geo-referenced land and bathymetry mapping. We have drone planes, multirotors and catamarans, as well as terrestrial photogrammetry tools."
All of these systems work with Hélicéo's ingenious and cost-reducing DroneBox RTK, which is essentially a plug-and-play modular unit – a box – that pops into and out of any of the company's various unmanned vehicles and more traditional hand-held platforms.
"This DroneBox incorporates a GNSS geodetic map, autopilot, telemetry, archiving, communication, flight controller and avionics, and it is adaptable across all our range of products," Baudet said. "So you can perform your measurements with multiple vectors and sensors while reducing your investment."
Look for Hélicéo to make news again this November when it moves to San Francisco, California. Guillaume Schavann of the company's marketing department told us, "Europe is just not ready for us. The EU regulation problem is slowing everything down and that's why you are seeing European companies like Hélicéo moving to the US. In the US there is now a regulation, which is clear. And then people in the US only want to do business with companies in the US, so we have to go over there."
Still SenseFly
Another company that's going it alone is SenseFly. Although the company did join France's Parrot in 2012, Swiss-based SenseFly tends to fly solo, doing its own development and production and largely maintaining its own identity.
SenseFly Marcomms Manager Matt Wade explained the company's new RTK/PPK-ready, large-coverage mapping drone, unveiled at InterGEO 2016: "The eBee Plus system has a long-flying, fixed-wing airframe, a photogrammetry-optimised RGB sensor, and next-generation flight data management software. It's really a great tool for the geospatial industry."
The eBee Plus can map more hectares per flight than any drone in its weight class, but what's most unique about the new drone is the high precision, on-demand (HPoD) RTK/PPK functionality.
"You can have the RTK/PPK activated immediately, when you buy the drone, or you can activate it later on demand, for survey-grade accuracy," said Wade.
Other features include tailored payloads, with a camera available to suit every application. The compact SenseFly S.O.D.A. sensor, SenseFly's proprietary, high-resolution RGB camera, is capable of capturing ultra-sharp images with a spatial resolution of 2.9 cm, flying at 122 m.
And there is a new version of eMotion, senseFly's easy-to-use, feature-packed ground station software. eMotion 3 now features a full 3D flight environment, mission block flight planning, cloud connectivity, free updates and more.