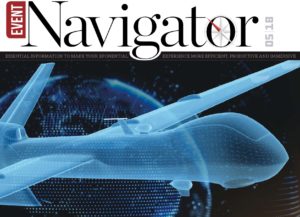 The Association for Unmanned Vehicle Systems International (AUVSI) has announced new and returning members of its board at XPONENTIAL 2018, its annual tradeshow and conference, which is being held this week in Denver.
Current directors Ben Gielow, Amazon, and Brent Klavon, Aviation Systems Engineering Company, were re-elected to board. Klavon is also president of AUVSI's Florida Peninsula Chapter and will represent the association's more than 30 local and international chapters on the board.
The new board directors are Marke Gibson, Northeast UAS Airspace Integration Research Alliance; Rob Hess, Unmanned Perspective; Houston Mills, UPS; and Susan Roberts, General Electric.
The current board directors are Peter Cleveland, Intel; Jonathan Downey, Airware; Jeff Lovin, Woolpert; Lauren McCollum, Emerald Collaborative Partners; John Coffey, Cherokee Nation Technologies; Jim Thomsen, Seaborne Defense; David Agnew, New Maneuvers; Nevin Carr, Leidos; Brian Chappel, Northrop Grumman; Paul McDuffee, Insitu; Brendan Schulman, DJI; and Bobby Sturgell, Rockwell Collins.
Members of the board's executive committee, who will continue to serve for another year, are Board Chairman Dallas Brooks, Mississippi State University; Executive Vice Chairman Mark Gordon, Stratom; First Vice Chairman Suzy Young, University of Alabama, Huntsville; Treasurer Bill Irby, Textron Systems; and Immediate Past Chairman John Burke, Deloitte.
"We appreciate the leadership and service these accomplished professionals from the unmanned systems community provide to AUVSI and its membership," said Brian Wynne, AUVSI's president and CEO. "They represent the air, ground, and maritime domains of unmanned systems technology and are developing new opportunities for our members to help expand the market's growth."
More than 8,500 industry leaders and forward-thinking users from the defense and commercial sectors are attending AUVSI XPONENTIAL 2018 to learn the latest on policy, business use cases and technology applications. XPONENTIAL will be held at McCormick Place in Chicago next year, and at the Boston Convention and Exhibition Center in 2020.
For more on AUVSI XPONENTIAL, check out the Inside GNSS/Inside Unmanned Systems' Official ShowNavigator.